March, 11, 2014
Mar 11
10:56
AM ET
[+] Enlarge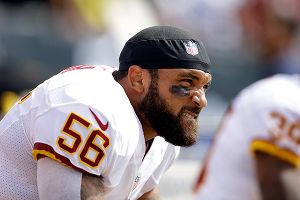 Ezra Shaw/Getty ImagesPerry Riley had a team-leading 115 tackles in 2013.
With one hole already at inside linebacker, the Washington Redskins couldn't afford to let Perry Riley exit via free agency.
Turns out, Riley is not going anywhere.
The Redskins announced Tuesday that they have re-signed Riley, who has started since midway through the 2011 season. Terms were not immediately disclosed.
The team already has to replace London Fletcher on the inside and did not want to seek another replacement as well.
Riley, a fourth-round pick out of LSU in 2010, finished with 115 tackles, three sacks and his first career interception last season. He posted 3.5 sacks and 129 tackles in 2012.
He tweeted about his new contract Tuesday morning.
It feels great to still be a part of Redskin Nation!!!!! #HTTR

- Perry Riley (@PR56) March 11, 2014
March, 11, 2014
Mar 11
10:00
AM ET
By
ESPN.com staff
| ESPN.com
March, 11, 2014
Mar 11
7:30
AM ET
Two names stood out when it came to who the fans wanted in free agency. Beyond that, there's little agreement as to who the Redskins should sign when free agency begins Tuesday.
In a Redskins Nation Twitter survey, 19 of 75 voters named Buffalo safety
Jairus Byrd
as their top choice for whom they wanted Washington to sign. The runner-up? Giants defensive lineman
Linval Joseph
with 14 votes.
Obviously both would fill a need. The Redskins have been unable to solve the safety position ever since
Sean Taylor
died in 2007. Byrd would offer a legitimate free safety, who would enable the Redskins to use more eight-man boxes with a single-high look. But he'd also cost around $9 million per year. Joseph would provide another strong end against the run, with the potential for collapsing the pocket. He's not as pricey as Byrd.
But after those two players? Redskins fans were all over the place. Nine other players received more than one vote: New England linebacker
Brandon Spikes
(3), Carolina safety
Mike Mitchell
(3), Cincinnati offensive lineman
Anthony Collins
(3), Cleveland safety
T.J. Ward
(3), Miami safety
Chris Clemons
(2), New England corner
Aqib Talib
(2), Green Bay corner
Sam Shields
(2), Cleveland center
Alex Mack
(2) and Arizona linebacker
Karlos Dansby
(2). Shields, of course, is now off the market, having re-signed with the Packers.
Of course, every one of those players would fill a hole. I'm a Dansby fan, but I'm guessing Arizona keeps him. Spikes would be good against the run, but was removed on passing downs. Mitchell would probably be paired with Talib as a way to fill the safety/corner void. Talib will be costly, perhaps around $10 million per year -- a hefty sum for someone who hasn't played more than 13 games since 2009. His injury past should bump the price down, but I don't know if it will.
Two voters named a combination of
Perry Riley
and
Brian Orakpo
as their top targets. Orakpo, of course, was given a franchise tag but if another team really wanted him it could still pursue him. But they'd have to pay him a lot of money and then surrender two first-round picks. That's what we call a longshot, folks.
All totaled, there were 31 different players named with 20 of them on defense.
Here are some of the responses to the question: Which player would you most like the Redskins to sign?
March, 10, 2014
Mar 10
5:15
PM ET
If the Redskins upgrade at receiver, it might take a reclamation project to help them do so. According to multiple sources, the Redskins are interested in Tennessee receiver
Kenny Britt
, whose career to date has been marked by an inability to maximize his so-called potential.
Britt
Hawkins
A team source also said the Redskins are interested in restricted free agent receiver
Andrew Hawkins
. They also could be in on free agent running back
Darren Sproles
, according to Bleacher Report's Mike Freeman.
None of these names should be surprising given that the first two have been attached to the Redskins for some time. Hawkins played for Redskins coach Jay Gruden in Cincinnati. Hawkins is restricted, but the Bengals gave him a low tender. That means the Bengals would have the ability to match, but the Redskins would not have to surrender any compensation because he was an undrafted free agent.
If the Redskins sign Hawkins, it likely would mean the end of
Santana Moss
' Redskins career. They still feel he can play, but Hawkins is younger and faster. He's caught 86 career passes in three seasons, although he missed eight games this past season with a high ankle sprain.
If nothing else, Hawkins, who turned 28 on Monday, is a terrific story, as
this Sports Illustrated article can attest
.
Britt is a classic case of signing a guy just in case he finally achieves what many thought he might upon being a first-round pick in 2009. He's caught 157 passes in five seasons but never more than 45, and in three seasons he's played in 12 games or fewer. He tore his ACL in 2011, and the knee has reportedly been an issue since that time. Britt also has had multiple run-ins with the police since entering the league and was suspended for one game in 2012 after an arrest on suspicion of DUI.
At one point the Redskins were thought to be interested in receiver
Hakeem Nicks
, too. But that interest might have cooled.
March, 10, 2014
Mar 10
3:50
PM ET
Two years ago the
Washington Redskins
set a franchise record for yards per play. They weren't as successful this season, but they still ranked third in yards per rush. That tends to get lost when talking about the Redskins' offensive line, except by the coaches. That only means the Redskins might not see their line as a major issue. That also doesn't mean they won't try to upgrade.
Why it's a need:
The Redskins had some issues inside last season, yielding too much push and getting beaten by some blitzes. They have tried for a couple offseasons to upgrade right tackle to no avail. Coach Jay Gruden has said they'll keep the same run-game principles, which suits the line. But he's also said they can't get pushed back as much. And he's right.
In house options:
This is how the NFL should work. You draft players, you develop them and after a few years some of them should be ready. If that's the case, the Redskins have four young backups in
Adam Gettis
,
Josh LeRibeus
,
Tom Compton
and
Maurice Hurt
. If you're doing it the right way, at least one should be ready by now, right? By doing it this way it enables teams to spend and fix primary needs, like on defense. So if the Redskins make a move inside, they should --
should
-- have options.
Free agent options:
The one name that makes sense to pursue is Cincinnati offensive tackle
Anthony Collins
because of his familiarity with Gruden. And that's how free agency should work best, when you have a history with the player or when he has a history with your system. Collins has both. He's spent most of his career as a backup, but fared well at left tackle. He was not in the same run system, but I did see him move laterally enough. Also, the Bengals on occasion split him wide to block a defensive back on a bubble screen. The issue here is cost. Tampa Bay reportedly is interested as well. If the Redskins don't sign him, they should not be too active in trying to replace right tackle
Tyler Polumbus
if it's only a minor upgrade. Forget Cleveland's
Alex Mack
as a possible target at center; too expensive. Center has some intriguing options with Atlanta's
Joe Hawley
, who is young but undersized, and New Orleans'
Brian De La Puente
. But, again, they have in-house options they should explore if they're going to make a move here.
Draft options:
This could be the way the Redskins ultimately go, short of a big splash with Collins. This has perhaps been a bigger focal point than free agency, but Tuesday will show just how much. If they don't get Collins they could draft a young tackle. One who could be intriguing is Virginia's
Morgan Moses
, who is 6-foot-6, 314 pounds and is said to have good feet. He should be there in the second round. North Dakota State tackle
Billy Turner
, who could be around in the third, is intriguing because he has ability but his future could be inside. There are three or four centers who likely will go between rounds 3-5, including Arkansas'
Travis Swanson
. But, again, the Redskins have some options on the roster here as well.
March, 10, 2014
Mar 10
10:00
AM ET
Here are the top 15 free agents, followed by their rankings, entering Tuesday's signing period as compiled by NFC East reporters Dan Graziano, Todd Archer, Phil Sheridan and John Keim. There are some strong options at the top, but there is not a lot of depth in the NFC East when it comes to free agency. And if Dallas'
DeMarcus Ware
gets released, he vaults to a top spot on this list. As always, ESPN's free-agent tracker will keep you updated during this period.
1. LB Brian Orakpo, 8.5:
The Redskins used the franchise tag on him, so barring a surprise, he'll be back. It's a controversial move among fans, but the Redskins need his pass rush and promise to unleash him more often. His career best for a single season is 11 sacks.
2. DT Linval Joseph, 8:
A very big, strong and young (25) interior run-stuffer who has also shown the ability to create pressure from the interior, Joseph could be available because of the Giants' depth at defensive tackle and their many needs.
3. DT Jason Hatcher, 8:
He is coming off an 11-sack season, but he turns 32 in July and Dallas doesn't have much cap space.
4. LB Jon Beason, 7:
The Giants are working hard to sign him before free agency opens, as his leadership and high-energy play at middle linebacker helped transform their defense during the 2013 season.

Nicks
5. WR Hakeem Nicks, 7:
This grade is based on talent and past accomplishments, and a feeling that he was being overly careful in 2013 in order to hit free agency healthy. Lacks his early career speed, but knows how to play the position as well as anyone.
6. WR Jason Avant, 7:
For a team in need of a third-down possession guy, the sure-handed Avant will be a great value.
7. P Donnie Jones, 7:
The Eagles are expected to re-sign Jones, who was an underrated contributor to their NFC East title team.
8. DE Anthony Spencer, 6:
He is coming back from microfracture surgery, so the cost won't be high.
9. LB Perry Riley, 6:
The Redskins need to re-sign him because they already have a hole at inside linebacker after
London Fletcher
retired. But they won't break the bank for Riley, who needs to improve in coverage.
10. DE Justin Tuck, 6:
Coming off an 11-sack season that came out of nowhere after two down years, Tuck turns 31 later this month but is a locker-room leader and a 4-3 defensive end who can set the edge against the run.
Vick
11. QB Michael Vick, 6:
With
Nick Foles
' ascension, Vick is looking for a chance to start elsewhere.
12. RB Andre Brown, 5:
He played very well in his first few games back off a broken leg, but faded down the stretch and fumbled too much in the final few games. He is likely not a guy who can be relied on as a starter, but potentially a valuable piece.
13. TE Brandon Myers, 5:
A huge disappointment in New York after catching 79 passes as a Raider in 2012, Myers also contributed little as a blocker. The Giants are likely to let him go. He could fit better with a different system.
14. CB Terrell Thomas, 5:
He played all 16 games after missing the previous two seasons because of ACL tears in the same knee. Thomas believes he can hold up as a starter off a real offseason, and would like to cash in.
15. S Danny McCray, 5:
He is a core special teamer only, so the Cowboys could find value here.
March, 10, 2014
Mar 10
7:30
AM ET
With running back
Darren Sproles
done in New Orleans (his release has not yet hit the transactions wire), it led to another round of "should the Redskins pursue" questions via Twitter. So, should they go after Sproles? Well, I have a few thoughts. As always.
[+] Enlarge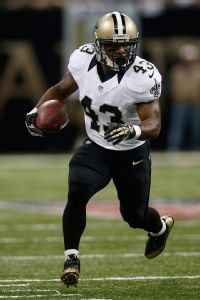 Chris Graythen/Getty ImagesRunning back Darren Sproles had 71 receptions for 604 yards last season, his eighth in the NFL.
1. Yes, I would be interested in signing Sproles if I were the
Washington Redskins
. But you need to know exactly what you're getting. Do not expect the Sproles from 2011, when he set an NFL record with 2,696 all-purpose yards for the Saints and was one of the most dynamic players in the NFL. That is not who he was last season. In 2013, Sproles had 1,273 all-purpose yards. He also will not necessarily solve the issues at returner. In five of the past six years he's averaged 8.0 yards or less on punt returns. Last season he averaged 21.3 yards on 12 kick returns (though he has a 25.3 career average and was at 26.8 in 2012). He's a limited role guy, so you can't pay a lot for him. My guess is the Redskins knew he would be getting released just by analyzing other teams' cap numbers; I haven't heard his name mentioned, so perhaps they made up their minds already. He's 30, and I wouldn't trust a move on anything other than a smaller deal. You just don't give a good chunk to players over 30. Not good business.
2. That said, it doesn't take long to figure out he can still play. Just for kicks (well, for research, too), I watched some of his games last season. Sproles remains an effective back, able to make defenders miss in the open field with a hard juke or quick shake. He sets up blockers well in the open field because he can show inside, then quickly cut outside.
3. Also, and this is big: In two of the three games I watched, I saw the opposing defense (Miami, Philadephia) send two defenders his way on a route several times. And that left gaps in the defense that benefited, for example, tight end
Jimmy Graham
. It gave quarterback
Drew Brees
enough of a window to exploit, and it occurred simply because Sproles was sent to the flat. Also, Brees scrambled up the middle on occasion because linebackers vacated areas to double Sproles. They couldn't do that with a quarterback such as
Robert Griffin III
, who obviously looks to run more. Again, I'm not saying Sproles is the best and they must sign him. But am I interested because he could help them? Absolutely -- and for the right price, he's a good weapon. Sproles is a matchup headache capable of running good routes from multiple spots.
4. Yes, Jay Gruden had
Giovani Bernard
in Cincinnati as a big weapon. Sproles could fill that role here. But keep in mind that Bengals quarterback
Andy Dalton
's lack of arm strength -- especially compared to Griffin's -- almost required that the Bengals have a guy like Bernard, someone Dalton could easily dump the ball to. Sproles would be a good check-down guy for Griffin, but if they sign another receiver, the plan is to get the ball downfield more. That is likely the plan, anyway; I know the coaches think
Jordan Reed
will be an excellent target on deeper throws. That would lessen the desire for a guy like Sproles, though Sproles would still be a weapon. It's not as if Brees was just a check-down guy.
5. If the Redskins somehow pursued Sproles -- and I don't know that they will -- it should not mean the end of
Roy Helu
. As a running back, Sproles works best in a spread formation when he can hit gaps up the middle against, say, a five-man box. If something happened to starting running back
Alfred Morris
, I would not want Sproles as the full-time guy. Nor would the Redskins. The Saints were able to incorporate three backs into their offense, and I think the Redskins could as well. Sproles would replace a guy like
Chris Thompson
.
March, 9, 2014
Mar 9
12:00
PM ET
Yes, the Washington Redskins are interested in New England cornerback Aqib Talib, who will be a free agent Tuesday. They were among the teams that contacted him, but this is clearly no surprise. I'm not sure of a Redskins beat reporter who didn't speculate on this possibility. But they have contacted a number of players, or, more accurately, their agents: (among them based on reports: tackle Anthony Collins; safety Mike Mitchell, who was among the first contacted; and defensive lineman Arthur Jones). All of these make sense and have been speculated about, but they won't sign them all. Collins, for example, would be a good right tackle, but I'd imagine he'll get paid as a left tackle.

[+] Enlarge

AP Photo/Damian StrohmeyerFree agent Aqib Talib would give the Redskins three cornerbacks capable of starting.

It doesn't mean they will sign him, but with the connections between Talib and Redskins secondary coach Raheem Morris, it makes sense the Redskins would be interested. That and the fact that they need another cornerback. The Redskins' third corner last season was David Amerson, who played 67 percent of the defensive snaps.

There is a lot to like about Talib. He's a good cornerback and has transformed his reputation playing in New England. I remember being told when he was in Tampa Bay that he was a guy who wanted to be a leader, but really didn't know how and that he wasn't a bad guy but acted improperly. With the Patriots, that leadership side emerged.

But this is big: Would that side continue in Washington? Or was it a function of being in an environment such as New England's? I'm not blaming Morris, because I wasn't there, but under his leadership as Tampa's head coach Talib had issues. It could simply be because he was young. I don't know. I do remember the Redskins having issues with Talib before he was drafted. After Morris was fired, numerous reports cited that things were too lax. Morris is not in charge here, but was that why Talib struggled there or was he just young? I'm not smart enough to say, nor do I know Talib at all, other than talking to people and reading reports.

That said, it sure seems the combination of a stable environment, a strong head coach and a solid organization helped Talib. He learned what it took to be a successful pro. The Redskins have a first-year head coach and an organization that has much to prove. That does not mean Talib would revert to bad habits, but this difference is worth discussing.

Talib has size (6-foot-1), can play physical and move inside and out. Every team needs three cornerbacks capable of starting, and the Redskins would have that. How good some of those cornerbacks are can be debated. But Talib's ability to play inside and out would be welcomed. The Redskins don't have a third cornerback you can count on right now. Of course, it's still just March.

The Pro Bowl is a popularity contest, but Talib has made just one (this year). Take that for what it's worth.

But if it's going to take big money to sign Talib, then you must have buyer beware. For comparison, Sam Shields' Green Bay deal was four years, $39 million; but he's two years younger than Talib. Brent Grimes re-upped with Miami for four years and $32 million with $16 million guaranteed. He'll be 31 in July and has played in every game in three of the past five seasons, but appeared in a combined 13 games the other two years. Of course, I'd want to see the breakdown of Shields' contract first, before knowing how to use it as a guide.

Another aspect, and this is rather big: Talib's injury history. He hasn't played more than 13 games since 2009. It's tough to justify a big contract for someone with this history. Players don't become more durable as they get older (he's 28). I don't think I'd jump out and give him a big deal at the start of free agency (of course, this depends on what sort of deal it is). This one will require discipline on the part of the Redskins. I think we'll learn something about them based on how this unfolds.
March, 8, 2014
Mar 8
2:00
PM ET
Bill Polian did not follow what others have done when it came to
Washington Redskins
linebacker
Brian Orakpo
. Most placed him among their top 10 free agents; Polian and his other analysts did not.
Yes, the Redskins named Orakpo their franchise player, but if another team wanted him it could sign him and trade two draft picks. That's a rather big longshot; it's one thing to shell out big money and it's another to do that and surrender picks. Still, technically, he's free. And he's not among Polian's best available free agents.
In fact, the former Indianapolis general manager, and current ESPN NFL Insider, gave 14 players a grade of at least a B-plus. No Redskins received higher than a B (Orakpo).
Perry Riley
received a B-minus while
Reed Doughty
was given a C-plus.
Those were the highest three grades Polian and a group of ESPN analysts, including Gary Horton, Matt Williamson and Field Yates, gave the Redskins players.
Pittsburgh's
Jason Worilds
was the highest-rated outside linebacker with a B-plus. Seattle defensive end
Michael Bennett
was the top player overall. Bennett and three others received an A: Indianapolis safety
Antoine Bethea
, Cleveland center
Alex Mack
and Houston nose tackle
Earl Mitchell
.
Here's what Polian had to say on some key Redskins:
"Orakpo has excellent size with good first-step quickness and good rush instincts. He is a power rusher more than a speed rusher. He is decent at the point of attack. All in all, a solid starting 3-4 OLB."

"Riley is instinctive, tough and skilled as an inside linebacker. He could have more punch at the point of attack."

"Doughty is a strong safety who is very smart and instinctive, which earns him the plus. He has excellent recognition and reaction against the run and pass. He is a productive tackler but lacks punch and does not have ideal range over the top."
March, 8, 2014
Mar 8
12:00
PM ET
There will be a lot of rumors circulating this weekend, based on who the Redskins have contacted during this open negotiating period. But it's not as if these are all meaningful discussions.
Nobody can be signed and just because they talk to someone early Saturday afternoon, it might not mean much come Sunday night or Monday morning or, especially, on Tuesday. An agent can use that first negotiating call to get better offers from another team later in the weekend. Of course, he can always go back to the original team.
The point is, it will be tough to get a handle on a lot of what takes place this weekend. Some teams might be reluctant to say too much for fear that their initial talk will be used as leverage for other teams.
General manager Bruce Allen can contact an agent, ask what they want, find out it's several million more than they're willing to pay and then move on. But the agent can tell the media that, yes, Washington contacted us about this player. Doesn't mean the interest is legit.
The Redskins contacted some players early in this period a year ago and that was their only discussion. Not having cap space prohibited them from doing much, but they could have gone in different directions had they wanted or opted not to re-sign almost all of their own free agents. Still, they lacked the money to reach out to some high-profile players. It's hard to imagine they would sign someone such as Buffalo's Jairus Byrd, but they should at least make contact just in case. Along with that, they'll call the agents for players such as safety Mike Mitchell and corner Aqib Talib. Perhaps they'll find out they can sign those two at a price tag close to what it would cost to sign Byrd.
It's good business for agents if they can somehow spread the word that X number of teams are interested in their client (some teams more so in particular because of their desire to spend).
In some ways, it's akin to bringing in a number of players before the draft. Clearly you're not going to draft all of them, but it's part of the so-called due diligence. But this period does allow teams to shape their lists and prioritize come Tuesday. Keep in mind, though, what an agent asks for this weekend could change quite a bit once his client sits on the market unsigned in a week or two.
This is a feeling-out period and by Monday night we should be able to have a better handle on what will happen starting at 4 p.m. Tuesday when free agency begins.
You can't schedule a visit during this weekend (wink, wink). And if they do schedule a visit, you're certainly not going to let people know. The NFL wouldn't like that.
Players can't talk to teams or visit teams during this period and if you represent yourself, then you can't talk to a team until free agency begins. Also, restricted free agents can't be discussed until free agency starts as well.
Among the names you might hear this weekend in relation to the Redskins: defensive lineman Linval Joseph, safety Mike Mitchell, linebacker Joe Mays, linebacker Jon Beason, linebacker Brandon Spikes, linebacker Daryl Smith, safety Malcolm Jenkins, corner Aqib Talib, receiver Hakeem Nicks, receiver Golden Tate, receiver Kenny Britt, corners Sam Shields and Walter Thurmond. I don't know about the offensive line, but there are some solid centers available other than Alex Mack. I don't know how many of these players the Redskins will actually target, but they either make sense for them or I've heard their names discussed. And I know there are players not on this list who will be contacted (or, rather, their agents will be).
Obviously higher-profile free agents such as safeties Jairus Byrd and T.J. Ward would be attractive and you need to do due diligence on them as well. But the cost might be too much.
March, 8, 2014
Mar 8
10:00
AM ET
The second round of the mailbag is a continuation of the first: more free agency talk. But there's a little more
Robert Griffin III
sprinkled in and what he's doing this offseason to improve. Hint: a lot.
March, 7, 2014
Mar 7
4:15
PM ET
The Redskins already re-signed corner
DeAngelo Hall
last month, but the work here isn't over. Far from it.
Why it's a need:
The Redskins have only two corners under contract capable of playing a lot in an NFL game in Hall and
David Amerson
. The Redskins need to find someone who can play in the slot as neither Hall nor Amerson is best suited for that job. Hall played there two years ago, but it was a struggle. I used this stat a couple weeks ago, but it's indicative of what a team needs: Amerson, as the No. 3 corner, played 67 percent of the defensive snaps last season.
Josh Wilson
and
E.J. Biggers
are free agents. I can see Biggers returning, but not Wilson.
In-house options:
Maybe
Chase Minnifield
improves and can help and maybe
Richard Crawford
shows that he's healthy after his knee injury and will contribute again. But, for now, both are question marks. Crawford showed good improvement last summer, particularly in the slot where his patience enabled him to mirror the receiver well. Minnifield showed tenacity in press coverage during the summer, but struggled when in zone or off-man coverage. It takes time to learn for some players. I have a feeling one of them will be able to be a solid fourth or fifth corner.
Free-agent options:
The one player who could be intriguing is New England's
Aqib Talib
, if the Patriots somehow let him get away. Talib has remained close with Redskins secondary coach Raheem Morris, so if he decides to leave, and the money is right, then perhaps he'd come to Washington. Talib would give the Redskins versatility, with an ability to play inside or out. The Redskins could use another quality corner in a league where three is a must. Biggers is an option, but he's best as a fourth corner, but would provide good depth. I also like Carolina's
Captain Munnerlyn
to a degree, but only if he's asked to play inside (he did both in Carolina but worked a lot in the slot. At times he'd get off-balance, but was overall solid inside). He's small and at some point the Redskins need to find a bigger corner.
Draft options:
It's a good draft for corners, so even if the Redskins sign one in free agency, they could be tempted to select another one in Rounds 2-4. Florida State's
Lamarcus Joyner
and TCU's
Jason Verrett
are two possibilities, though both are small. It's OK to draft a smaller player if he's that good. But the ideal would be around 6-foot and both of these players are around 5-foot-9. Nebraska's Stanley Jean-Baptiste is a bigger corner, but he'll have to learn to play off, too. It's not as if the Redskins will only use press man. Virginia Tech's
Kyle Fuller
is likely a first-round pick, though he could sneak into the second. Overall, there are probably 15-20 corners who could go in the first four rounds.
In case you missed it
Monday:
Receivers
Tuesday:
Linebackers
Wednesday:
Safety

Thursday:
Defensive line
March, 7, 2014
Mar 7
12:45
PM ET
Free agency begins next week. Naturally, this week's questions are heavy on free agency -- but there are some questions about the draft as well as
Alfred Morris
. Look for Round 2 on Saturday.