September, 30, 2014
Sep 30
5:35
PM ET
ASHBURN, Va. -- The Redskins confidence took a hit Thursday, which is why they needed a weekend away -- no football, no talk about three losses in four games to start the season. Their coach, Jay Gruden, said a day after a 31-point loss to the
New York Giants
that they needed a wakeup call. They also needed time away.
Now that they have returned, the Redskins know they have a long road ahead.
"It doesn't take a rocket scientist to figure out we've got to step it up," Redskins left tackle
Trent Williams
said, "and we're going against one of the best teams in the NFL right now so guys are gonna come with their best efforts."
[+] Enlarge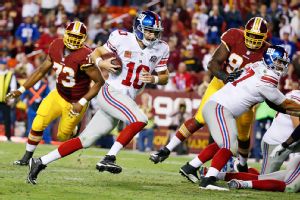 AP Photo/Alex BrandonThe Redskins took a needed break from football following a 31-point loss to the New York Giants on Thursday.
They'd best, otherwise the Redskins are looking at a 1-4 start after a season in which they lost 13 of 16 games. That's hardly the way to a turnaround. Facing the defending Super Bowl champion
Seattle Seahawks
at home on Monday night makes for a tough recovery.
"They're not robots, they're human beings," Williams said. "No one plays perfect every Sunday. They have been beaten before. It's not like they're unstoppable. They're a great team, no doubt about it. But anything is possible in the NFL. Anything."
Linebacker
Brian Orakpo
said, "This is a perfect time for redemption. It's a second chance to go out there and fix the problems and show everyone we're a good defense, a great defense, a great team."
The Redskins are a long ways from being considered a great team. But the players felt good after having the weekend off. It wasn't like having a bye week, but it will enable a banged-up team to get a few extra days rest.
"It feels better to come back fresh, but it also hurts to have a long weekend after the kind of loss we had," Redskins nose tackle
Chris Baker
said. "You want to get back out there to put more good stuff on film to get that bad taste out of your mouth. We have to string together some wins and get this thing back together.
"Without question we dug ourselves a hole and now we have to dig deep and get us out of the hole we're in."
Guard
Josh LeRibeus
said players were more "fired up" once they returned -- and listened to an address by coach Jay Gruden.
"Everyone is more optimistic," LeRibeus said. "It's going to get better from here. [Gruden] was focusing on different things we've done, not dwelling on the negatives but that so far we've pretty much beat ourselves. … Even when he's pissed, you know he's going to take the right direction."
Seeing other games over the weekend -- New England was blown out Monday; Dallas, a team considered done before the season began, improved to 3-1 with a lopsided win over preseason darling New Orleans. That's why the players view Thursday as an aberration -- they hope.
"There is that tendency to go, the sky is falling," tight end
Logan Paulsen
said. "You look around and there's a lot of good teams in the NFL. In some ways it's encouraging and in some ways it's discouraging. Everyone's good. Everyone will be a challenge, especially for this team. That's something we have to reconcile and move forward and be better."
They're hoping a free weekend provided what they needed.
"You could go home and be around what's really important," said Paulsen, who has an infant. "It puts the loss in perspective a little bit. At the time it feels like the world's ending. [Getting away] gets your legs under you a little bit and gets your mind back right."