April, 18, 2014
Apr 18
3:10
PM ET
The
Washington Redskins
' defense is optimistic about where it's headed, thanks to the addition of
Jason Hatcher
and a tweaked philosophy regarding the pass rush. Whether their play matches that optimism always remains the biggest hurdle. What's not in doubt: They will have two players among the most expensive at their positions when it comes to the salary cap. The fact both are in their front seven isn't a coincidence as the Redskins' offseason goal has been to improve the pass rush. So, after breaking down where the
Redskins' top cap hits at each position offensively stood in comparison to their NFL counterparts
earlier this week, it's time to take a look at the defense.
Safety
NFL's top five cap hits
Eric Berry
,
Kansas City Chiefs
$11,619,700
Eric Weddle
,
San Diego Chargers
, $10,100,000
Antrel Rolle
,
New York Giants
, $9,250,000
Dashon Goldson
,
Tampa Bay Buccaneers
, $9,000,000
Michael Griffin
,
Tennessee Titans
, $8,000,000
Meriweather
Redskins' top cap hit
Brandon Meriweather
(59th), $1,000,000
Summing it up:
Notice who's not in the top five?
Jairus Byrd
, after his new deal with New Orleans. But don't worry: He's set to take up the most cap room in 2015 at $10.3 million. I like Byrd, but not at that figure (I'd have paid
Sean Taylor
that sort of cash). But Byrd was never really a legitimate option for the Redskins.
Mike Mitchell
was and he'll count $2.2 million this season and $4.95 million in 2015. But the overriding point is Washington views the best way to help this position is by bolstering the pass rush. Starters Meriweather and
Ryan Clark
both are on one-year contracts, so this position is still a question mark beyond this season (and still will be one entering the year).
Corner
NFL's top five cap hits
Brandon Carr
, Dallas, $12,217,000
Johnathan Joseph
, Houston, $11,250,000
Lardarius Webb
, Baltimore, $10,500,000
Brandon Flowers
, Kansas City, $10,500,000
Tramon Williams
, Green Bay, $9,500,000
Porter
Redskins' top cap hit
Tracy Porter
(43rd), $2,800,000
Summing it up:
Next season,
Darrelle Revis
' cap hit jumps to $25 million. Which means he's playing on a one-year deal. Is it a good thing the Redskins' biggest cap hit here belongs to Porter, who has battled injury issues along with consistency during his career? Of course, it's not like he occupies a lot of space.
DeAngelo Hall
's cap hit is $2,062,500 but that jumps to $4,812,500 in 2015. By then the Redskins need young corner
David Amerson
to have fully emerged -- can he become their best corner? If not, then they'll have to start looking for a No. 1 corner. By the way, the top five on the list for 2014? They've combined for four Pro Bowl appearances and one All-Pro spot (Joseph). But Carr did do a good job vs. Washington last year in the first game but not the second (and in at least one game against then-Eagles receiver
DeSean Jackson
).
Linebacker
NFL's top five cap hits
Lawrence Timmons
, $11,816,250
Tamba Hali
, Kansas City, $11,464,706
Brian Orakpo
, Washington, $11,455,000
Clay Matthews
, Green Bay, $10,943,750
James Laurinaitis
, St. Louis, $10,400,000
Orakpo
Redskins' top cap hit
Orakpo
Summing it up:
That's quite a list for Orakpo to be part of, but to stay on there after this season -- at least in Washington -- he'll have to be a little more productive. But even if he has another season like last year, Orakpo will still be in the $10-million range. When Hali got paid, he responded with sack totals of 12, nine and 11 in the next three seasons (with nine forced fumbles and one interception). I don't think anyone says Hali's overpaid (well, at least not many). In Orakpo's last three full seasons, he has a combined 27.5 sacks, but only four forced fumbles. More game-changing plays and he'll get the contract he desires. Another interesting part on this is that two of the five are inside linebackers, though Timmons plays in a 3-4 and Laurinaitis in a 4-3.
Defensive tackle
NFL's top five cap hits
Ndamukong Suh
, Detroit, $22,412,000
Haloti Ngata
, Baltimore, $16,000,000
Gerald McCoy
, Tampa Bay, $15,627,253
Geno Atkins
, Cincinnati, $9,000,000
Barry Cofield
, Washington, $7,667,500
Cofield
Redskins' top cap hit
Cofield
Summing it up:
Cofield's base salary jumped from $840,000 last season to $4.55 million (the lower figure was the result of a restructuring last spring in which $3.5 million in base salary was converted to a signing bonus). This is as high as Cofield's cap number will be and in two years it falls to $6,877,500. I know the coaches felt he would become the NFL's top nose tackle by this time. That's not the case, but Cofield does have his strengths and has done a nice job with Washington. For a short stretch last season he was playing as well as anyone on the team defensively, and he always plays hard. He'll be helped by having Hatcher in the pass rush, perhaps giving Cofield more one-on-one matchups. If that happens, then perhaps Cofield will have the sort of season in all phases that coaches have hoped for.
Defensive end
NFL's top five cap hits
Mario Williams
, Buffalo, $18,800,000
Charles Johnson
, Carolina, $16,420,000
Chris Long
, St. Louis, $14,900,000
Greg Hardy
, Carolina, $13,116,000
Calais Campbell
, Arizona, $11,250,000

Bowen
Redskins' top cap hit
Stephen Bowen
(15th), $7,020,000
Summing it up:
All of the top five on this list play in a 4-3, where ends can excel as playmakers and, therefore, command big bucks. The 3-4 ends, typically, are not -- with some exceptions. Bowen has not been a playmaker, though for a while he was an effective player both against the run and as a rusher. However, he has just one sack since the 2011 season (26 games). And after microfracture surgery and being 30, I wonder about the level at which he'll be able to play. Multiple Redskins sources said they still expect him to be in the Redskins' plans, but will it be at this cap figure? That's a big hit for someone in his situation. If Bowen returns healthy and plays well, the Redskins will greatly benefit. If not? That's a lot of cap room to occupy. One more note: Johnson and Hardy combine for approximately 23 percent of Carolina's cap.
April, 18, 2014
Apr 18
1:45
PM ET
Yes, the draft is (finally) drawing close. And I can tell that by the mailbag questions as most of the queries involve some form of what the Redskins would do in the draft -- or about the pre-draft visits. We'll get three more weeks of draft questions. Can you handle that? Regardless, enjoy.
April, 18, 2014
Apr 18
10:20
AM ET
In the fifth part of our re-examining series, I take a look at cornerback where the Redskins made a couple moves, though only one key addition. Already this week I've discussed
safeties
, the
pass rush
,
receivers
and the
offensive line
.
[+] Enlarge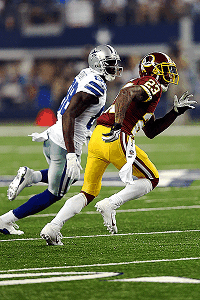 AP Photo/Paul SpinelliDeAngelo Hall is back for his seventh season in Washington.
What they've done:
Re-signed
DeAngelo Hall
, re-signed
E.J. Biggers
, signed
Tracy Porter
, let
Josh Wilson
leave via free agency.
Problem solved:
Tough to say that considering it's largely the same group that's returning. But the corner play wasn't nearly the same issue as safety. Porter is coming off a solid year and should be improved over Wilson in the slot in coverage. Amerson's progression will be a big key here. Hall isn't going to get better but if he duplicates last season they'd be happy; Biggers is fine as a fourth corner. They still could use one more corner to compete with
Chase Minnifield
and
Richard Crawford
. Overall this group still has a lot to prove.
Projected starters:
Hall and Amerson with Porter in the slot.
What must happen:
Amerson must be able to handle a starting role after serving as the No. 3 corner during his rookie season. Amerson definitely improved throughout the year, cutting down on his mental lapses in coverage. He was better with his eyes throughout the play later in the year. He learned to play press coverage last season, which should be a good tactic for him because of his long arms. He needs to show consistency and prove he can handle consistently tougher assignments as a starter (though it's not as if he only played lesser receivers; he did a good job vs. Denver's
Eric Decker
, for example). Amerson will have to show he can handle run game duties, too.
Porter has to play at a comparable level to 2013 -- I know what some rankings say about him, but those who watched him every game and in practice called him the Raiders' most consistent corner. In the games I watched of him this offseason (Indianapolis, Denver and Dallas), he was solid. He showed good patience in the slot while facing receivers such as
Reggie Wayne
,
Wes Welker
and
Miles Austin
(and occasionally Eric Decker or even
Dez Bryant
, who was a mismatch inside against him). When Porter allowed bigger catches, it typically came off an excellent move and good throw because he still had tight coverage. He's willing to play the run, but Wilson was stronger in this area. And Porter showed he could blitz from the slot. Porter's previous seasons weren't that strong, which is why he's on his fourth team in four years. Injuries have been an issue in his career; last season was his first playing 16 games and only his second of more than 12. So staying healthy is a big key. Hall needs to maintain the same level of intensity he showed in 2013 when facing many top receivers. He played well and was most effective in press coverage. Hall also turns 31 this season and he was not as consistent in other coverages.
Address in the draft:
Sure, but not until the later rounds. It would be a waste to select a corner in the second round knowing they would serve as a No. 4 at best. It's not like, say, outside linebacker where they'd be used in packages to bolster the pass rush. What if the corner is by far their best on the board? OK. But short of that, they can address the position later in the draft and try to develop the player. They need depth right now, not starters (you can debate the quality of them; but they're invested and it's not a need). Next year? Different story. Minnifield and Crawford still have something to prove; the former spent most of the year on the practice squad and the latter missed all season with multiple torn ligaments. It's asking a lot to expect him to be at the same level he was entering camp last summer. When he entered camp he and the coaches felt good about how he had improved in the slot. The feisty Minnifield has to show he can be effective in more coverages than just press.
Last word:
This group will definitely be helped by increased quarterback pressure. Too often last season the coverages didn't seem to match the rush, for whatever reason. And when they'd play zone, that's when they'd get into trouble. They're not good enough to just play press man all day. Few corners are so they must be able to play a variety of coverages. But if you know the pressure will get home, then you can play tighter even in zones. If safety
Ryan Clark
has anything left, he'll also help in two ways: making sure everyone is lined up right (sounds little, but it's not) and providing trust that he'll be where he's supposed to, allowing the corners to play accordingly. It matters.
April, 17, 2014
Apr 17
5:58
PM ET
ESPN.com news services
[+] Enlarge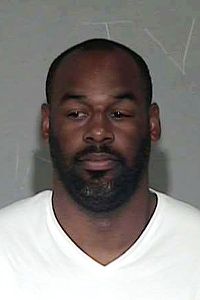 AP Photo/Maricopa County Sheriff's OfficeFormer NFL QB Donovan McNabb was released Thursday from an Arizona jail after serving a one-day sentence for a DUI arrest.
MESA, Ariz. -- Former NFL quarterback Donovan McNabb was released Thursday from an Arizona jail after serving a one-day sentence for a misdemeanor DUI arrest late last year.
Records released by West Mesa Justice Court show McNabb served his time Wednesday and was released Thursday morning.
"I have had other high-profile athletes who have been incarcerated with no problems, and this latest athlete follows that same pattern," Maricopa County sheriff Joe Arpaio said.
McNabb, 37, was arrested Dec. 15 on the Salt River Pima-Maricopa Indian Community east of Phoenix, according to court records.
A copy of the citation shows McNabb was stopped on the Loop 101 freeway just after 3 a.m., and radar clocked his Range Rover at 81 mph in a 65-mph zone. He also was cited for DUI, but no information about blood-alcohol level was on the citation.
McNabb pleaded guilty on March 27, and nine days of his sentence was suspended.
The Maricopa County Sheriff's Office released McNabb's mug shot Thursday morning, and that started a media frenzy about the arrest, which had not been previously reported.
McNabb's Phoenix-based attorney, Stephen Benedetto, didn't immediately return a call Thursday seeking comment on the case.
April, 17, 2014
Apr 17
5:00
PM ET
The list of defensive players who have visited, or will visit, the Redskins is notable because of the position a few of them play: outside linebacker. Yes, the Redskins have two starters and two backups. But
Brian Orakpo
and
Rob Jackson
are on one-year deals (barring a long-term deal for Orakpo). And pass-rushers always are at a premium, so this makes sense. The safeties they've hosted project to later-round picks, which makes sense if they're looking for a guy they can develop so they can take another position earlier.
The
Washington Redskins
can host up to 30 players before the draft, though sometimes they'll end up drafting only a couple of players who actually visit. And we don't really know what visits mean for this regime: How many of these players will they ultimately select? Some teams draft maybe one or two players that they actually hosted.
It's also true that in some cases the Redskins might not want to draft certain players, but would bring them in because they want a book on them for the future -- in case they get cut or become free agents down the road.
Anyway, take the visits for what they're worth but the positions they're looking at are noteworthy. These are players who either have visited, will visit or have talked to them about visiting. I've used reports from the Washington Post, myself, ESPN980, SiriusXM radio and 106.7. I also used some info from draft analysts for ESPN.com, CBSSports.com and NFL.com. And in finishing this item, I came across a similar format on a site called
Pro Player Insiders
.
Here's a look at the defensive players (and
here's the offense
):
FS Tre Boston, North Carolina
Projection:
Late rounds
Comment:
Former corner turned safety has good ball skills, but analysts questioned his instincts and consistency. He's considered a raw project.
How he'd fit
: Special-teamer who could possibly be groomed, by
Ryan Clark
and also coach Raheem Morris.
DE/OLB Kyle Van Noy, BYU
Projection:
Second round
Comment:
Maybe he sneaks into the first, but my guess is he'll be available at 34 -- some have him lasting until late in the second and possibly the third. Have heard that the Redskins like him, but you can like a lot of players this time of year. He had 17.5 tackles for a loss last season. Analysts like his explosiveness off the ball, but do question his strength and, therefore, his ability to play the run. (ADDED: His strength is his versatility as Van Noy played all over and there's a chance he could play inside in a 3-4).
How he'd fit:
If the Redskins drafted him, he'd be viewed as
Brian Orakpo
's eventual replacement at outside linebacker, assuming he does not return after this season. That is, unless the Redskins like Van Noy better inside.
DE/OLB Demarcus Lawrence, Boise State
Projection:
Second round
Comment:
Another pass-rusher type, which suggests they at least wonder about Orakpo's future in Washington. Of course, this is also just due diligence and pass-rushers are always on the list to examine. Lawrence made a lot of plays behind the line of scrimmage and has excellent pass-rush skills. But the concern is his ability to play the run.
How he'd fit:
Like Van Noy, he'd be viewed as a future replacement for Orakpo. But for this season he'd be pass-rush help.
DE/OLB Jeremiah Attaochu, Georgia Tech
Projection:
Second round
Comment:
He played at Carroll High School in Washington, D.C. Another pass-rushing outside linebacker. Obviously he was a good pass-rusher in college -- 22.5 sacks his last two years combined -- and has experience in both 4-3 and 3-4 schemes. That versatility helps. The knock on him is that he's still learning all aspects of the position, especially the run.
How he'd fit:
Another potential Orakpo replacement. Because he has a lot to learn, he'd be a pass-rusher this season while learning the other aspects of the position.
DE/OLB Marcus Smith, Louisville
Projection:
Second, third round
Comment:
He played all over for Louisville, so he'd offer versatility. Either that or he'd be a player without a full-time place to play. He does not have elite skills, but he does have long arms (always good for a rusher) and he is physical (again, always good).
How he'd fit:
Yet another in the line of "potential Orakpo replacements." Or he'd just be a guy who could help in various ways, regardless of Orakpo.
S Dezmen Southward, Wisconsin
Projection:
Possible fourth
Comment:
Has good size (6-feet, 211 pounds) and ran a 4.38 in the 40 at his pro day. So speed clearly is a strength. Was not a playmaker in college, but was versatile as he covered slot receivers on occasion.
How he'd fit:
Another guy to groom. He'd be worthwhile because he has some skills and a year with Clark and Morris would benefit him. Would he be an eventual starter? No idea. But he can play special teams and that's a must for a young safety not starting.
April, 17, 2014
Apr 17
2:30
PM ET
The
Washington Redskins
can host up to 30 players before the draft, but who they do doesn't always tell the entire story of their interest. And we don't really know how what visits mean for this regime: How many of these players will they ultimately select? Some teams draft maybe one or two players that they actually hosted.
That said, some things are telling. First I'm going to take a look at the offensive players mentioned. What stands out: They've looked at several tackles. That's no surprise, but I think the plan all along was to look harder at the draft for this spot than free agency (where they brought in only
Donald Penn
).
It's also true that in some cases the Redskins might not want to draft certain players, but would bring them in because they want a book on them for the future -- in case they get cut or become free agents down the road.
Anyway, take the visits for what they're worth but the positions they're looking at are noteworthy. These are players who either have visited, will visit or have talked to them about visiting. I've used reports from the Washington Post, myself, ESPN980, SiriusXM radio and 106.7. I also used some info from draft analysts for ESPN.com, CBS Sports and NFL.com. And in finishing this item, I came across a similar format on a site called
Pro Player Insiders
.
Here are the offensive players who either have visited or will:
T/G Jack Mewhort, Ohio State
Projection:
Third round
Comment:
Mewhort played left tackle and both guard spots in college and was a solid player. He's athletic, but lean at 6-foot-6, 308 pounds. He's a much better fit in a zone blocking system, an outside one at that, than anything else. Which, of course, the Redskins use. I don't think he's going to overpower any defender.
How he'd fit:
Mewhort would have to be viewed as the eventual starter at right tackle, but I'd be surprised if it happened right away. If he can't handle right tackle, he could always slide inside so if nothing else he'd find a way to be productive. However, he'd have to learn to consistently play lower if that were the case. It was an issue in college.
WR Cody Latimer, Indiana
Projection:
Mid-to-late rounds
Comment:
Coming off a 72-catch season. Has good size at 6-2, 215 pounds and excellent hands. But he's not a fast receiver and analysts worry about his ability to defeat athletic corners in the NFL.
How he'd fit:
Developmental receiver and depth.
OT Morgan Moses, Virginia
Projection:
Second round
Comment:
He has clear ability, but for a guy who projects this high he also seems to be a bit of a project. He has good size at 6-6, 314 pounds, but doesn't always bend his knees. The fact that Washington is looking at him suggests the Redskins want to upgrade right tackle and might do so with its first pick.
How he'd fit:
Despite faring better on the left side in college, he'd be the future starter at right tackle with Washington. Day 1 starter? Hard to see, but if you're a second-round pick you should be ready to start at some point that first season.
OT Cameron Fleming, Stanford
Projection:
Second round
Comment:
He's not considered a fast or agile tackle, so I wonder how he'd fit in with Washington. He's considered by analysts to be better as a drive blocker. But he did not receive high marks for his pass protection skills. Honestly, after reading more about him, I'm not sure why he's projected to this round.
How he'd fit:
I really don't know based on his fit with a zone scheme. Perhaps they view him more as a guard long-term than anything else.
WR Brandon Coleman, Rutgers
Projection:
Late rounds
Comment:
He attended Bishop McNamara in Forestville, Md. He's 6-6, which is great except that there aren't many receivers that size in the NFL. It can be tough to get in and out of breaks when you're that tall. But he'd make an inviting red zone target if nothing else, though it takes more than size to excel here. He caught 92 passes in college (20 for touchdowns).
How he'd fit:
Developmental guy. The Redskins could afford to bring him along slowly. Nothing wrong with that.
OT Antonio Richardson, Tennessee
Projection:
Second, possibly third round
Comment:
He has good size (6-5, 336) and long arms, two welcomed traits at tackle. Richardson received higher marks for his pass protection skills than anything. He's considered to have good enough quickness to handle the right side.
How he'd fit:
Eventual starter at right tackle. Day one? Tough to say, but has traits worth grooming.
RB Charles Sims, West Virginia
Projection:
Mid-to-late rounds
Comment:
He has excellent hands and quickness. Has good speed, though not a burner. Analysts consider him a better fit in a zone system (like the Redskins).
How he'd fit:
A third down pass-catcher. The Redskins have
Roy Helu
and
Chris Thompson
as possibilities here, but both have question marks.
April, 17, 2014
Apr 17
12:40
PM ET
This was an excellent story in the Washington Post by Kent Babb about
DeSean Jackson and his alleged gang ties
. As usual, I have a couple of thoughts on this topic (and story):
1. The gang affiliation angle,
originally outlined in an NJ.com report
, never gave me great pause when it came to Jackson. Before I'd even heard about the gang questions, I'd heard other things that gave me more pause -- about his professional conduct. Clearly they weren't enough to stop the Redskins from signing him. But the point on the gang stuff, which many have made, is that enough players come from tough situations who have similar ties. To judge Jackson based on his friendships would be difficult. Jackson has never been accused of any wrongdoing here, just guilt by association and appearing in some questionable photos.
[+] Enlarge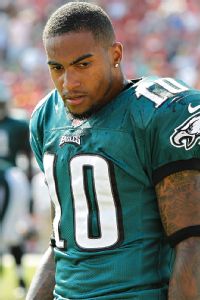 Kim Klement/USA TODAY SportsAt 27, DeSean Jackson must realize that his relatively young NFL career is at risk.
2. Clearly Jackson's past has helped fuel his success. There's a reason smaller guys like him can still end up having productive careers. Take
Santana Moss
, for example. He grew up in some difficult places in South Florida. I remember a conversation with him a few years ago in which he talked about waking up and seeing drug dealers or prostitutes asleep in the back yard, or syringes in their bushes. Numerous issues. Moss is one of the most professional players I've dealt with in my time covering the Redskins. Don't judge by the background. While it may hurt some, it clearly has helped others achieve in a brutal sport. Everyone's background shapes their drive in some way; I know mine did. I can't relate to Moss' or Jackson's background, but I can relate to how they're shaped by that past.
3. The part that jumped out to me in this story: The words of Jackson's mom and brother. They do not sound like enablers who would claim Jackson is just misunderstood or always in the right. No. His mother, Gayle Jackson, clearly has spoken with him about perceptions and more. She told Babb, "DeSean is one of the most loyal people. Too loyal for me." His brother, Byron Jackson, called Jackson's gestures in the picture that appeared in the NJ.com story -- whether gang symbols or not-- "immature." And his mom said he shouldn't have posed for the picture. "When I look at it, it doesn't look like a gang sign to me. But it's questionable, and anything that's questionable, in my mind, don't do it."
4. Players need to wean themselves from their past at their own pace, with definite nudges along the way. Read this
Andrew Brandt piece on The MMQB
as an example. You don't have to divorce yourself from it, but you need to surround yourself with good influences from that past. Not everyone from that past is a gang member. Plenty of good people rise up from tough situations. I have no idea about how Jackson is in this regard. But Babb spoke to one long-time Jackson friend, Khalid Rahim, who did say, "Everybody had to stop; certain people had to quit hanging around." To survive long-term in the NFL, this is a must.
5. The real issue to me always has been his conduct within the team structure: work ethic, practice habits, etc. This is where Jackson must excel if he wants his career to last longer and be as productive as 2013. Most coaches I've been around love using players in their 30s as examples of how to achieve a good career. They've had to work a certain way to reach that level. I don't think everyone comes in working that way; it must be learned and processed and developed. If Jackson matures here, then he has a chance to be productive for several more years. If not, then his career will go a different way. Always does. It's up to him.
April, 17, 2014
Apr 17
12:15
PM ET
The
Washington Redskins
don't pick in the NFL draft until the second round, 34th overall, thanks to the
Robert Griffin
III trade in 2012. A 3-13 record at least provided them a high pick in the second round, which is not exactly what they were hoping for last season. Despite luring some key free agents, the Redskins remain in need of several positions. A right tackle, a safety, an inside linebacker or even another pass-rusher would make sense with their first pick.
ESPN draft analyst Mel Kiper Jr.'s
fourth 2014 NFL mock draft

is out on ESPN Insider today, and his choice would give the Redskins a replacement for a departed leader.
To continue reading this article you must be an Insider
April, 17, 2014
Apr 17
8:40
AM ET
On the fourth day, it's time to take a look at the Redskins' offensive line and whether it's a spot that's been fixed. I took a look at
safety
, the
pass rush
and
receiver
earlier this week.
What they've done:
Signed G
Shawn Lauvao
, G/C
Mike McGlynn
, released C
Will Montgomery
, moved
Kory Lichtensteiger
from LG to C.

Lauvao
McGlynn
Projected starters:
LT
Trent Williams
, LG Lauvao, C Lichtensteiger, RG
Chris Chester
, RT
Tyler Polumbus
.
Problem solved:
Can't say that yet. The potential is there, but so are the questions. While there are things to like about Lauvao, he was inconsistent in Cleveland. And, while I've long thought Lichtensteiger was best suited for center, we still don't know how he'll fare. Keep in mind, too, that it could take time for them to mesh. McGlynn was part of a bad line in Indianapolis; he was better at center than guard. Washington looked at a potential new right tackle in
Donald Penn
, but did not sign him. The interior struggled more than anywhere last season and that, at least, was addressed. But Chester did not have a good season and, as of now, will return.
What needs to happen:
Lauvao needs to become a consistent starter. In watching his games at Cleveland, a couple things jump out. One, he does play with some attitude. Lauvao stuck with pass plays longer than most, so when the quarterback extended a play he stayed with his man. Too often that wasn't always the case here last season. Lauvao liked the hard shove at the end of a block, almost a punctuation point, and always looked for someone to hit. He also probably led the Browns in helping ball carriers off the ground. Lauvao has longer arms, which always helps. But he sometimes would get too upright and defenders would get into his chest too fast. Lauvao seemed to move well, which should make him a good fit in the outside zone game (as Cleveland coaches felt he would be). He will provide more power at left guard than Lichtensteiger could at 280-285 pounds.
Work also needs to be done at center and right guard. Lichtensteiger's quickness and smarts should help at center, but he still needs to add 10-15 pounds and show that he can handle snapping and blocking in the pistol. It's a tough transition for some. And it's not like blocking out of regular shotgun formation because that's usually a pass set or draw. You're not firing off the ball as you need to in pistol. Finally, the right guard spot needs more consistency. If it's not Chester, then one of the young guards needs to finally show they're worthy. That means
Josh LeRibeus
needs a strong offseason; he's off to a good start by weighing only 317 pounds but now he must sustain and improve his play. Can you trust he'll be that disciplined each offseason? No, there's proof to the contrary (college, 2013).
Adam Gettis
continues to get stronger and that will help. He improved as a run-blocker.
Maurice Hurt
? I like the other two better, but we'll see where Hurt is at after losing 2013 to a knee injury. It's not as if they're playing behind Pro Bowlers so it will speak volumes if all are backups again. Here's how it should work: A team drafts players, develops them and when there's a need one becomes a starter, saving the team from either having to spend for a free agent or to keep a player around at a higher cap figure. That's not how it's worked here – yet. Still time. But it's tough to know where these players are at (except for the coaches) because they haven't played substantially since last preseason.
Address in the draft:
Yes. The Redskins clearly are not satisfied with Polumbus at right tackle. It's why they courted Penn and it's why they've held some private pre-draft workouts with, among others,
Morgan Moses
. That's smart; the Redskins absolutely need to see if they can upgrade here. Polumbus' play definitely improved in 2013 and he was clearly not the cause of the offensive issues. Could he have played better? Of course. But to think they'll suddenly take off as an offense with a new right tackle is silly. If they can't succeed with the weapons they have added offensively – and with a quarterback once selected No. 2 overall -- then they have far bigger issues than right tackle. Having said all that, if there's a right tackle they like at No. 34, they should take him. If they added a young athletic talent it would give them quite the bookends. But just remember it will take time for that player to learn. Is
Tom Compton
in the mix? I think we'll find out more after the draft, based on what the Redskins do – or don't do.
The last word:
As was evident in 2013, the line struggled in one-on-one pass-rush matchups. It was not a strength. And too often quarterback
Robert Griffin III
couldn't step into throws because of a tight pocket. But, while giving the quarterback time is a key, no quarterback will ever have all the time he wants. You still have to make plays. The Colts had a horrible line last season, yet still made the playoffs and
Andrew Luck
still threw 23 touchdowns to only nine interceptions.
Russell Wilson
was sacked 44 times; he had an excellent season. Heck, two years ago Griffin played behind the same line he did in 2013 and the offense flourished – his impact had a tremendous trickle-down effect. But the reality is, last year he needed more help – both because of physical limitations and where he was at as a pocket passer, facing different coverages and looks and having no offseason to improve -- and certain areas of the line were exposed. He will always need more time than some quarterbacks just because of his ability to extend plays, which is a great asset. (Wilson uses this as well.) It also needs to be pointed out that the run game was productive with this group the past two years; there are other factors involved in that success, just as pass-protection issues are not just the fault of the front five. The line needs to improve, but it'll need help, too, whether from the scheme, game situations or Griffin's growth as a quarterback.
April, 17, 2014
Apr 17
8:38
AM ET
ESPN.com news services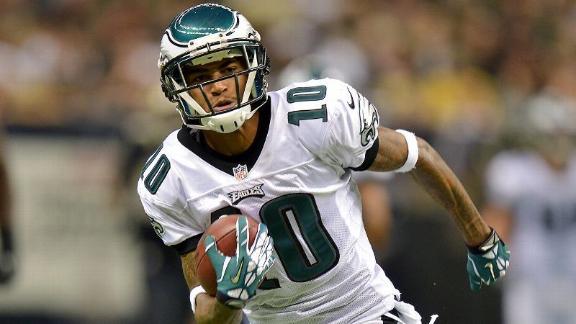 An arbitrator on Tuesday ruled that DeSean Jackson owes former agent Drew Rosenhaus $516,415 in unpaid loans and fees, according to multiple media reports.
Yahoo! Sports reported Rosenhaus originally sought $777,793 for "loans, interest, credit card charges and insurance premiums." Rosenhaus filed the grievance in June 2013, shortly after he was fired by Jackson, according to reports.
Jackson intends on appealing the decision, which was handed down by arbitrator Roger Kaplan, the Philadelphia Inquirer reported.
After leaving Rosenhaus, Jackson signed with Joel Segal, who negotiated the receiver's three-year, $24 million contract ($16 million guaranteed) with the Washington Redskins that came days after his release by the Philadelphia Eagles.
Jackson, 27, had career highs of 82 catches and 1,332 yards as well as a career-high-tying nine touchdown catches last season, his first and last under Andy Reid successor Chip Kelly.
April, 16, 2014
Apr 16
2:00
PM ET
Last week I broke down the Redskins' salary cap by position and how it compared to the rest of the NFL. This is one more extension of that so you can see how the Redskins' top cap hit compares to the five biggest cap hits at each position. For the most part, the Redskins have more bargains offensively in part because they've found younger contributors through the draft or they landed players such as
DeSean Jackson
after they'd been cut, thereby lowering their price. The Redskins have only one player who will count among the top five at their position in 2014 -- left tackle
Trent Williams
.
Quarterback
NFL's top five cap hits
Eli Manning
,
New York Giants
, $20,400,000
Ben Roethlisberger
, Pittsburgh, $18,895,000
Jay Cutler
, Chicago, $18,500,000
Drew Brees
, New Orleans, $18,400,000
Sam Bradford
, St. Louis, $17,610,000
Redskins top cap hit
Griffin
Robert Griffin
III
$5,759,754 (19th overall)
Summing it up:
St. Louis is paying the price for a since-changed system when it comes to rookie contracts -- and the Redskins clearly have benefited. There's little chance anyone would think Bradford is worth as much as his 2014 cap number. Manning has regressed the past two seasons, for whatever reason, and needed ankle surgery this offseason. Roethlisberger is excellent and Brees remains a top-five quarterback. But Cutler is an example of a guy who is being paid because of the position he plays. He's been a good quarterback, but it's tough to say he's been great. He's definitely not a top-five guy. The Redskins have Griffin at a lower cost the next two seasons and then, if he plays as they hope, his number will skyrocket.
Receiver
NFL's top five cap hits
Mike Wallace
, Miami, $17,250,000
Andre Johnson
, Houston, $15,644,583
Percy Harvin
, Seattle, $13,400,000
Calvin Johnson
, Detroit, $13,058,000
Vincent Jackson
, Tampa Bay, $12,432,000
Redskins top cap hit
Garcon
Pierre Garcon
$9,700,000 (seventh overall)
Summing it up:
The top two at this position certainly didn't outperform Garcon, who led the NFL with 113 catches. Garcon only caught five touchdown passes, but that matches what Wallace and Andre Johnson did as well. Harvin played just 19 snaps all season. Calvin Johnson caught 84 passes, but 12 went for touchdowns and he averaged 17.8 yards per catch. Jackson caught 78 passes, seven for scores, and averaged 15.7 yards per catch. The Redskins received good value from their top earner at this spot. They have even more invested here now after adding DeSean Jackson and
Andre Roberts
. The former will be a major bargain compared to the rest of this group if he puts up numbers similar to last year (82 catches, nine touchdowns, 1,332 yards. But keep in mind in his first five years Jackson averaged 54.8 catches, 4.6 touchdowns and 957 yards per season).
Running back
NFL's top five cap hits
Adrian Peterson
, Minnesota, $14,400,000
LeSean McCoy
, Philadelphia, $9,700,000
Ray Rice
, Baltimore, $8,750,000
Arian Foster
, Houston, $8,300,000
Matt Forte
, Chicago, $7,900,000
Redskins top cap hit
Helu
Roy Helu
$1,548,563 (38th overall)
Summing it up:
Peterson and McCoy are two of the most dangerous offensive players in the NFL and are difference-makers. But what's also clear is why teams don't like to shell out huge money for running backs. Washington's
Alfred Morris
, who is 93rd on the list of running backs when it comes to 2014 cap figures ($600,775), was as productive running the ball as Peterson. Morris ran for 1,275 yards and seven touchdowns, averaging 4.6 yards a carry. Peterson rushed for 1,266 yards and 10 touchdowns, averaging 4.5 yards per rush. Rice ran for 660 yards in 15 games, averaging 3.1 yards on 214 carries. Foster only played in eight games. Forte is an excellent all-around back and was productive. But the Redskins are fortunate they won't have to shell out more money here for two more years.
Offensive line
NFL's top five cap hits
LT
Joe Thomas
, Cleveland, $12,300,000
LT
D'Brickashaw Ferguson
,
New York Jets
, $11,698,666
LT
Russell Okung
, Seattle, $11,240,000
G
Jahri Evans
, New Orleans, $11,000,000
LT Trent Williams, Washington, $10,980,393
Redskins top cap hit
Williams
Williams
Summing it up:
Williams is one of the games best tackles so for him to be in this group makes absolute sense. He could be more consistent and avoid the occasional clunker game, but overall Williams has proven himself and earned two Pro Bowl trips. I'd have a hard time paying a guard as much as Evans, but at least he's an elite player with five consecutive All-Pro nods (in addition to five straight Pro Bowl berths). Okung, drafted one spot after Williams in 2010, has missed 19 games in his career and made one Pro Bowl team. Williams has played in every game the past two seasons. Because of his athleticism, the Redskins can use him differently than other teams use their tackles. And he can escape problems because of it as well (and because of his longer arms).
Tight end
NFL's top five cap hits
Jason Witten
, Dallas, $8,412,000
Marcedes Lewis
, Jacksonville, $8,250,000
Greg Olsen
, Carolina, $7,800,000
Antonio Gates
, San Diego, $7,362,500
Vernon Davis
, San Francisco, $7,342,916
Redskins top cap hit
Paulsen
Logan Paulsen
$2,236,666 (21st overall)
Summing it up:
Yet another position where the Redskins have a bargain for a few more seasons. This isn't about how Paulsen stacks up, but really about
Jordan Reed
. If he can stay healthy, this will be the company he keeps statistically. I love watching Davis because of the matchup headaches he causes based on his athleticism. It's the same with Reed. Marcedes Lewis has had a nice eight-year career and is an excellent blocker, but No. 2 on this list? He has 25 career touchdown catches, but 10 came in one season. The others are proven pass threats. Of course, this list will change once
Jimmy Graham
's situation is settled with New Orleans.
April, 16, 2014
Apr 16
10:00
AM ET
By
ESPN.com staff
| ESPN.com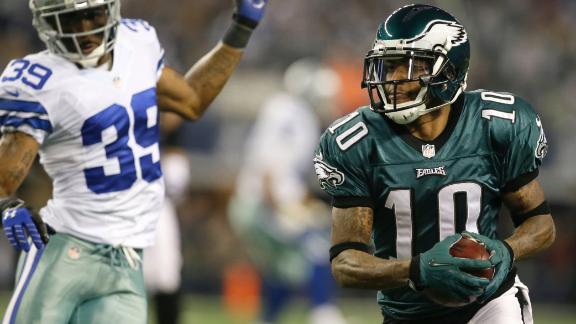 Washington Redskins
reporter John Keim sizes up the Redskins' vertical passing game and how
DeSean Jackson
will certainly help in that area.
April, 16, 2014
Apr 16
8:35
AM ET
Day 3 of taking a look at the Redskins' need before free agency and where they stand three weeks before the draft. Today it's receiver after already talking about
safety
and the
pass rush
.
What they've done:
Signed
Andre Roberts
and
DeSean Jackson
.
Jackson
Problem solved:
Yes. The Redskins needed a dynamic playmaker on offense and they just happened to fall into acquiring Jackson because of his release. Roberts gives them a solid slot receiver capable of getting downfield as well. Those two, paired with
Pierre Garcon
, certainly provides Washington a potentially dangerous attack. I say potentially because these are the Redskins and things don't always work out as planned as you might recall. But all three are proven. While Jackson is a slight gamble because of his reported work ethic or attitude, he produced with the same characteristics in Philadelphia and was handsomely rewarded by the organization. His contract with Washington mitigates the risk.
What needs to happen:
The Redskins need to be creative in how they use their top three receivers. Or, rather, should be creative. I say that because all three offer versatility in terms of where they can line up and catch the ball. Roberts played inside and outside with Arizona. Jackson was moved all over the place in Philadelphia, catching balls out of the backfield, going in motion to the slot, from split wide and then tight. They should be able to create a mismatch for someone – even more so when you add tight end
Jordan Reed
to the mix. Jackson excelled at the deep ball, obviously, but also on underneath crossing routes – through traffic. Garcon is better at running after the catch on bubble screens or smoke routes because of his physical nature. The receivers will have to sacrifice their ego just a little bit because you now have more weapons than anticipated. Garcon won't catch 113 passes – it was a great year, but it didn't exactly result in a potent offense. Jackson probably won't catch 82 passes, either; he averaged 54.8 catches per season in his first five. His strength is not in number of catches, but in the fear he strikes and the plays he makes. So if he catches 60 passes, he will still be a big help. And Roberts won't be the No. 2 guy as hoped (and probably expected). But all can complement one another.
Address in the draft:
It's a deep class of receivers, which would have been a good reason had they opted not to sign Jackson. Then again, this franchise hasn't developed a quality receiver in quite some time. The Redskins could still use more young depth. Leonard Hankerson's ACL surgery makes him a question mark.
Aldrick Robinson
is more than capable as a fourth or fifth receiver on the depth chart.
Santana Moss
is nearing the end and far from a lock to make the roster. If Hankerson doesn't return early or takes time to get his game back, the Redskins would lose depth. One reason Washington did not want
Andrew Hawkins
, one source said, was because of his lack of height. If that's the case, how many small receivers will Jay Gruden want to keep? (They also have
Nick Williams
, listed at 5-foot-10.) So adding a bigger receiver later in the draft remains a possibility, even if it's as a developmental guy.
Last word:
Quarterback
Robert Griffin III
now has a lot of choices, so that will put pressure on him to produce in the pass game. He's had a terrific start to the offseason and seems himself again in terms of how he's able to work (which he obviously could not do last year) and lead. Griffin will have to keep some strong-minded receivers happy, which is a lot easier to do while winning. He'll have to improve his accuracy on intermediate and long throws this season – a full offseason of work should help this area. Also, Jackson made a lot of plays in Philadelphia when he wasn't the primary target and quarterback
Nick Foles
would need 3.4 seconds to find him. Touchdowns or big plays would result. (I've watched every catch Jackson made in 2013; more on that next week.) That puts pressure on the protection to hold up (and some on Griffin to go through his progressions, but this length of time is a lot more about keeping Griffin upright or him extending plays).
April, 15, 2014
Apr 15
2:00
PM ET
Malcolm Jenkins
only echoed what others have said about
Washington Redskins
quarterback
Robert Griffin III
. And the new
Philadelphia Eagles
safety didn't question Griffin's game, but, rather his ability to stay healthy. At this point, it's a fair topic. Of course, maybe it's not one a player new to the division might want to address. But then again, it was tame compared to his thoughts on the Dallas defense.
Jenkins
When Jenkins appeared on the NFL Network, he discussed the other three teams in the NFC East. He took a shot at Dallas' defense, as well as the
New York Giants
' ability to protect
Eli Manning
. Here's what he had to say about Griffin:
"I think the biggest thing we're going to see is [Robert Griffin III] take that next step as far as the cerebral approach to the game. But the biggest concern I have with RG3 is, will he protect himself? And that's a thing he hasn't done early in his career.

"He scrambles, he gets those extra yards, he makes those throws out of the pocket, but takes a lot of unnecessary hits. We've seen the toll that has had on him.

"Last year he really wasn't himself, still trying to recover from that injury. Those kind of hits, when you talk about a QB, it's all about accountability and availability. He's very very accountable, but availability is going to be an issue if he continues to play the style of football that he's used to."
Jenkins isn't the first opponent to wonder about Griffin's durability or his health. In the past year, several players did just that, including Dallas corner
Brandon Carr
, San Francisco linebacker
Ahmad Brooks
and New York Giants safety
Antrel Rolle
among them.
But Jenkins is new to the division and his yapping does two things: endear him to Eagles beat reporters and mark him as a target for other teams. With Griffin, there's only one way to prove Jenkins and many others wrong. He needs to stay healthy; it's not about one game or one throw, it's about a season and then a string of them. And Jenkins didn't knock his game, just questioned his durability.
Dallas' defense might feel a little differently about Jenkins. But when a defense ends the season ranked 32nd in yards allowed and 26th in points allowed, and then loses its best pass-rushers (
Jason Hatcher
,
DeMarcus Ware
), well, it leaves little room for anything but criticism. So here's what Jenkins said:
"A couple years ago, their scapegoat was Rob Ryan, and they got rid of him, and he was the cause of all their problems. He went to New Orleans and took the worst defense in NFL history and turned them into a top 5 defense. So he couldn't have been the problem.
"And then you look at this year, I had the best seat in the house when I watched the Saints get 40 first downs in one game. Forty. In one game. So it must be the players."
And then Eli Manning was the topic. Again, good, honest stuff.
"I think the problem is he was sacked 39 times, a career high last year. If that continues, Eli's best days are behind him. If they can protect him, then maybe, but it doesn't look like it."
When Jenkins played for Ohio State (my alma mater, as you might know), I preferred that he keep quiet. Typically his game spoke volumes. In the NFL, he's been up and down, but there's no doubt he now has a role as a future analyst. As a reporter, I'll never knock a guy for giving an honest opinion. Sort of helps the job, you know?