October, 20, 2014
Oct 20
6:00
PM ET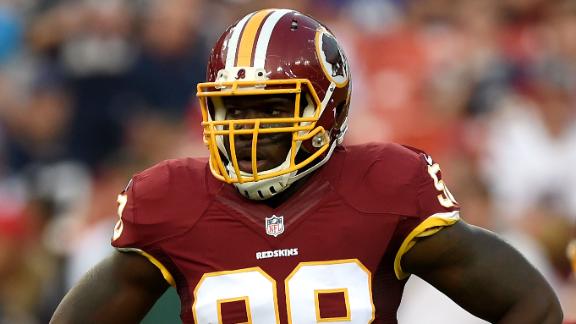 ASHBURN, Va. -- The
Washington Redskins
now have to replace yet another starting defensive player. Already this season they've had to replace corner
DeAngelo Hall
(for the season), nose tackle
Barry Cofield
(for half a season) and
now
linebacker
Brian Orakpo
.
Here's a look at important names in this scenario:
Trent Murphy:
The rookie second-round pick hasn't had a big statistical impact. He's played mostly in their fast nickel alignment, while also subbing for Orakpo and
Ryan Kerrigan
at times in the base package. He doesn't have a sack and has nine tackles.
"Trent has got to step up, he has got to play better, he has got to play more physical at the point of attack," coach Jay Gruden said. "We're playing against the No. 1 rushing offense, so he is going to have to be very good at the point of attack. He's going to have his work cut out for him. He's going to have to grow up very fast."
Jackson Jeffcoat:
He won't be promoted to the starting lineup, but he will get more snaps in games. Jeffcoat played one snap from scrimmage in their fast nickel alignment, ahead of Murphy for that particular play. Jeffcoat was signed to the Redskins' practice squad on Sept. 2.
Gabe Miller:
He's currently on the Redskins' practice squad, after initially making the roster out of training camp. He's raw, having moved from a tight end in college. The Redskins will consider promoting him to take Orakpo's roster spot.
Rob Jackson:
The Redskins are going to consider Miller and then other street free agents. If those don't work out, a team source said they will consider their former linebacker. Jackson played for Washington from 2008-13 until being cut this summer. Though he made plays for them in 2012, there was concern he'd be able to sustain such play, in part because he's not a fast linebacker.
Ryan Kerrigan:
OK, he's already in the starting lineup and has a team-best 6.5 sacks. But his versatility means he could end up seeing more action on the right side if that's what the Redskins need. Gruden said they will switch Kerrigan and Murphy at times, though they did the same with him and Orakpo. Oftentimes it depends on the matchup.
Gruden said of Kerrigan, "He's good against the run, he has had some great pass rush moves. He can do it all. He has dropped in coverage and covered tight ends. We feel strongly about where Ryan is as a player. He is productive and he's going to have to be more productive. Everybody on that defense without D-Hall, without Orakpo, they are all going to have to step up and play better than they thought they ever could."