September, 19, 2014
Sep 19
11:00
AM ET
ASHBURN, Va. -- The play did not set up as a likely pass to
Darrel Young
. The fullback split out wide, a design to put Jacksonville's defense in a little bind. But
Kirk Cousins
did not anticipate the opening, nor did the Jaguars expect him to pass to Young.
At the snap, Cousins looked to his left, worked back to the right and saw the cornerback jump the route to the corner. That left Young wide open, and Cousins pounced, making a throw that appeared easy but took patience and seeing the entire field.
It's among the abilities he brings to the starting job. Would
Robert Griffin III
had made that same throw? Impossible to say, though when talking to people about Cousins, they say he sees the field better. That doesn't mean he has more potential or is better, but that is an area of the game he does well at, and it's why the Redskins feel confident moving forward.
[+] Enlarge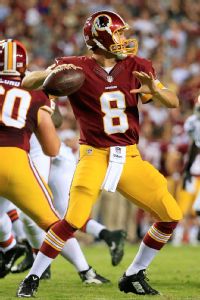 Rob Carr/Getty ImagesThe Redskins can expect fewer big gains and fewer negative plays with Kirk Cousins at quarterback.
"He's a little more of a traditional pocket passer," tight end
Logan Paulsen
said of Cousins. "He's more polished in that role."
Griffin's talent is obvious: It's not just his athleticism, it's his arm. The Redskins knew it would take a little time for him to excel in the pocket. There are things he can do that Cousins can't, or won't. It's why, despite all the talk in the last year or so about how coaches like Cousins better, they always stuck with Griffin.
There are plays that reveal differences in their game:
The bootleg
Griffin looks for the big play and knows he can extend it while trying to find one. On the play he was hurt on against Jacksonville, Griffin might have been able to hit
DeSean Jackson
earlier. But, because he wasn't 100 percent sure, he extended the play and eventually did connect with him for 19 yards.
Against the Texans, though, Griffin hesitated on the boot while safety D.J. Swearinger raced at him, leading to a sack.
Cousins might not have made the Jackson pass, but he also kept them out of danger last week with a rusher in his face by quickly throwing the ball at a receiver's feet. It led to a harmless incompletion rather than a bad sack. Another time, Cousins had a lineman rushing at him, so he quickly set his feet and threw for a 23-yard gain to
Niles Paul
.
The zone-read
Obviously Griffin is a much bigger threat on this play than Cousins. But Cousins did run the zone-read, handing off to
Alfred Morris
for a 3-yard gain on a second-and-1. And the linebackers were fooled later in the game on another zone-read, this time a fake to Morris that resulted in a 12-yarder out to
Pierre Garcon
. The play won't be as popular or dangerous, but they can still run the zone-read on occasion.
Time in the pocket
Cousins, lacking Griffin's skill set, must make good, quick decisions. It showed Sunday: his average pass was released in 2.4 seconds, according to ESPN Stats & Information. He went through his progressions quickly, sometimes finding his third read in less than 2.4 seconds. That's a half-second faster than the average throw by Griffin. Mobile quarterbacks tend to be sacked more, in part because they hold the ball longer knowing that by extending a play, a big gain might follow. Cousins' approach helps the line in protection and keeps the plays on schedule, though big plays might be fewer.
"The thing with Robert, he gets you huge explosive plays, but he'll also give you some negative plays," Paulsen said. "Kirk is going to be the consistent, solid guy. He's less of a risk-taker."
Sight adjustments
Griffin mostly did a good job anticipating where pressure was coming from, coaches say, and making adjustments. It's an area Cousins is still adapting to, as one sack revealed Sunday when the Jaguars sent an overload to the Redskins' right. Cousins didn't see it, was sacked and the Redskins were taken out of field goal range. Coaches say Cousins must improve here, but for the most part, they feel that even if this is the case, he usually knows where to go and what to do. It'll be a key against Philadelphia on Sunday.
As one teammate said, "He's going to be a guy that is overprepared."
Throwing with trust
On the last drive of the first half Sunday, Cousins opened by hitting rookie
Ryan Grant
by throwing off his third step. In rhythm, on time. Next play: Cousins unloaded the ball before
Andre Roberts
made his cut. He turned around, the ball arrived and they gained six yards on a second-and-1. Griffin was learning to throw with his level of trust; it's a skill learned through repetitions and not only trusting the receiver, but trusting what you see. Griffin had improved here, but it's something Cousins does well.
He can be decisive, but that also can lead to mistakes. He has thrown an interception in seven of the nine games he has played -- and four times he has thrown two picks. Still, he throws with trust.
"Kirk's good. He's on time with his reads, he's smart, he's a hard worker," Redskins receiver
Aldrick Robinson
said. "So I trust him when he comes in."