November, 23, 2014
Nov 23
6:00
AM ET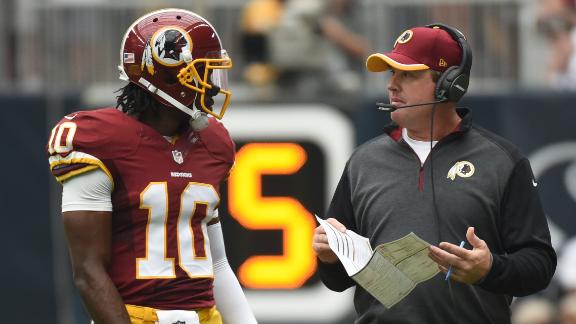 One sense from what I gathered at Redskins Park this week is that perhaps the latest round of criticism has humbled Robert Griffin III when it comes to his game. And that perhaps it will lead him to sharpen up areas that must be addressed in his game, starting with matching his fundamentals to the plays, some of which were considered basics. But this is something that must be fixed in the offseason as much as anything. They did not feel it was that bad against Minnesota, but it was dreadful vs. Tampa Bay. They need to see improvement in this area Sunday.

Griffin

More than anything, they need Griffin to be more decisive on his throws. By not doing so last week, he left countless plays on the field -- and it led to issues in the pocket, where he'd take a sack on a quick drop, for example. The line gets blamed in some of those cases, but the coaches didn't put it on them. Four of the six sacks last week were because of quarterback mistakes. On one play, in which receiver DeSean Jackson put his hand up off the line, the drop wasn't deep enough and the safety wasn't then properly maneuvered, so another good opportunity was missed.
It will be interesting to see what happens if Griffin gets off to a bad start Sunday. It also was interesting to see that coach Jay Gruden told Albert Breer of the NFL Network that Griffin was "very raw. Very raw."
That wasn't the only good stuff from his interview, but it was part of what stood out to me (in addition to the coddling, though that was Gruden saying as much that Griffin hadn't faced much adversity in his career). When Gruden used the second "very raw" that suggests a point of emphasis, which means there is a ways to go in Griffin's development. That was written during the summer, too -- and not just by me. But now it's evident how far Griffin must go. It's going to take a while for him to become a consistent passer and the Redskins and Gruden must decide how patient they can be. It's not an easy question for them to answer.
Breer also talked about how there was fatigue over the whole Griffin saga. That has been true for more than a year. Players were tired of it last season -- and it's especially true now, even if it's not always brought on by him. Again, Gruden ushered in the latest round of coverage with his comments. Some players were not fond of the fact that those were said publicly. It's great to be honest, as Gruden is, but he also needs to be mindful of keeping a trust with his players.
Washington Redskins line coach Chris Foerster said right tackle Tom Compton has improved, but that while "every week is better, there's still a glaring play that shows up." One such play happened to pop up against Tampa Bay and led to a sack when Compton was taken upfield and then beaten to the inside. "He was so conscious where the quarterback was going to be on his drop that he got beat badly," Foerster said. "He came out of a horrible set and panicked a little bit."
Foerster said left guard Shawn Lauvao, who has come under criticism, has improved of late. In re-watching the Bucs' game, Lauvao was having one of his better games run blocking before suffering a concussion. "Shawn's been good. One reason Shawn's here is we felt it would add stability or be solid in protection, and that's proven out over nine, 10 games," Foerster said. "When I look at the grades and how many pressure[s] guys have given up, Shawn is better and it's helped us. Now he's better in our run game. Every week he gets better. From Day 1 to today it's light years different. He's still working to improve on that. He's had so many years where they haven't run this style. So it's still coming."

Breeland

The Redskins know that one thing they need in their secondary is a lot more speed at free safety. Ryan Clark was never a fast guy, but the touchdown he allowed last week highlighted the issue. He held a disguise too late and couldn't compensate. They have a couple ways they can help themselves in the future: Sign a free agent; draft one, or consider moving Bashaud Breeland. The only way I would do the latter is if they feel good about the cornerbacks in the draft -- and if they feel Breeland could be an elite safety rather than just a good cornerback. Breeland is fast enough to cover ground at safety -- and it's a position they have considered for him. It's also true that good cornerbacks are more beneficial than good safeties. But that one play with Clark emphasizes an issue. If you have more speed deep you can hold disguises longer and still make plays. It leads to problems for the other team.
Redskins defensive coordinator Jim Haslett on San Francisco's offensive line: "They want to beat people up. I like the makeup. They're big guys. They're massive and have a mean streak to them. The left side is just mean. They built their team around that line." It shows. The left side is excellent.
With the situation in Buffalo this week, that conjured up a similar memory for Haslett, who played for the Bills from 1979-86. "We played Denver one year and it was the same deal. We probably had 13, 14 feet of snow and we couldn't get to the stadium so we didn't practice Wednesday, Thursday or Friday and on Saturday we went to Denver and we beat Denver 9-6. So we were all chanting, 'No more practice!'" I couldn't find anything about snow totals, but there was a snowstorm in late October of 1981 that dumped two feet of snow in Buffalo. The Bills indeed did win at Denver that week, 9-7.