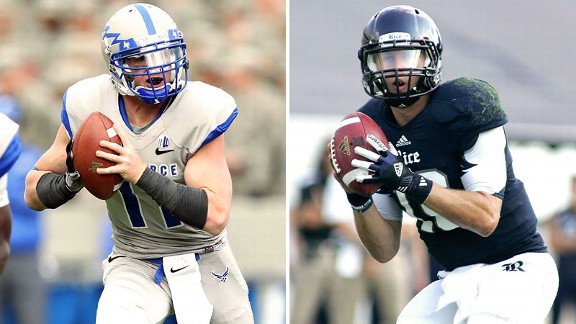 Air Force-Rice on ESPN Radio and ESPNRadio.com -- LISTEN LIVE

Armed Forces Bowl
Connor Dietz and Air Force face off against Taylor McHargue and Rice. Listen (CLICK HERE)


CFB podcast

CFB on ESPN Radio »
USA TODAY Sports, AP Photo
LATEST FROM PODCENTER

Michael Wilbon and Tony Kornheiser discuss the comments between LeBron James and Frank Vogel, Miguel Cabrera's three homers and the Knicks getting knocked out of the playoffs.

Ryen Russillo and Adnan Virk discuss the NBA playoffs, are joined by ESPN NBA analyst Antonio Davis and chat with Spurs guard Danny Green.
ESPNDeportesRadio.com
TODAY ON ESPN RADIO
10:00 a.m.The HerdLIVE NOW - Listen 10:45 a.m.: Tim Legler
11:15 a.m.: Curt Schilling
12:15 p.m.: RJ Bell
12:30 p.m.: Ed Cunningham
12:45 p.m.: Ryen Russillo and Chris Broussard

1:00 p.m.SVP & Russillo
4:00 p.m.Coach & Company
All Times ETFull Schedule »

Find Tickets:
Start your search for the games you want to attend now. The best seats are at ticket center.

See all tickets
FEATURED COMMENT

"

The Knicks need different players. They don't have a presence on the block or a PG that can set up plays. Trade J.R. Smith and address those problems.

" -- "Marc" in SVP & Russillo chat