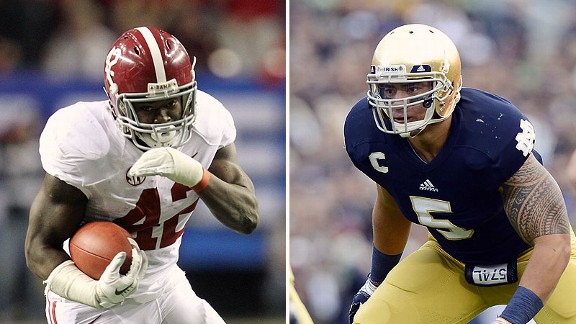 ND-Alabama on ESPN Radio & ESPNRadio.com -- LISTEN (7:30 p.m. ET)

Championship Preview
No. 1 Notre Dame and No. 2 Alabama meet Monday on ESPN Radio for the title. Previews: Ivan Maisel & Chris Low

College GameDay

US Presswire
LATEST FROM PODCENTER

Skip Bayless and Chris Broussard debate Jordan vs. Lebron, Dwight vs. D'Antoni, the NBA draft lottery and much more.

Nate Ravitz and Matthew Berry share their thoughts on the Red Sox OF, new pitchers above the Wandy Line and play the Name Game with Brandon Belt.
ESPNDeportesRadio.com

Find Tickets:
Start your search for the games you want to attend now. The best seats are at ticket center.

See all tickets
FEATURED COMMENT

"

The Knicks need different players. They don't have a presence on the block or a PG that can set up plays. Trade J.R. Smith and address those problems.

" -- "Marc" in SVP & Russillo chat