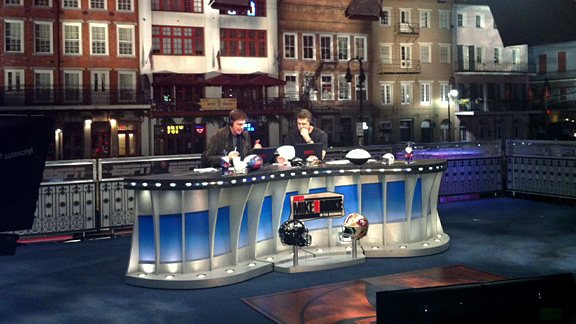 Born On The Bayou
ESPN Radio's coverage of Super Week in New Orleans started with Mike & Mike. Jaworski

Mortensen

Clayton

Boselli

Carville and Matalin

Super Week » Mike & Mike »
ESPN Radio
LATEST FROM PODCENTER

Tony Kornheiser and Michael Wilbon discuss Sergio Garcia's comments about Tiger Woods and the NBA conference finals.

SVP & Russillo discuss the NBA playoffs, the draft lottery and Sergio Garcia's controversial comments. Plus they chat with Cris Carter, Chris Grant and Andy Staples.
ESPNDeportesRadio.com

Find Tickets:
Start your search for the games you want to attend now. The best seats are at ticket center.

See all tickets
FEATURED COMMENT

"

Vinny was completely out-coached in Games 2 through 6 of the Clippers' first round series. He deserved to go.

" -- "Michael Bordeaux" in SVP & Russillo chat