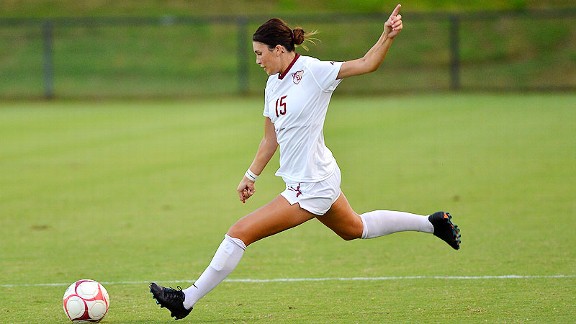 Larry Novey, Florida State AthleticsNo. 1-ranked Florida State opens ACC play with a huge game against No. 2 Duke at home Thursday.
When you're a child, all you dream about is what you want to be when you grow up. No one steps back and assesses all of the steps it takes to get to that final destination.
In youth soccer, a lot of our dreams are the same. We all aspire to play for a prestigious university and win a national championship before going professional and winning a gold medal in the Olympics.
Big dreams for such small children, but dreams are meant to be big. If they weren't big, then they wouldn't be dreams. They would be items that could easily be obtained.
Growing up, you set all these goals without realizing the work you are putting in to help you move forward because you are doing what you love. I am happy to say that this still holds true today. I get the opportunity to play the sport I love with people I truly cherish.
But be careful as the dream catches up to you before you realize it. One day you're playing club soccer trying to pick a school to commit to, and the next day you realize you're starting conference play of your senior year looking to compete for that national championship at the end of the year.
My senior year crept up on me so quickly. We are already six games into the season and ACC play begins this week.
Nervousness is not an emotion I am feeling; excitement and enthusiasm are in full power this week. It's like a change in the air, a new season is upon us. You go into these matches with a different mindset.
Each game in the ACC is difficult and challenging. We approach conference games differently than our non-conference opponents, including UF, which we play with a lot of emotion and hype. We approach our conference games with careful preparation, focusing on tactics and strategy.
The majority of the teams in the ACC play a possession-based style similar to ours. Keeping the ball is highly important in these games, as is finishing the chances provided.
The first ACC opponent we face is Duke at home on Thursday at 7 p.m. What a way to start off league play -- both teams played in the College Cup last year, and both enter the week as the top two teams in the nation with FSU ranked No. 1 and Duke ranked No. 2.
After Duke we play Wake Forest, another top 20 team. Two hard opponents in four days can wear a team out. It is so important that we are physically and mentally prepared for both matches. An off-day on Tuesday gave us some much needed time to rest, catch up on school work, and unwind before getting back to business.
In closing, I also would like to mention how proud I am of my teammate and friend Kassey Kallman for winning a gold medal with the U-20 women's national team. The United States defeated Germany in the finals of the 2012 FIFA World Cup last weekend. We are so excited to have Kassey back with us on the field this week.