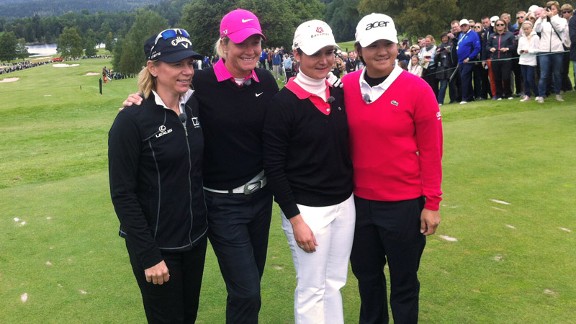 Hsu NayaBy participating in charity events such as the Suzann Pro Challenge, Yani Tseng hopes to give back something significant to society. She's joined by, from left, Annika Sorenstam, Suzann Pettersen and Lorena Ochoa.
Dear friends, it has been a while since I wrote my last blog. For the past several weeks, in addition to playing LPGA golf tournaments, I also participated in a couple of charity events: the NB3 Foundation Challenge and Suzann Pro Challenge. I'd like to share my feelings with you.
Helping others is very fulfilling and meaningful, and it's a wonderful life experience. Let me begin with the NB3 Foundation Challenge.
I am very thankful to Notah Begay for his personal invitation to participate in this event at the end of August. I had opportunities to give back to charity together with Tiger Woods, Rickie Fowler, many PGA and several of my fellow LPGA players.
This charity event is mainly for assisting children's education and cultural preservation of Native Americans. I also learned a lot from how the organizing committee thoughtfully planned and conducted the event in every detail, including travel, logistics, dining, clothing, education and other recreational activities for all the participants. They really did a wonderful job in all areas.
I was deeply impressed by the long-lasting friendship developed between Notah and Tiger while they were in college and the great support from Tiger making this charity event even more successful.
[+] Enlarge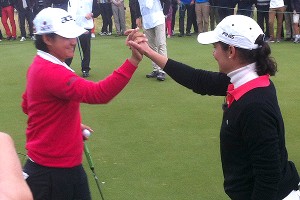 Courtesy of Hsu NayaAnother part of the great experience in charity events is the opportunity to pick the brain of golf legends such as Lorena Ochoa.
During conversation, I also learned Rickie's mom is half Navajo and half Japanese. This is his second year participating in this event. He also does many charities for Native Americans.
It seems to me every one of us is doing something meaningful for this world. Although the International Team lost to the American Team, for charity, winning or losing is not really that important! It's the participation and putting good efforts to support the good cause that is much more important -- I trust you will agree with me.
Next, let me say something about the Suzann Pro Challenge this past weekend. With the participation of Annika Sorenstam and Lorena Ochoa, this was a highly anticipated event. It could be described as "the battle of the world's best women golfers." But to me, this was my other dream come true: to share the same stage with my idol Annika, Lorena and my very good friend Suzann Pettersen.
Thank you, Suzann, for inviting me. This was my first trip to Norway, a country close to the North Pole. Suzann told me that golf in Norway is not a very popular sporting event. She hopes to use her influence to promote golf in her country and at the same time to help other needy people. This is very similar to my situation in Taiwan.
Of course, I had a great time with Annika and Lorena, not only in exhibiting golf skills, but most important, in sharing experiences. We discussed the challenges we often faced after gaining the world No. 1 status and how to deal with these challenges. These wonderful experiences made my participation in the charity event much more fulfilling and satisfying.
From Annika & Friends, the CVS Charity Classic and Val Skinner's Breast Cancer Charity Golf events I participated in earlier this year and the recent NB3 and Suzann Pro Challenge, I learned that the purpose is what every one of us can do: Help the needy people. It's also rewarding to chat with many VIP participants and learn more from other players.
At the time, I felt that the discussions of the media and fan blogs tended to focus too much on the performance of the players and their personal lives, whether it's positive or negative.
I always believe that every one of us is working hard not only for our own performance but also to give something significant back to the societies we live in. I want to learn from those who have done so much for these charities.
I hope one day I will host my own charity event to give back to society. Not only am I constantly seeking better performance but also to be a better person, to be respected. Please continue supporting me. With your support, I feel even more meaningful.