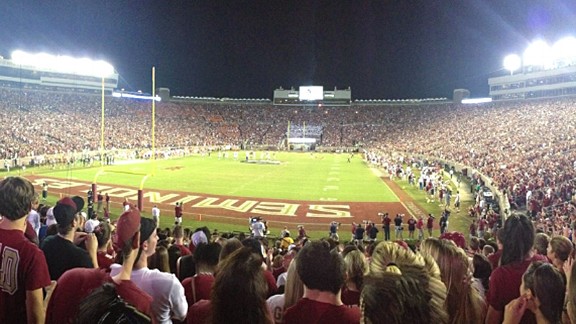 Tiana BrockwayFlorida State's 49-37 win over Clemson left Tiana Brockway speechless -- she was so hoarse from screaming that she lost her voice.
In my four years at Florida State, I've never been part of anything that generated as much excitement and hype or showcased as much competitiveness as what was on display in Tallahassee on Saturday night. A total of 83,231 people filled Doak Campbell Stadium for the football game between Florida State and Clemson.
You could barely hear the words leave your mouth as you were talking to the person next to you because of the crowd's cheers and the massive war chant being led by the student section in the end zone.
I thought there was pressure playing in front of a couple thousand people at the College Cup last year in Kennesaw, Ga. You walked out of the locker room into a roaring stadium, filled with people yelling and waving, but the atmosphere inside Doak Campbell Stadium was something I have never experienced in my life.
Scanning the stadium, one could not see a section that was not filled with garnet and gold or orange and purple. Then the Seminole Chop erupted as FSU's special teams took the field and Dustin Hopkins placed the ball for the opening kickoff.
I haven't been to many football games due to the conflicting schedule with my own soccer season, but because we had only one game last week, we were able to attend "College GameDay" after our morning training session and the game later that night.
It was so cool to be on hand to see a lot of my friends play in such a big game and to have the community come out to support them.
Football is not as big in Seattle as it is here in Florida, so I did not grow up attending the local university's games. Boy, was I missing out! These football games are so much fun to watch; I've even learned all the rules in my four years here.
I had so much fun at the game that I lost my voice screaming and cheering all night long. I am so glad I got to attend the "big win" against Clemson. I am so proud to be a Seminole! >----;---|`>