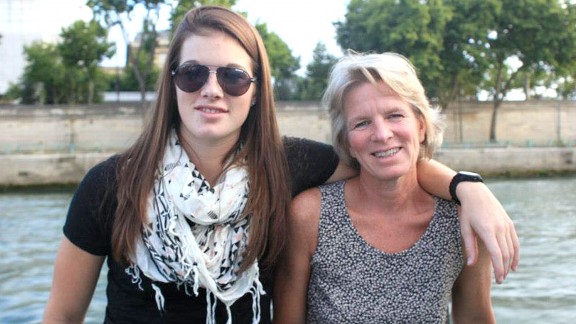 Courtesy Maggie LucasBetsy Lucas brings superstitions to Maggie's games and balance to Maggie's life.
We just rounded out our nonconference schedule, and the Lady Lions are all headed home for a quick, but needed, holiday break. I am extremely excited to get the chance to spend some time with my family and friends back in Narberth, Pa.
One of the best things for me about going home is getting to hang out with my mom, Betsy. I am incredibly close with both of my parents, and that even played a major role in why I chose to attend Penn State. My mom and dad come to every home game, and it just wouldn't be the same to look up in the stands and not see them there. My dad is known for being the huge basketball influence in my life and for sparking the interest in the sport for me at an early age. On the other hand, my mom has been much more laid back but at the same time has played an equally important role.
[+] Enlarge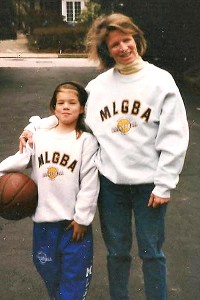 Maggie LucasAlthough Maggie Lucas' mom, Betsy, "doesn't have a competitive bone in her body," she has always supported Maggie's basketball career.
My mom played some sports when she was young, but she probably never even touched a basketball unless she was in gym class. From time to time, I actually bring her with me when I go work out and have her rebound for me, and even though it's not her forté, she gets on the court in her little flip-flops and makes it happen. To be honest, she doesn't have a competitive bone in her body. But don't get me wrong, she gets fired up at Lady Lion games and follows every one of her little superstitions that she thinks bring me good luck before games. Most importantly, though, she brings balance into my life that has always been so important and meaningful to me.
Whether I have had the best game of my career or I had what I consider to be a bad game, my mom's support for me is unwavering. I can always expect the same greeting after a game: "Love ya Mags, you did great!" Since I first started playing basketball back in the YMCA, when I was about 4 or 5 years old, my mom has attended just about every one of my games. When I really think about it, I can't even remember her missing a single game, with the exception of playing away games in college.
I don't mean to brag, but my mom has actually become pretty famous for her signature chocolate chip cookies that she brings to all of my games. She is probably one of the most popular people at Lady Lion games, because everyone knows about these cookies. My teammate, Talia East, is so sure these cookies are a gold mine she recently told me she is going to go into business with my mom after she graduates.
I couldn't ask for anything else from my mom, and I am so grateful for the support she has always provided throughout my life. If you are ever at a game, be sure to find her and try one of her famous chocolate chip cookies!
I hope everyone has a Happy New Year! The Lady Lions will be back in action after the break, but until then you can follow me on Twitter
@maggielucas33
!