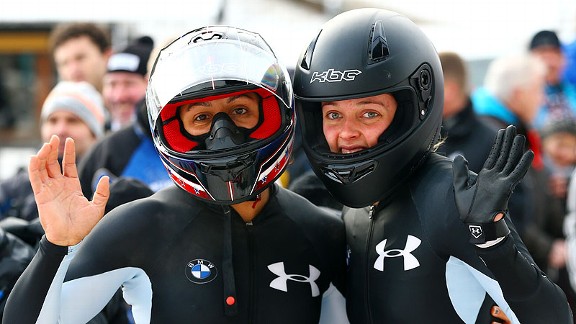 Christof Koepsel/Bongarts/Getty ImagesElana Meyers and Katie Eberling placed second at the World Cup in Winterberg, Germany -- earning Meyers a third-place world ranking at the end of 2012.
Happy New Year! We're halfway through the season, closing in on the final three World Cup races and the world championships. I've got to say, this season has had its ups and downs for me.
[+] Enlarge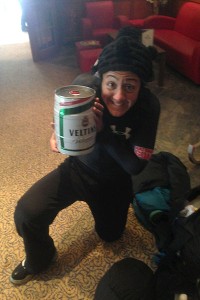 Courtesy of Elana MeyersThe silver medal at the Winterberg World Cup came with a keg of beer, but sadly, because of a heavy race schedule in Germany, Elana Meyers ended up giving the keg to the U.S. men's team.
It was exciting to start things off with a bronze medal, racing with Tianna Madison at the World Cup in Lake Placid in November. It gave me high expectations, but unfortunately I followed that race with a not-so-great showing in Park City. I broke the start record there and was in position to win the race with Aja Evans as my brakeman, but then I made a major mistake. I came off a curve too late and hit the luge start -- a big piece of Plexiglas -- costing us a lot of time and landing us back in eighth place.
It was a learning experience, to say the least. Those kinds of miscalculations happen, especially when you're a newer driver like I am, but I also learned I couldn't take my results from previous races into the next race.
In December, Katie Eberling and I took second in the World Cup race in Winterberg, Germany, where they give you a huge glass of beer at the finish and an entire keg if you end up on the podium. There was a team race later in the afternoon, so I couldn't have more than a few sips. No drinking and driving, after all! We ended up giving the keg to the men's team, and they were more than happy to receive it.
I did get almost two weeks off over Christmas and headed home to Douglasville, Ga., to spend time with my family. Between jet lag and just being wiped out from the season, I completely crashed when I got there. I was so tired, I fell asleep the first night at 5:30, slept until 9 a.m. the next day and totally missed out on choosing our Christmas tree. I did manage to make it to the mall for my family's other tradition: pajama shopping. We all pick out a new pair to wear during the holidays, and I got some warm and cozy flannel ones from Victoria's Secret. Then, a few days after Christmas, I headed back overseas to Switzerland for New Year's Eve, and back to training.
[+] Enlarge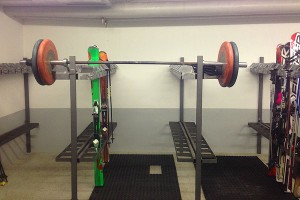 Courtesy of Elana MeyersA ski rack turned into a makeshift weight rack by Elana Meyers and the U.S. team while training in St. Moritz, Switzerland. Says Meyers, "We have to get our workout in, so we made do with what we had."
I was ranked third in the world at the end of 2012, which is pretty awesome, but I've got work to do if I want to win gold in Sochi. But I'm in a good spot at this point in the season, learning a lot and continuing to improve. My goal is still to win the world championships in February, but I'd rather lose now and win Olympic gold, so 2014 is my main focus no matter the results this season.
With the Olympic year looming, my resolution for 2013 is to stress less and have more fun. I tend to stress myself out for no reason, whether it's obsessing about race results, worrying about finances related to bobsled (with constant travel and training there never seems to be quite enough money), or juggling training with a job and school. I have to remind myself that I won't be able to do bobsled for the rest of my life, so I have to make sure I let myself enjoy what I'm doing, while I'm doing it. So here's to a fun 2013!