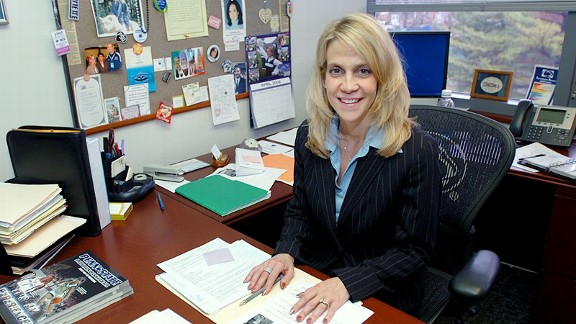 Ciurtesy of Penn State Athletic CommunicationsAcademic adviser Sue Sherburne meets regularly with all of the players and makes sure they're progressing as they should.
Many people who are a part of the Lady Lions program work behind the scenes and are just as important as the players and coaches. As we begin another semester at Penn State, I would like to introduce you to one of those.
One of our biggest assets is our academic adviser, Sue Sherburne. Sue makes sure everyone on the team is doing exactly what she needs to in the classroom, so we are prepared to graduate with a degree we can be proud of and are ready for life after basketball.
At the beginning of each semester, Sue meets with the entire men's and women's basketball teams and makes sure we are prepared for the first week of school with schedules, study hall hours, tutor forms and syllabi.
Throughout each semester, Sue meets with all of her athletes regularly. She is aware of all of our assignments, and it is our job to fill her in on our progress in each of our classes. Even during some of the most stressful or overwhelming weeks of school, Sue always finds a way to put things into perspective for us and makes our schedule do-able.
Sue is one of the many people who make our program go. She is so dedicated to helping us succeed as student-athletes, and she sincerely cares about the future for each of us.
Next up for us is Nebraska on Sunday at 2 p.m. at the Bryce Jordan Center. Until next week, you can follow me on twitter @maggielucas33 or the Lady Lions @pennstatewbb.