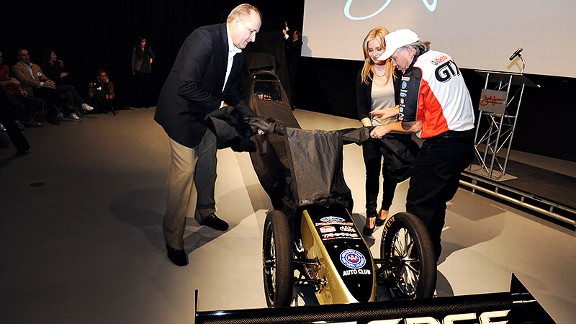 Courtesy of Force Racing Brittany Force becomes the latest to join the family business. She will drive Top Fuel in the NHRA this season.
Last week John Force Racing announced I will be joining the NHRA this season as the driver of a Top Fuel dragster. I think it will finally sink in at the Winternationals in Pomona, Calif., in mid-February. I still feel like I have a lot to learn as a driver, which is why I am glad to be heading back to West Palm Beach, Fla., for more testing. When Pomona begins -- with fans everywhere and so much going on -- the craziness will be a little more real. I am really excited.
I think my Top Fuel dragster looks awesome. I was worried when my dad said it was going to be pretty much an all-black. Throughout my whole career I have only driven white dragsters. From Super Comp to A Fuel to the Top Fuel dragster I tested last season, they were all white. I was really curious to see how it was going to turn out, but I love it. It looks mean and fast. Brandon Baker, our graphic designer at our Brownsburg, Ind., shop, did an awesome job.
We did a big press conference at our West Coast shop in Yorba Linda, Calif. My favorite part? When my speech was done. I was a little nervous and there were a ton of people, but I was really happy with how it went. After, I did a ton of interviews and it really got me pumped up for Pomona.
Dealing with my dad all day was fine but the speech was what I was focused on. I practiced it a few times and we did a rehearsal the night before. Our whole family is known for being able to speak well so I wanted to give a good first impression. On Thursday morning I even had my dad open up the shop early so I could run through my speech a couple more times. After a run-through that was a little off, I would tell myself, "that was terrible," and then I would do it again and get better. It was really a good exercise to just get comfortable.
I am trying to take the start of the season one step at a time. We are going to Palm Beach Raceway for the Pro Winter Warmup this weekend. The dragster will have the enclosed canopy so I am a little nervous because it is something new. I know once I make a pass in it I will be fine. I am also looking forward to running with another Top Fuel dragster in the lane beside me. I have never run with another dragster before. Once I get the first canopy run and the first side-by-side run out of the way, I will be ready for the season.
I have to thank my dad and mom as well as Courtney, Ashley and my brother-in-laws Robert Hight and Dan Hood for all their support.