Hello again! I'm back with a lot of stuff to catch you up on.
Everyone on the team had a wonderful Christmas -- time we spent with family and friends.
Prior to leaving for the holidays, the team took a trip to two different hospitals to spread some cheer to those who might not be home around Christmas. We gave gifts to them and posed for lots of pictures. As a team, we really do enjoy giving back to our community. There were some patients who were surprised and super happy to see us.
Also, we had a team Secret Santa gift exchange, and let me tell you, don't let me draw your name, because I will surprise you, just like I did Nae-Nae [Kimetria Hayden] this year.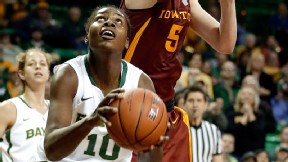 AP Photo/Tony GutierrezDestiny Williams and Baylor are off to a 5-0 start in Big 12 play.
The day before we left for our holiday break, we hosted Tennessee. Everyone was so excited to go home that Kristina [Higgins], Nae-Nae, Jordan [Madden] and Niya [Johnson] all left right after the game to go home with family. Mariah [Chandler] and I took a road trip to Georgia, Mariah's home state, for Christmas. Santa was very nice to me. Had a chance to see family that I haven't seen in years!
After Christmas we came back with our last game of 2012, a win over Southeastern Louisiana. After that, we were ready and eager to start Big 12 Conference play.
League play and postseason games are what we really play for. There are a lot of good and new teams this year. We were excited to play TCU on their floor and get the win. As I write this, we have started conference play with a 5-0 record.
Other than basketball, we seniors are excited but sad this is our last semester for school. So, to get this semester going feels good.
Thanks for taking the time to read this. Go Lady Bears!
Sic 'Em,
Destiny