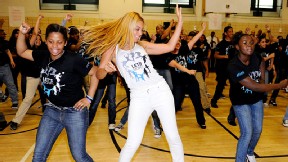 Kevin Mazur/WireImage/Getty ImagesBeyonce got kids across the country moving with her "Move Your Body" flash dance.
Exercise doesn't have to always involve a treadmill or heavy weights. Super Bowl XLVII halftime performer Beyonce showed kids that exercise can be fun. In April 2011, she released the instructional music video
ºMove Your Bodyº
to promote First Lady Michelle Obama's ºLet's Move!º national campaign to end childhood obesity. As its spokesperson, Beyonce demonstrates through the flash workout that dancing can be a fun and efficient way to get moving.