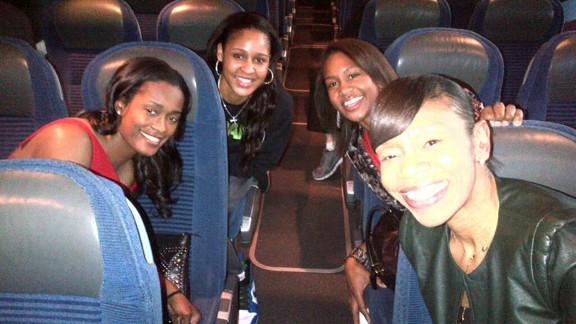 Courtesy of Tina Thompson From left, Swin Cash, Maya Moore, Tamika Catchings and Tina Thompson enjoyed NBA All-Star weekend.
As another NBA All-Star weekend comes to a close, I am relieved that I will now have an opportunity to rest. I am also grateful that I have, again, been able to share a piece of the stage with the "best in the world." It's kind of surreal that so many talented people can coexist in such a small piece of geography, and yet, all shine. I guess that's the beauty of sports and entertainment. It's pretty amazing how the NBA has the ability to have so many things going on that are huge in their own right but still basketball is the focus. Of course we all look forward to the Friday night Rising Stars Challenge where the rookies and sophomores get the opportunity to compete against one another in their own All-Star Game. The All-Star Saturday Night events are another must see, specifically the Slam Dunk Contest, where everyone has an opinion or gripe -- yet year after year, it's a sold out event with star-studded courtside seating. It is a funny and enjoyable sight! The Sunday night NBA All-Star Game -- the best of the best competing on one court for one prize -- to be the best at that moment; the enjoyment of competing with and against each other for nothing more than the sake of competition, all competitive in their own right with no real pressures. It's a great concept and a fun environment to share with your peers.
[+] Enlarge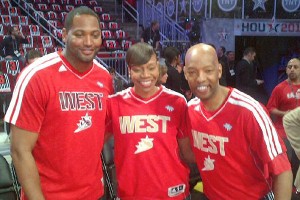 Courtesy of Tina ThompsonTina Thompson poses with Robert Horry and Sam Cassell.
I have to be honest though, as much as I enjoy the on-court events at night, my favorite moments happen during the day. I mean, even if I actually didn't attend the games in person, I could catch all the events on TV -- can't really beat that -- and there's replay of all the really cool stuff that happens. For me, what does beat that is the NBA Cares All-Star Day of Service. It's the day when all of the players, staff, and participants go out into the local community and volunteer. This year was Houston, the city that holds so many fond memories for me. I, as well as several NBA and WNBA players and legends, volunteered at the Houston Food Bank. I can't begin to express how incredible an experience was for me. I was first blown away by the facility and how much work is being done there, as well as how many people they service weekly, monthly, yearly. I remember thinking as I entered the facility, "Is this what all food banks look like? Wow!" I was assigned to the area where dry goods are measured, weighed and packaged to be sent out to those in need. It was just one of the many stations that did so many wonderful things. I was intrigued by the operation. At the time there was a station that packaged lunch boxes for kids that would soon be on Spring Break and in need of food. Another station checked the expiration dates and sorted and counted all food donated to the food bank. There was so much going on at one time, all organized and very efficient. I left there feeling better than I would probably feel after hitting a game-winning shot. It was really that meaningful of an experience. I will most definitely go back. The NBA Cares All-Star Day of Service to me is a very humbling and fulfilling experience. It is a win-win situation, everyone who participates is rewarded.
I also treated my niece Tamia and nephew Jahkee to NBA All-Star Weekend for their 16th and 18th birthdays. It was also just because they are great kids, and always get outstanding grades in school. To see them, as well as my son Dyllan, be able to be a part of such a rare experience was joyful for me.
The new competition concept that was introduced for 2013 NBA All-Star was really cool. I loved that it was an East/West overall competition. As a returning participant, the new concept seemed to bring everyone closer together; the level of support was on another level. Being a Western Conference participant, of course I cheered for all of the guys in the West. But I was also proud to discover a little fun fact: one quarter of the All-Star game participants were born and raised in my home state of California! Definitely a proud moment to watch James Harden, Russell Westbrook, Paul George, Tyson Chandler and Jrue Holiday compete. Hey, what can I say, we produce quite a bit of talent in California!
I can go on and on about so many amazing things that happened during the weekend. The Legends Brunch -- woooooo! Talk about a room full of history. The idea of paying homage to those who came before you will never get old. Without them, there is truly no us. I'm a pretty old-fashion girl, so being able to rub elbows with those who paved the way: priceless. I mean, in a matter of 10 or 15 minutes, I hugged and had a conversation with Earvin "Magic" Johnson, my all-time fave, George "Ice-Man" Gervin, Dominique Wilkins, had a laugh with Dikembe Mutumbo, and watched Bill Russell walk by. I was in complete and utter heaven. The candid moments before competition, where we have to get ready and take photos with the other participants, are also cherished moments. In what other sporting event can you go from chatting with Russell Westbrook and James Harden to catching up with Chris Paul, to making an introduction to the rookie phenom Damian Lillard? In that same room you will find Sam Cassell, Robert Horry, Mugsey Bogues and Dominique Wilkins, turn to your right and there's Dwayne Wade and Tim Duncan -- just overall unreal moments.
Please, just for a moment, allow me to speak about myself and my perspective without sounding self-absorbed. Thank you. With that said, one thing I absolutely love about myself is my ability to live in reality. Meaning I know that it is not normal for my 7-year-old son to actually be on the court during the Slam Dunk Contest, jumping around holding the numbered signs, having his own moment of judging the contest alongside NBA royalty. It is abnormal to be in such a close proximity of those who have shaped and are shaping the future of basketball. I mean, the man who completely revolutionized the way we see basketball, Mr. David Stern, knows me by name. He kind of knows everything, literally, but still not normal. I am extremely grateful and forever amazed that the game of basketball has shown and introduced me to so much: lifelong friends, the opportunity to see the world, and an experience of a lifetime -- a little girl from the Los Angeles' west side, who just played basketball because she liked it a lot. Wow! And the weekend is so much more...unreal.