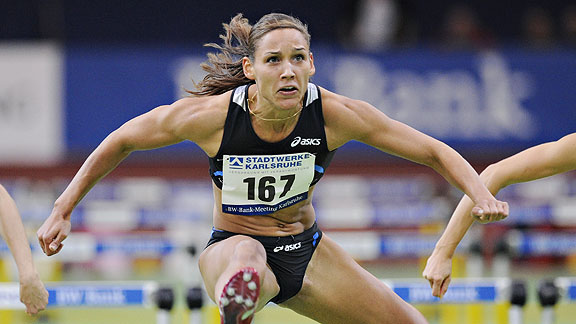 AP Photo/Daniel Maurer
One muggy day, my high school swim team and I bobbed up and down in the deep end of the pool, patiently awaiting instructions from our coach as we did six days a week for three months. The instruction on this day, however, was different.
There were no times, laps or stroke technique.
"Listen up now," he yelled as his potbelly jiggled. "Do not mess with boys until you are done with your athletic career. They are nothing but trouble."
Beep!
He hit the swim timer and we were off.
I didn't know it then, but he gave us a valuable bit of advice that day.
I didn't get into boys until my senior year -- my first season off from sports. There were no more Saturday practices, sore muscles and bad hair days, results of my former athletic pursuits. That opened the door to boys and total chaos. Thankfully, I think I've got things under control now, but it was a rough few years.
So when, I heard Lolo Jones, American record holder in the indoor 60-meter hurdles speak on HBO's "Real Sports" about being a 29-year old virgin and having trouble finding love, I thought back to that day in the pool.
Boys -- or now that I am older -- men, can be a lot of stress. Don't get me wrong they can be a release and support system as well. But when you're a woman in sports, whether you're writing about them or playing them, it's a difficult thing for some men to grasp. With a woman in sports, there tends to be more testosterone in the relationship than is comfortable for some men.
Getting over that hurdle (pun intended) could leave you in many confusing relationships or at home watching six straight episodes of "Sex And The City."
But if you're trying to get over the hurdle of finding the right man while attempting to be the fastest hurdler in the world, life could become a confusing situation. It could be harder than Olympic training, which Jones said was easier than keeping her virginity.
I know there are many women who are married, have kids and lead successful athletic careers -- more power to them. But everyone is different. I see a little bit of myself in Jones and commend her for focusing on her sport and standing for something by saving herself for marriage.
To Jones I say, keep the cookie jar closed and your mind will stay clear.