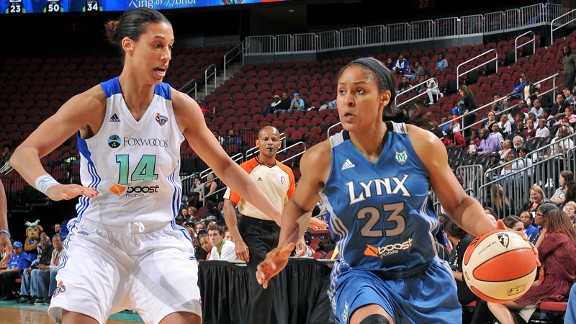 David Dow/NBAE/Getty ImagesMaya Moore and the Minnesota Lynx have started out the season well -- winning against Phoenix, New York and Los Angeles in the first three regular-season games.
To be honest, I don't miss one bit of the relaxed pace of la vida Española. I played overseas in Spain during the WNBA offseason, and it was amazing. But let's just say there haven't been too many siestas on the schedule since I got back.
The Olympics take a big bite out of the middle of the WNBA season in July and August, so training camp started much earlier than it would in a non-Olympic year. I was home for just four busy days -- long enough to hang out with my mom, see my 2-year-old little cousin getting all big, go to two of my favorite churches in Atlanta and eat some mac and cheese -- before hopping on a flight to Minneapolis to meet up with the rest of the Lynx.
We have a couple of new players and lost a couple, but for the most part the team doesn't look or feel different from last year, which is nice. I love all my teammates, and I'm not just saying that. Mama Taj (Taj McWilliams-Franklin) has been a mentor to me, both on and off the court. She's always showing me how the WNBA works, that sort of thing. Mama Taj, Lindsay Whalen, Rebekkah Brunson and I have a tradition of eating at the same restaurant -- Axel's -- at the airport when we're on the road. It's our pre-travel meal! And Candice Wiggins and I were always roommates last year, so we've gotten to know each other pretty well. We both like to keep the TV off for a while to enjoy a good read.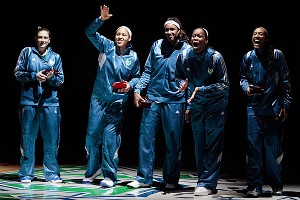 AP Photo/Stacy BengsMaya Moore hopes to celebrate another WNBA championship at the end of the year.
As packed as our schedule is, it's nice that we all like one another enough to hang out together outside of practice, whether it's going to the mall or meeting with the chaplain for Bible study. We're really comfortable and do a good job holding each other accountable for what we want to be as a team: the 2012 WNBA champions. We want to be the first WNBA team in 10 years to win the title two years in a row.
It's no small goal, and it's part of a big dream of mine that I've mentioned before. I'd like to be a part of winning four titles this year: the Euroleague (check!) and Spanish League (double check!), the Olympics and the WNBA.
No. 3 on that list is well under way, too. We had a quick USA Basketball training camp in Seattle, which, if you can believe it, was the first and last time we'll get to play together until July, when we break for the Olympics.
It's a scheduling conflict that's been going on for years, so the coaches and veteran players are used to not having much time to really train as a team prior to the Games. I'm an Olympic rookie, so this is new to me, but it's a really special group of players, and when we're together we take advantage of our time. The U.S. has brought home gold medals with this crazy schedule before, so I don't have doubts.
Our Team USA captains -- Sue Bird, Tamika Catchings and Diana Taurasi -- are fantastic leaders who complement each other really well. I grew up watching them in middle and high school, so it's hard not to pinch myself when I think about being out there with them in that Olympic uniform. Just playing with these 11 women -- the best out there, in my opinion -- is exciting!
And London is going to be amazing. I've never been, and it's such a historic city with rich culture and tradition. I'll be taking tons of pictures of the people, the food and, of course, the Olympic sites and athletes. I love all sports, especially track and field, volleyball and swimming. I'd love to see some of the swimming since it's not something you get to watch live often. What can I say -- I'm a fan! Hopefully, I will be able to experience some of the other sports as well as maintain the highest focus on helping my team win a gold medal.
For now, though, I'm not going to get caught up in it all yet. I'll keep focusing on my Lynx team, knowing that the big goal of four championships is getting closer. I can feel it; it's starting to be real!
Check out Maya's first blog, about playing overseas, here.