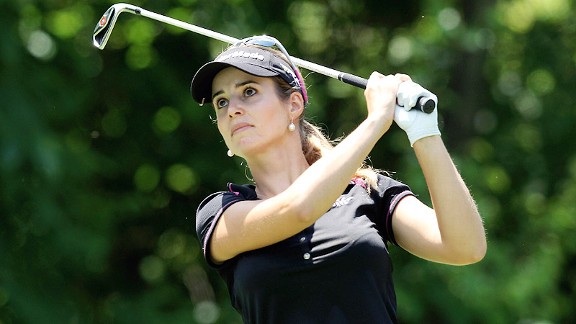 Scott Halleran/Getty ImagesBeatriz Recari, one of five players from Spain in this event, opened with a 3-under 69.
PITTSFORD, N.Y. -- The first rounds of golf's major championships often bring some unexpected names to the leaderboard. Thursday at the LPGA Championship, we got Spain's Beatriz Recari, tied for the lead at 3-under 69.
She's 25, from Pamplona, and does have an LPGA victory under her belt. She won once during her first full season on the tour, 2010, when she finished runner-up for LPGA rookie of the year to her countrywoman Azahara Munoz.
The young Spaniards are part of that "next generation" of European women's players, although it's fascinating to consider that England's Laura Davies, a two-time winner of this event, is still out here competing. She won her first major title, the U.S. Women's Open, in 1987 -- the year Recari and Munoz were born.
Davies shot a 79 Thursday. Barring a miracle, she's not going to contend here. But she does have one top 20 finish this season, tying for 18th at last week's ShopRite LPGA Classic.
While Davies -- with her 12 appearances in the Solheim Cup -- is Europe's longest-lasting women's golf icon, the Spaniards are all about the future. There are five players from Spain in this event. Munoz didn't get off to a good start, shooting a 75. But she won on the tour just last month, at the Sybase Match Play Championship.
No Spanish woman has ever won an LPGA major title, and both Recari and Munoz would love to be the first. But Recari brushed off any talk of having a rivalry with Munoz.
"We are the same age; and we grew up playing together and competing against each other,'' Recari said. "She has been playing really well … overall, that's very good for Spanish women's golf.
"[But] I don't like to get emotional and get competitive with other compatriots. I'm happy for her; I just want to focus on my goals."
Certainly, she's savvy about how to plug sponsors. Recari mentioned she had done her grocery shopping earlier this week at Wegmans, which is the sponsor of this tournament.
"I had great sushi, great food," she said. "If you give good fuel to your Ferrari, your Ferrari responds. Give the Ferrari the cheap fuel, it's not going to go as fast."
Do you get the idea you wouldn't want to challenge Recari to a golf cart race?