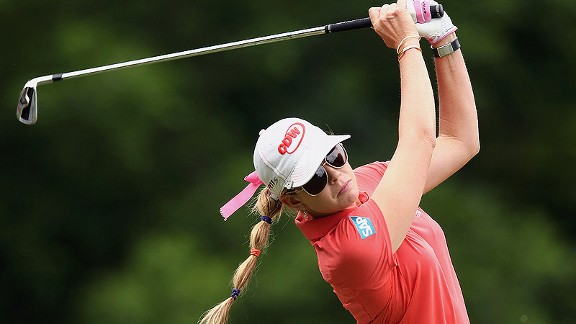 Scott Halleran/Getty ImagesPaula Creamer struggled with her putting, but she's still in a tie for seventh, three shots back.
PITTSFORD, N.Y. -- To borrow Paula Creamer's favorite expression of either amazement or dismay, "My goodness gracious!"
How could you ask for much more potential from the final round of a major than what the LPGA Championship presents Sunday? Unlike the last two years, when the spectators at Locust Hill practically had to be shaken awake at the conclusion of blowout wins by Cristie Kerr and Yani Tseng, the final round this year should keep everyone on their toes.
"It is Sunday, and things happen," Creamer said. "People make moves. I just hopefully am going to be one of those that can put the pressure on the lead groups."
Creamer might have been in the last group if she hadn't, as she put it, "overanalyzed" her putting after a par miss on No. 13. She ended up with a third-round 73, putting her in a tie for seventh with six others. At 1-under 215, all of them are still in the hunt, just three shots behind leader Eun-Hee Ji of South Korea.
"I really tried to work on my attitude and demeanor on the golf course," said Creamer, upset with shooting 1-over on a day when she missed just two greens in regulation. "I was bummed. My goodness gracious … especially with how small these greens are, and to have so many opportunities.
"It was frustration. But if I'm going to win a major championship, I've got to get over that."
Creamer does have one major among her nine LPGA titles. But two fellow young Americans also in the group at 215 are looking for their first win on tour: Sydnee Michaels, an LPGA tour rookie, and Jennifer Johnson, whose rookie season was last year.
They are chasing Ji, second-place Karrie Webb, and four players tied for third at 214. Among them is Stacy Lewis, who at No. 3 is the top American in the world rankings. Lewis won last week at the ShopRite LPGA Classic, where she went into the final round with a big cushion.
"It's a lot easier coming from behind," said Lewis, who shot a 70 Saturday. "Having a huge lead is probably one of the hardest things I've ever done. It's so hard to keep your focus. I almost like being in the back and kind of coming up and surprising somebody at the end."
That's really not the mind-set of the recently overtaken top American, Kerr. She's more than happy to have a large lead and win in a rout, as she did here in 2010. A second-round 76 Friday hurt her, but she came back with a 70 Saturday. Kerr is the only American to win this major title in the last decade, and she isn't out of the mix Sunday, either, at 216. She and Creamer are in the same pairing, which should get a big gallery.
It was another lackluster day for defending champ and world No. 1 Tseng, who shot a 74. But at least that was better than her 76 and 75 of the previous rounds. Meanwhile, Se Ri Pak, the leader after the second round, came back to earth with a 76 Saturday, which put her in a big group tied for 15th at 217.
Replacing Pak as the oldie-but-goodie near the top of the leaderboard is Webb, who has gotten to be friends and fishing buddies with Lewis, as they don't live far apart in Florida. Lewis said it was "cool to see" Webb contending here, adding that as someone who follows the history of the sport, she has a lot of respect for Webb's achievements.
Sunday, though, Lewis hopes to beat Webb and everyone else, including past major winners Ji -- who hasn't won on tour since her 2009 U.S. Women's Open victory -- and Inbee Park, who like Lewis, is tied for third.
"I love it -- the harder the golf course, the better," Lewis said. "The way this course is playing, it opens it up for a lot of people."