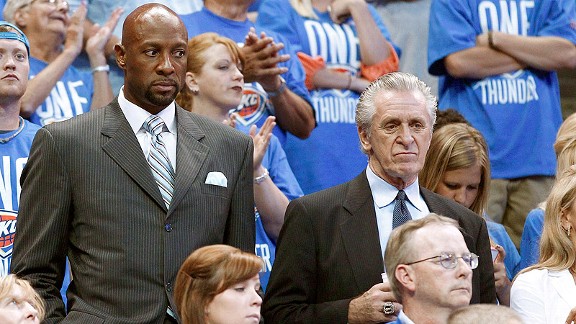 Mark Halmas/Icon SMIPat Riley, right, and Alonzo Mourning didn't enjoy the Oklahoma win as much as the fans in blue and orange -- at the arena and in NYC.
I was a New York Knicks fan in 1995, so I personally remember hearing the news Pat Riley had resigned as the team's coach. Via fax.
For those of you who are too young to remember, resigning by sending a note by a fax machine was the '90s equivalent of breaking up via text message. Classless.
So, last night brought one small moment of joy to Knicks fans everywhere. As the television cameras panned the crowd in Oklahoma City while the Heat were losing in the first game of the NBA Finals, they happened upon Mr. Riley frowning in his trademark suit in the middle of a sea of blue T-shirts.
Finally, a moment of comeuppance. Not that there can be too many for a man who serves as a franchise nemesis. Yes, I know that a dour Alonzo Mourning was sitting next to Riley, but that doesn't carry the same emotional heft.
The best part might be that the celebrating Oklahoma fans know exactly who the men in black are and play up the fun.
Look, if the blue and orange fans can't be in New York, at least they're making Pat Riley miserable.
So I say Oklahoma is OK.