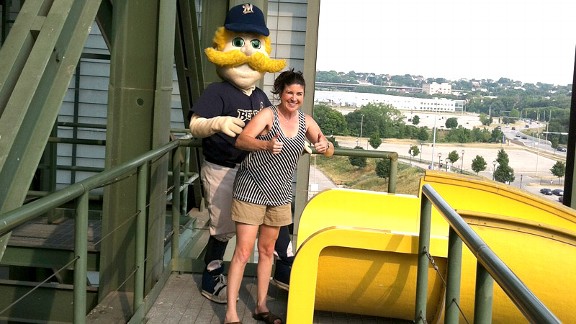 Courtesy of Amanda RykoffAmanda Rykoff readies for her ride down Bernie's slide at Miller Park, home of the Brewers.
When I return from a baseball trip, I typically have a few standard souvenirs: a stuffed bear with the team logo, maybe a T-shirt and tons of photos. I'm back from Milwaukee with many of those keepsakes, as well as some unusual mementos of my time at Miller Park -- bruises, abrasions and scratches on my arms and legs. I consider these badges of honor I wear with pride -- proof that I survived Bernie's slide.
What am I talking about? It's no secret that I'm somewhat obsessed with baseball mascots. OK, fine, I'm completely obsessed. So when I booked a trip to Milwaukee for Brewers baseball and Summerfest (the world's largest music festival), I had to meet Bernie Brewer. Bernie has one of the best gigs in all of baseball, since he's the only baseball mascot who gets to ride down a slide after every Brewers home run and home win (unfortunately, when the Brewers moved from County Stadium into Miller Park in 2001, he no longer lands in a giant stein of beer).
A friend who knows of my affinity for mascots tipped me off to Bernie's Slide Experience, which the Brewers introduced this season to the general public. Fans get a behind the scenes tour of Miller Park, meet Bernie, climb up to the top of Bernie's dugout high atop left field in Miller Park and -- wait for it -- take a ride down Bernie's slide. I had to do it.
The package costs $100 but this didn't stop me from booking immediately. It doesn't include game tickets so if you want to stick around for the game afterwards, you have to buy those separately. And don't plan on partaking in the Brewers' famous pregame tailgating before embarking on this adventure -- absolutely no drunk sliding is permitted.
The experience starts an hour before the gates open at Miller Park for Brewers home games. We arrived at the team's offices at 4:30 before Monday night's 7:10 p.m. game between the Brewers and the Marlins and handed in our signed waivers. Scott from the Brewers' Enterprises Team greeted me, my friend Kelly and two Brewers fans, a lovely couple visiting from Virginia (the team limits each group to a maximum of six).
Scott escorted us through the lower levels of Miller Park past the clubhouses (Jose Reyes and Giancarlo Stanton of the visiting Marlins passed by as we walked) and led us out onto the right field warning track during Brewers' batting practice. The view from the field was nothing short of spectacular, with the roof open and a vibrant blue sky above. Next, we visited the luxury Stadium Club and enjoyed some much-needed air conditioning on a sweltering 95 degree day.
Finally it was time to head to Bernie's dugout above left field. When we arrived at the base, a member of the Brew Crew greeted us and explained what would happen next. We'd climb about 20 steps on a fairly narrow ladder from the base to the top where we'd meet Bernie and have the chance to chat with him and take some photos. I knew why they told us not to wear a skirt or flip-flops. Those steps were narrow.
Once at the top, we enjoyed a breathtaking view of Miller Park. I felt a rush as I looked around. It's like being on the top of the world -- if the world were a baseball park. Then came the moment we were all waiting for -- a meet and greet with Bernie the Brewer. I only took about 10 pictures with Bernie, which represented significant restraint on my part. Without being able to speak, he was quite charming and affable. Maybe it's because he has that goofy grin plastered on his face.
Bernie and I chatted about my love of mascots and I told Bernie I had auditioned to be a Racing President for the Washington Nationals this February. Though he could not speak, the Brew Crew member who acted as his interpreter informed me that Bernie was impressed. Bernie wanted to know more but I, of course, could not violate the mascot code of secrecy.
Finally, it was time to take the slide. We didn't get much instruction other than to use the burlap netting to help us slide more smoothly, so each of us went down without knowing what to expect. When it came time for me to ride, I wasn't nervous at all. I just sat down and I was off. I treated it like a rollercoaster, with my hands in the air and screaming at the top of my lungs. One thrilling turn and 10 seconds later, I flew off the end of the slide and landed hard on my rear end at the base (the team installed rubber padding at the opposite end of the base to cushion the landing). Even though I'd seen Bernie take the slide countless times on television, I expected the ride to be a bit longer so I was surprised that it went so quickly. Then I saw why: a pile of at least five empty Pledge cans over by the side -- the secret ingredient to a slick slide.
Each of us took the slide a few more times and had different experiences, experimenting with different slide styles -- sitting up slows you down, lying down speeds you up. When it was over, I realized I ached all over. I definitely sustained some slide burns on the backs of my arms and legs, plus one bruise on my thigh from an especially rough landing where I veered left. It's a small price to pay for a great time.
Overall, we had an absolute blast. Even my friend Kelly who agreed to come along for my sake loved it. If you're a Brewers fan, it's a must. And if you're a baseball fan, I highly recommend it the next time you're in Milwaukee. It's truly a unique experience you can't recreate anywhere else.
And later that night, Kelly and I smiled and high-fived as Bernie took the slide after the Brewers' 6-5 win over the Marlins.