The dreaded peanut butter pedals
Our own Adena Andrews -- former swimmer and more recent couch potato -- is training for her first triathlon, to be held March 19 in South Carolina, and is blogging every proud, painful or demoralizing step along the way.
If you thought riding a bike was easy, you are severely underestimating this sport. There's nothing simple about riding a custom-designed manual transmission vehicle on two wheels. Operating the gears requires finesse, and the unit is built so intricately that it becomes an extension of your body. The folks at Trek hooked me up with a Lexa SL women's specific design bike. Trek is the same brand that Lance Armstrong rode in the Tour de France, so I know I'm in good hands. My extreme gratitude also goes to the kind salesmen at Free-Flite Bicycles, who guided me through the overwhelming process of purchasing a bike. Because we're all friends in this triathlon preparation, here are a few tips I learned from the experts on what to look for when buying a racing bike:
Triathlon bike vs. road bike: Most people think that if you're doing a triathlon, you need a tri bike. Wrong. If you're a beginner, you will be just fine with a road bike. Road bikes don't have aero-handlebars, which force you into a weird hunched over position (think Lance, sprinting to the finish line). If you get really serious about tri racing, and get more flexible in your upper back, you can add an aerobars to your bike later.
Get fitted: If you drop big bucks on a high-performance bike, the shop you bought it from will mostly likely do a complimentary fitting for you. I got a Pro-Fit, done by a U.S. Postal Service team mechanic. The fit involves more than just adjusting the handlebars and seat. It also involves measuring the length of your leg bones, the curve of your back while pedaling, and about nine other measurements. Without the proper fit, the repetitive motions of cycling can negatively affect your body and performance. Cycling is hard enough; your bicycle shouldn't make it tougher.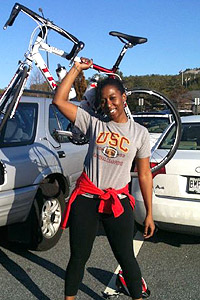 Courtesy of Adena AndrewsLook, Ma, one hand!
Carbon vs. Aluminum: To save a couple of bucks, go with the aluminum bicycle frame. In the cycling world, everything made of carbon cost twice as much. For the beginner road racer, an aluminum frame will do just fine. Carbon weighs less than aluminum, feels fantastic on the road, and is what the pros use. But aluminum bikes are still light enough for you to lift the entire thing with one hand; they'll get you to the finish line in blazing time.
Coordinate: Cyclists are really into color-coordinating their gear. I randomly picked out one blue and one yellow water bottle to attach to my bicycle, and the salesperson shot me a dirty look. He then shooed me in the direction of the bottles whose colors were more complementary to my new bike. After I returned with red and white bottles and a sweet cardinal-colored helmet to match my cardinal bike, he gave me an approving nod. Who knew cyclists were so fashion savvy?
After getting fitted to look the part, I took my bike to Stone Mountain Park in Stone Mountain, Ga., for my very first bike ride in seven years. My swim team buddy, who is also an avid cyclist, accompanied me. Things were going smoothly until I hit my first hill. Or, should I say, the hill hit me. It felt like I struck quicksand in the middle of the hill, and my pedals would not move. Because I'm not still not clear on when or how to change my gears, it felt like I was pedaling through peanut butter. I had to hop off my bike, head hung in shame, as I walked up the hill and other cyclists zoomed by me. Thankfully my buddy was right by my side.
I did 10 miles in an hour that day, with two more incidences of peanut butter pedals. The dizzying exhaustion I felt after my ride was neutralized by my feeling of accomplishment.
I found a Muhammad Ali quote which is fitting for this harrowing first training ride: "I hated every minute of training. But I said, 'Don't quit. Suffer now and live the rest of your life as a champion.'"