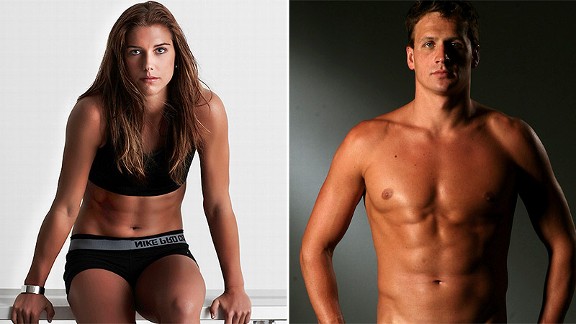 AP Photo/Getty ImagesAlex Morgan and Ryan Lochte are two of four No. 1 seeds in the Brackets of Awesome.
Natalie Coughlin, Lolo Jones, Abby Wambach, Serena Williams.
These women have the kind of killer legs, enviable arms and awesome abs that most of us can only dream of. Powerful, strong, every inch of their bodies perfectly toned and tuned for their craft.
Then there are the guys.
Ryan Lochte, Dwight Howard, Rafael Nadal, Tim Tebow.
These men could give Michelangelo's David a run for his money. Years of hitting the court, pool, field and weight room have turned their bodies into sporting machines.
With ESPN the Magazine's annual "Body Issue" hitting newsstands now and with high temperatures sending everyone to the pool in genuinely tiny swimwear, now is the perfect time to celebrate some truly awesome bodies.
The Bracket of Awesome debuted back in March when the NCAA basketball tournament had fans across the country crying over their broken brackets. Giving people a chance to vote on the relative merits of bacon, bubble baths, fuzzy slippers and new puppies put the focus back on what's really important: things that are awesome.
And I think we can all agree, there are few things more awesome than a rockin' body.
Each of the athletes below has a totally awesome body -- but whose is most awesome? That's up to you to decide.
Do soccer star Carlos Bocanegra's great gams give him a leg up on Indians outfielder Grady Sizemore? Will Candace Parker's long, lean limbs help her get past LPGA star Natalie Gulbis? How will beefy Blake Griffin fare against svelte soccer stud David Beckham?
Voting will continue each day leading up to Monday's Champion of Awesome final. Cast your vote to help decide the two most awesome bodies in sports!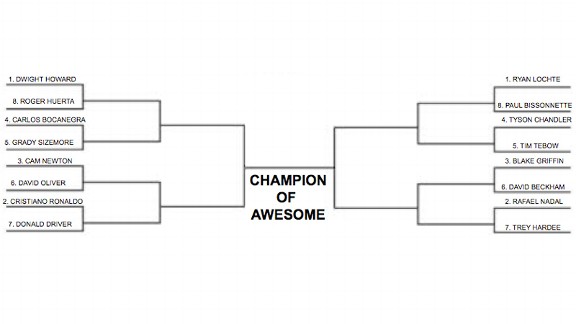 Courtesy of Sarah Spain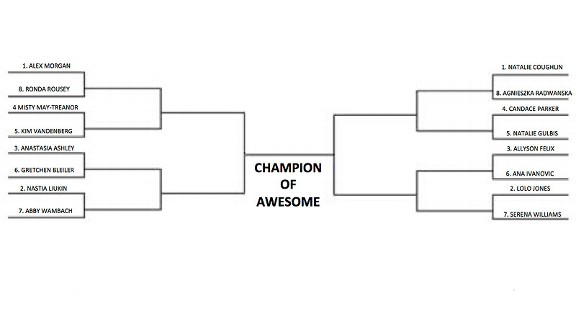 ESPNW