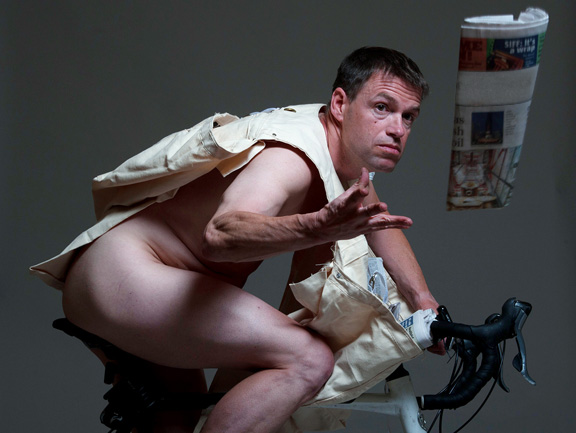 Rod Mar for espnW
Does this photo make me look fat?
This was my main concern when I first saw it. Not that I was naked (I kind of knew that going in), not that I look absolutely ridiculous (that was the intent), but whether I looked fat.
Because, really, that's what people fear most in a photograph.
Few people outside the immediate Kardashian or Hilton families ever pose nude. This is generally a good thing, as any trip to the local shopping mall food court will show. But being seen naked isn't what really scares us. No, what really scares us is looking fat while naked. It's a feeling as deep in our DNA as our hunger for chocolate cake.
I hadn't expected this when espnW asked me to pose for a series of nude/seminude photos in conjunction with ESPN The Magazine's annual Body Issue. So when I saw the above picture, I immediately wanted to search the rest of the images for more flattering photos. I identified with all those celebrities who find their cellulite-layered, muffin-topped photos on the cover of a checkout-stand magazine with the headline: "Worst Beach Bodies" or "Wow, Lindsay Lohan Has Really Let Herself Go Again."
I now know how they feel. A bad camera angle can make anyone look fat. Believe me. Please, believe me.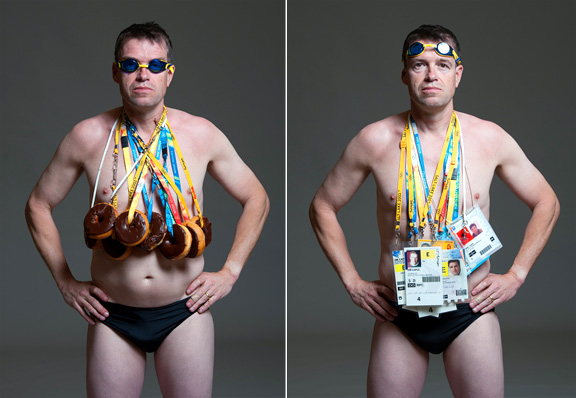 Rod Mar for espnW
Why in the world did espnW ask me to pose without my clothes? That's a good question, and one I'm still trying to figure out myself.
Every summer, The Body Issue is filled with gorgeous, artistic photos of top athletes in the nude. This terrific issue shows how impossibly fit and beautiful these athletes are. In conjunction with last year's issue, writer Morty Ain stripped naked to interview two NHL players and gain an idea of what athletes regularly endure when badly dressed sportswriters interview them in locker rooms.
This year, the plan was to have a writer pose nude for some Body Issue-like photos and write about what the experience felt like. You can ask all the questions you want about how a person feels doing something, but until you do it yourself, you never truly understand.
So it was a good idea. Unfortunately for you, they asked me to pose for the photos. Specifically, for a photo riffing on the famous Annie Leibovitz portrait of Lance Armstrong.
Obviously, my initial response was, "No, seriously, why are you really calling?" And after being assured that, yes, it was a serious question, I quickly agreed. I'm big on participatory journalism and I'll pretty much do anything for an interesting story. Besides, how could it be any more embarrassing than when I posed in a Tigger costume?
Honestly, I didn't put much thought into it. I didn't even ask my wife before committing, though her expression later indicated that would have been a good idea. ESPN is owned by Disney, so none of the shots would show anything too private. I also bike a lot and am relatively fit, so I wasn't worried I would look bad in a photo. OK, to be completely honest, I have to admit I thought I might actually look athletic. (I did start doing some abs work, though.)
More importantly, because we were spoofing some famous photos, I thought it wouldn't really be me posing so much as me posing in character for the photos. It would be like when I wore red flannel underwear as Mortimer in a college production of "The Fantasticks."
Plus, I figured someone would eventually come to their senses at espnW and drop the project.
For the shoot, I insisted on two requirements. One, I would have final approval on the shots chosen; and two, the photographer had to be Rod Mar.
Rod not only is one of my oldest friends, but he also is the finest sports photographer in the country. Obviously, I'm biased -- hell, the guy once let me sleep on his couch for a month -- but that's not just my opinion. He has worked for ESPN and Sports Illustrated. One of his photos was named the best feature photo from the 2008 Olympics and he won first place for one week's work in Pictures of the Year International.
Plus, the man is funny. He has often rescued a column of mine with a suggestion at a ridiculously late hour of the night. So rather than ask me whether I had lost my mind when I mentioned the possible photo shoot, he quickly suggested several positive spoofs.
We should pose you in a sports bra like Brandi Chastain. And Michael Phelps with his gold medals.
Yeah, but instead of gold medals, I could be wearing the credentials from all the Olympics I've covered.
No, chocolate doughnuts.
Rod had several other ideas, but I drew the line at posing in a red one-piece swimsuit, a la Farrah Fawcett. Even I have some standards.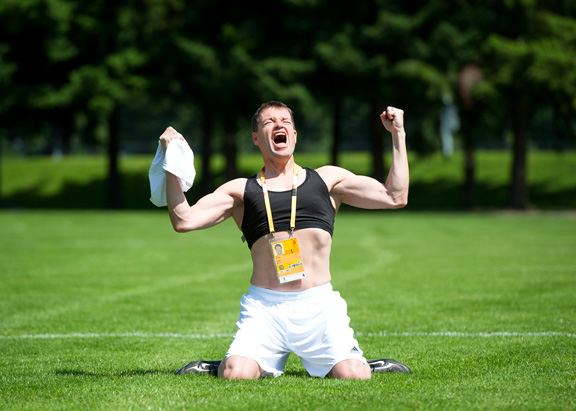 Rod Mar for espnW
As the shoot neared, though, I began worrying this was a much, much worse idea than the Tigger costume. I fretted over what my family would say -- Good lord, my sisters will see these photos! My niece will see these photos! -- I fretted about what our neighbors would think. I worried about what my fellow writers would say in the press box. I worried what players would say in the clubhouse. I wavered between hoping we would do the shoot and hoping espnW would kill it.
I began to have serious misgivings when my wife insisted I man-scape for the photo shoot by shaving my entire body. This not only was uncomfortable, but it also took a surprisingly long time and left me shockingly cold when I biked after shaving my legs. The idea really began to feel creepy when I went out to buy a Speedo for the Phelps photo and a sports bra for the Chastain idea.
Looking for reassurance, I told two friends at a Mariners game about the project, but instead of reassuring me, they expressed complete horror.
This did not help.
The night before the shoot, I was so wracked with worry I barely slept. I would drift off briefly, then wake up, frantic that this was a terrible idea, that I would humiliate myself, that it would damage what little reputation I had. I panicked this would damage my credibility.
But it was too late. I had committed to the project.
So, that morning, I got out of bed and dressed. Which means I put on the sports bra in the bathroom, where my wife wouldn't see me, then hastily covered it with a shirt. I drove to a local soccer park to meet Rod, briefly worrying I would get in an accident and have to explain the sports bra to the paramedics pulling me from the wreck. I parked and we went to a back field for the shoot. Rod took light readings and set up the shot.
And then, I took off the shirt and posed. Exposed.
Chastain looks triumphant in her photo from 1999, but posing in white shorts and a sports bra in a public park was a little uncomfortable for me. Until Rod showed me the first photos. The two of us just started laughing. And then, a guy cycling past started laughing at us. All of a sudden, the whole idea was no longer worrisome or uncomfortable, it just seemed ludicrous and funny.
It indeed felt like I wasn't posing, but my character was posing. It really was no different from a comedian in drag on "Saturday Night Live" or an actor appearing naked in a movie.
Or at least, that's how I rationalize it.
The other shots went easily enough. We set up in a closed studio, safe from anyone seeing us (except for the poor security guard who accidentally opened the door). We did the Phelps shot first, primarily because we had only the eight doughnuts, I was really hungry and I knew I wouldn't be able to keep myself from eating one for more than 10 minutes (hey, I'm a sportswriter).
Next came the Lance photo. I got on the bike so Rod could get the correct lighting. Then I took off my Speedo from the Phelps photo and Rod began clicking away while avoiding looking at a certain area of the body.
(This is a skill all sports reporters hone in the locker room. You do not want to look. You definitely do not want to be caught looking. Which reminds me of one of my most uncomfortable moments as a sportswriter. I was covering the NBA playoffs. After a game, a large scrum of reporters surrounded Hakeem Olajuwon, who was seated by his locker. There were so many writers packed around him that I couldn't get close enough to hear what he was saying. Then I noticed a small gap just in front of Olajuwon's chair. I shifted over there, kneeled down, looked up ... and immediately realized why no other reporter had taken this spot.)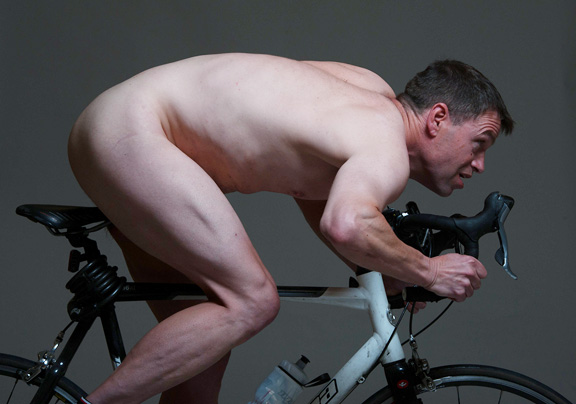 Rod Mar for espnW
A couple of months ago, I listened to U.S. soccer star Alex Morgan explain how self-conscious and weird she felt when she posed for Sports Illustrated's swimsuit issue while wearing nothing but body paint. I listened, but I really didn't understand why it was such a big deal. She was in fantastic shape and, besides, it looked for all the world like she was wearing a swimsuit.
Well, now I understand.
When Rod sent me the first images, all I could focus on was that I looked fat. I looked through all his shots, concerned less with finding a strong photo than finding one that made me look as lean as I imagined myself.
As my poor wife will tell you, I ride my bike a lot -- about 6,000 miles a year -- to stay in shape, but when you're crouched over the bike frame as I am, the flab just collects around the waist. No, really, it does. And when you're simply standing relaxed (as I am in the Phelps photo), it collects again in a middle-aged paunch. And also when you lean slightly to one side, as I do in the Bo Knows photo (see below, a parody of the Bo Jackson Nike ad where he is pictured in shoulder pads with a bat across his shoulders).
It was hard accepting these photos. I've always sympathized with the way women are judged on their bodies. I've long been a proponent for women's sports. I've written extensively about women athletes all over the world. I consider the strength and confidence women gain from sports perhaps even more important than what men gain. But I never fully appreciated their feelings about being judged on their bodies. Now I do. I also get the popularity of fad diet books.
I hesitantly showed the images to my wife, worried over her reaction. I half-expected her to be horrified and insist I kill the project. Instead, she laughed. I was relieved.
And then she, too, commented that I looked chubby.
After I expressed concerns about my flab to Rod, he emailed back a new image, writing, "I don't think you look chubby." He had performed skillful photoshop liposuction, which is the only thing I noticed in the image. He also gave me muscle-bulging, vein-crossed biceps and Hulk-like forearms, but I didn't notice that at all. All I focused on was the reduced belly; it was all I was concerned about. (Unfortunately, my editors went with the original photo. Ethics!)
I then pushed for a photo in which I more closely mimicked Lance's pose because I thought it was more flattering. But after a while, I finally came to my senses. Yes, I average 125 miles a week on my bike, but I also average a lot of pizza, doughnuts and pasta. I am 50 years old. I am a sportswriter. Gravity, age and sitting on my butt in the press box eating free cookies take their toll.
This is what my body looks like, and worrying that I don't look like a 25-year-old Olympian would have been as ridiculous as worrying that I didn't look like a major leaguer when I struck out against All-Star reliever Matt Thornton and his 92 mph fastball. It's unrealistic and silly and completely beside the point.
After all, these photos were always going to make me look bad. They were supposed to be funny. And as Joseph Bologna says in "My Favorite Year," a great movie about TV comedy writers, "You never cut funny."
Then again, Bologna said that when he was wearing pants and a shirt.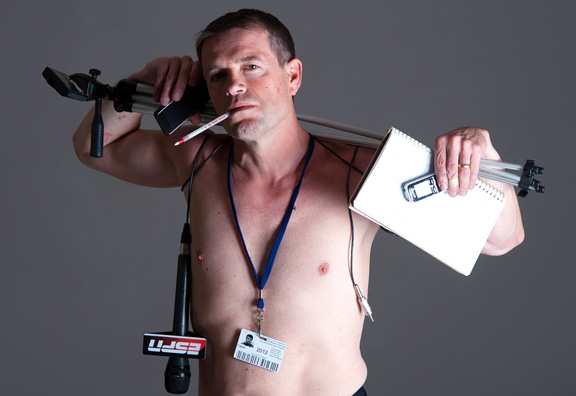 Rod Mar for espnW