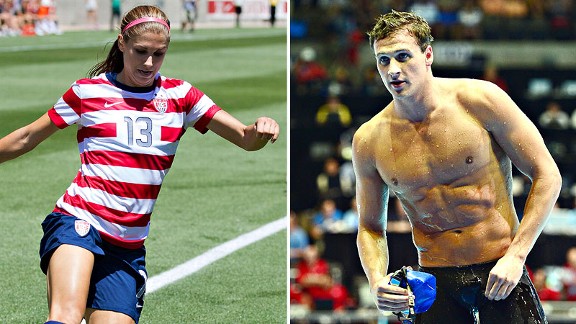 US Presswire
The voters have spoken: Swimming sensation Ryan Lochte and soccer star Alex Morgan have the most awesome bodies in sports.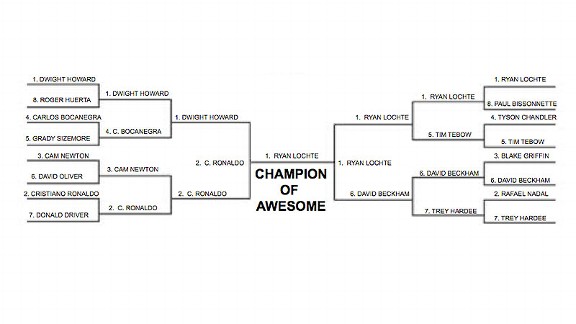 Sarah Spain
Ryan Lochte, who will represent the U.S. in at least five events at the 2012 Olympics in London, beat Portuguese striker (and Armani underwear model) Cristiano Ronaldo for the top spot on the men's side. The 6-foot-2, 185-pound Lochte got his rockin' bod by swimming five to six hours a day, six days a week. The six-pack-sporting 27-year-old isn't shy about showing off the results of his hard work in the water; he's rocked a Speedo on the cover of several mags, including Vogue, Men's Health and Men's Journal. When he isn't posing for glossies or hawking products for companies like Gillette and Gatorade, the always-active Lochte likes to skateboard, play hoops and ride scooters. We hope a win in the Bracket of Awesome: Body Edition is just the start of an award-winning summer for Lochte.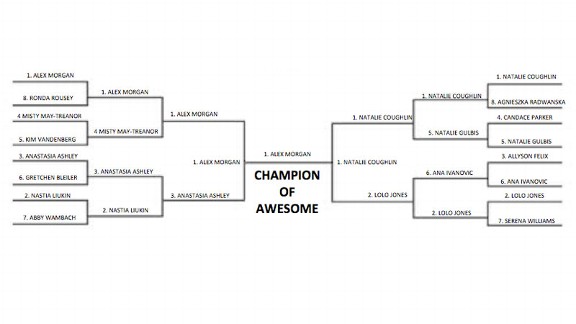 Sarah Spain
The winner on the women's side, Alex Morgan, earned fans on the field in the Women's World Cup last summer and off of it when she posed in a body-paint bikini. The 23-year-old Cal-Berkeley grad beat out fellow Golden Bear Natalie Coughlin (whose totally awesome body has helped her to 11 Olympic swimming medals so far). Since Morgan burst onto the scene as the youngest member of the U.S. women's national team during the 2011 Women's World Cup, she has been helping turn casual soccer fans into devotees. She boasts almost 543,000 Twitter followers and has inked endorsement deals with companies such as Bank of America and GNC. The 5-7 Morgan switches up her workouts to stay fit without getting bored, training in the gym, on the pitch, in the pool and on the beach. After falling to Japan in the Women's World Cup final last year, Morgan and the rest of the awesome-bodied women's national team are headed to London with just one thing in mind: Bringing gold back to the States.
Congrats to both Ryan and Alex and thanks for giving us all inspiration to get toned, strong, healthy athletic bodies of our own! Squats and lunges, here I come …