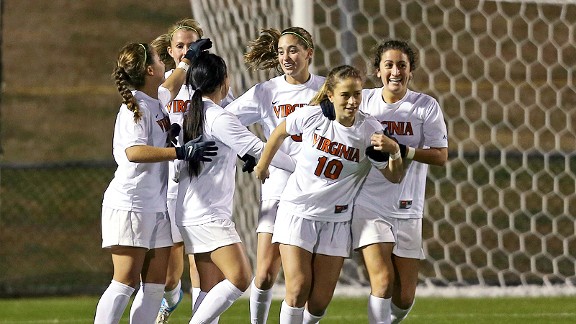 Matt RileyCaroline Miller (10) and her Virginia teammates celebrate during Friday's win against La Salle.
CHARLOTTESVILLE, Va. -- It wasn't Virginia's best game. It certainly wasn't the easiest way to start the NCAA tournament.
But all that matters at this time of year is that it wasn't the last game. It wasn't the last time Caroline Miller will feel sick to her stomach with nerves before a game or settle those nerves by dancing her way through warmups.
And it wasn't the last time some hapless defender will be left staring at sod, wondering where Miller and the ball went.
Virginia's 4-1 win against La Salle on Friday night at Klockner Stadium enables the No. 2 seed to move on to the second round. Since coach Steve Swanson arrived in 2000, Virginia has never failed to reach the second round -- in fact, the Cavaliers are one of only five teams to do so every season since the tournament expanded to 64 teams in 2001.
[+] Enlarge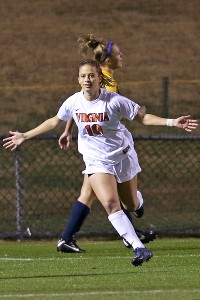 Matt RileyCaroline Miller sparked Virginia with a goal and an assist.
The result also maintained a bit of more immediate history, the four goals continuing a torrid scoring streak. Virginia has played six games since an overtime loss at Florida State on Oct. 14, all against teams that made the NCAA tournament. It scored four or more goals in five of them. It won all six games.
All of which somewhat obscures the reality that this particular one wasn't as easy, nor as perfect, as the margin of victory suggests.
"I'll be honest, you look at 4-1 and you think [it was an easy win]," Swanson said. "But it wasn't. I think anybody that was here knew it was a very competitive game."
While many seeded teams face first-round opponents ranked in triple digits in the RPI, the luck of the draw and the nature of geography landed ACC tournament champion Virginia in a game opposite Atlantic 10 champion La Salle. Ranked in the top 35 of the final RPI, not to mention the top 25 in one of the major human polls, La Salle won a game at Big 12 champion West Virginia earlier this season and reached the NCAA tournament a season ago.
La Salle was even responsible for the crowd's first collective sharp intake of breath, Ashley Chilcoat corralling a long pass across the field in the second minute, beating the only defender in her vicinity and threading a pass that proved a touch too heavy to find forward Leigh Gay making a run into the box.
Even in the game's opening moments, it hinted at an opponent more than capable of threatening Virginia on the counterattack and stealing a goal or even a win.
But within seconds of that half chance, Virginia's Makenzy Doniak earned a corner at the other end as the Cavaliers methodically moved the ball. When an ensuing shot from midfielder Morgan Brian rattled the woodwork and the ball eventually settled at Miller's feet near the edge of the 18-yard box, she calmly drilled it into the far corner for a 1-0 lead in the fourth minute.
The goal was Miller's 17th of the season, moving her into a tie for second among the program's single-season leaders, one behind former All-American and United States international Angela Hucles. The tally also moved her past 100 career points for the Cavaliers, making her just the fourth player ever to do that for a program that has been a mainstay in the sport since the Reagan administration.
Not bad for someone who effectively lost half her sophomore season after she sustained a knee injury in a game against Maryland that knocked her out of the lineup for more than a month and left her a shell of herself when she returned, natural instincts blunted by the sizable brace she wore.
"Oh my God, it sucked," Miller recalled, in her typically unfiltered way, of the frustration when her career appeared to hit a wall. "I felt like I had been playing so well at the beginning of that season, and then that injury happened and I was out for like five weeks. And when I got back in with that brace, I cut the ball a lot and it didn't let me do that. So it just put a really big damper on my game."
Back in the present, much of the rest of the first half Friday was played between the midfield stripe and La Salle's 18-yard box, Virginia dominating possession but missing its normal precision in the final third, some credit for which should go to the Explorers.
Brian made it 2-0 with a clinical finish low and hard from the top of the 18-yard box, but Virginia couldn't find a third goal to effectively finish off the underdog. When La Salle's Kelsey Haycook fought through the scramble in front of the goal and got her head to a long free kick in 59th minute, the 2-1 score left Virginia with little reward for all its possession.
As the game stretched and La Salle pressed in the minutes that followed, a tying goal hardly felt out of the question.
Enter Miller and the most recognizable move in the college game these days.
The senior's signature cutback is the closest thing you'll find in real life to a video-game cheat, the speed with which she changes direction and the way the ball stays at her feet making it all but impossible to defend. Virginia redshirt junior defender Morgan Stith knows exactly how her counterparts on other teams feel.
"When we first got here, I would know it was coming and then she would still do it," Stith said.
So it was that Miller got the ball near the top of the box as the clock ticked down toward the 78th minute, feinted toward the middle of the field where she would be able to blast a shot on goal and instead cut the ball back to the right side. Nearing the end line, she fired a cross -- aiming, as she said, for nothing more specific than the blur of white jerseys -- and watched Gloria Douglas redirect it in at the far post for a 3-1 lead that took the wind out of La Salle's sails.
"She's so determined," Stith said. "I feel like she always comes up big when we need her and she's always just focused on the goal, like she knows what her role is and she does it very well for us."
Miller is one of the nation's best finishers playing through one of her hottest streaks at the moment. That said, Virginia isn't a team that relies on one player. The beauty of the way the Cavaliers play is how involved every player on the field is, whether scoring goals -- and eight players have scored at least four -- or creating the interplay that sets up so many opportunities for Miller or others to finish.
Nor is Miller necessarily a talismanic figure from whom the team derives its power. She is a happy-go-lucky, free spirit with a streak of pink in her hair who by most accounts doesn't take herself or much of anything beyond creating goals too seriously.
But it's nice to have a player who can create something of nothing in November.
"The one thing you knew about Caroline is that she has the ability to score goals against any team," Swanson said of his initial impression of the recruit from Maryland. "I think that was the one thing that when you look at players, I think there are players that can score goals against certain kinds of competition. There are other players that can do it against any kind of competition. Caroline is a player who can score against any competition."
She will get a chance to score more of them. At this time of year, that's all that really matters.