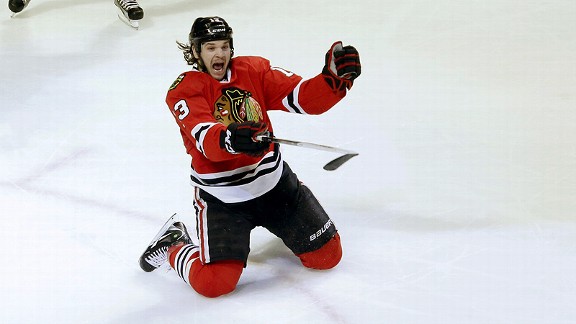 AP Photo/Charles Rex ArbogastDaniel Carcillo's improbable game-winning goal in Chicago's March 6 win vs. Colorado gave the Blackhawks a 21-0-3 record at the season's midpoint.
Looking back, we should have known. That toothless, wild-eyed man should have been a clear sign.
Heading into their last game of the first half of this lockout-shortened season, the Chicago Blackhawks boasted a sparkling 20-0-3 record. They had strung together each game of their historic start using not magic or even mastery, but rather grit and fight and will.
They were more efficient than dominant, managing just a handful of blowout victories while fighting tooth-and-nail for a dozen one-goal wins, more than half of which came in overtime or by shootout.
Their success was determined as much by their fourth-liners as their stars, with a dozen different players netting winners and backup goaltender Ray Emery playing as well -- sometimes better -- than starter Corey Crawford.
The believable, blue-collar story of humble stars and young up-and-comers winning with their hard-nosed, never-give-up style of hockey jumped the shark when Daniel Carcillo, Animal from the Muppets come-to-life, became the hero.
So, on March 6, when fourth-line pest Daniel Carcillo scored his first goal of the season with less than a minute to play to give the Blackhawks a 3-2 victory over the Avs, move them to 21-0-3 and keep them unbeaten in regulation at the season's midway point -- well, we should have known.
The believable, blue-collar story of humble stars and young up-and-comers winning with their hard-nosed, never-give-up style of hockey jumped the shark when Carcillo, Animal from the Muppets come-to-life, became the hero. A last-second, backhanded, gritty-as-all-get-out, game-winning goal from an oft-criticized, dentally-challenged agitator known more for his mouth and his fists than his skill?
And that celebration, now immortalized on the cover of the latest Sports Illustrated: Carcillo, down on his knees, hair blowing back, gummy mouth agape in joy and surprise, getting mauled by his teammates as the United Center crowd behind them goes wild.
It was just too incredible. Too unbelievable. Too much magic for this bunch of everymen. The real-life tale had gone Hollywood -- "Hoosiers," "Rudy" and "Miracle" all wrapped up in one.
The streak had to end there. And it did.
Two days later the same Avs team the Hawks beat in Chicago handed them an ugly 6-2 defeat in Colorado. The Avs, then the second-worst team in the Western Conference, had won one of their previous seven games heading into that Friday night upset.
Two days later, another underperforming team, the then 8-10-5 Oilers, delivered the Blackhawks' second straight loss, a 6-5 defeat on the Hawks' home ice. In two games, Chicago coughed up 12 goals -- more than in their previous seven games combined.
After leaving just three of a possible 48 points on the table in the entire first half of the season, the Blackhawks have squandered four, two games into the second half. In less than a week their 10-point lead over the second-place Anaheim Ducks has dwindled to four.
A letdown was inevitable, especially considering the pressure the Blackhawks faced with each game played. Pressure from the media, the fans, themselves and, most important, from opposing teams, who brought their best effort every night hoping to slay the dragon that was the unbeaten Hawks.
A letdown was inevitable. What matters most is what comes next.
Maybe without the streak pushing them along, the Blackhawks will settle into mediocrity, losing the one-goal games they were finding a way to win. Maybe they won't be as driven to muster late comebacks and will instead succumb to empty lungs and screaming legs.
Or maybe they'll consider this second-half start --which began with two losses in three nights and ends with three days' rest -- an intermission of sorts. A chance to catch their breath after playing 10 games in 17 nights. A chance to leave the exhausting, exhilarating first half of the season behind.
Maybe when they get back on the ice Thursday night in Columbus, beneficiaries of that much-needed rest, they'll come out firing, motivated by a new, more meaningful goal.
Because for all the talk of their consecutive-games-with-at-least-a-point-to-start-a-season streak, this Blackhawks team knows the real prize is a championship, not a very specific, very carefully worded record.
That record is already gathering dust in the history books; the Hawks names on the Stanley Cup will shine forever.