Camille Calhoun is a 5-foot-10 senior guard at Archbishop Spalding (Severn, Md.), the No. 95 prospect in the 2013 class and a Virginia Commonwealth commit. Calhoun shares some of her secrets in this edition of "Meet the Prospects."
[+] Enlarge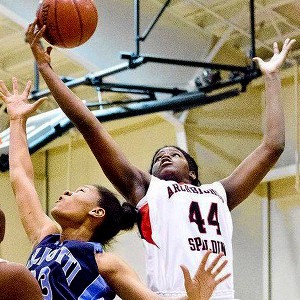 Courtesy of Noah ScialomCamille Calhoun and Archbishop Spalding (Severn, Md.) are off to a 15-0 start this season.
Nickname: Mille
Pick a number: I wear jersey No. 44 because it's usually a number given to the big girl on a team, and when I was younger I was always one of the taller kids on the team. It has just stuck with me ever since. Other than basketball, what is your favorite hobby? Shopping.
If you could go one-on-one with anyone, who would it be? Kevin Durant because he is one of my favorite players and he's from my area.
If you had to compare your game to a current college or pro player, who would it be? I don't really know who I could compare my game to exactly. … I guess I could say just any player who can pretty much interchange and play any position.
Who is your role model? Alana Beard from the Los Angeles Sparks because she knows she is good, but she isn't cocky about it. Also, she likes to give back and encourages young females to go out and ball as hard as they can.
What is the most important thing basketball fans should know about you? I'm pretty versatile. I'm 5-10 but I can jump. I rebound pretty well, and my shooting and ballhandling have gotten a lot better.
What is your favorite basketball moment so far? Winning the Interscholastic Athletic Association of Maryland championship in 2010-11.
The King and I: LeBron James wishes he could … block shots as well as I can.