Rebekah Dahlman is a 5-foot-9 senior point guard at Braham Area High School (Braham, Minn.), the No. 16 prospect in the 2013 class and a Vanderbilt commit. Dahlman shares some of her secrets in this edition of "Meet the Prospects."
[+] Enlarge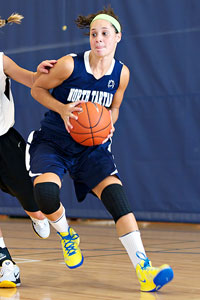 Glenn Nelson/ESPN.com Rebekah Dahlman says her role model is her brother, and she's always tried to one-up her sister.
Nickname: Becca
Pick a number: I wear jersey No. 25 because I've always worn it since I was little. My sister was 24 and I was 25. I always wanted to be better than my big sister, so I got a higher number.
Other than basketball, what is your favorite hobby? Sleeping and watching movies.
If you could go one-on-one with anyone, who would it be? Maya Moore because she's my idol. I love watching her play.
If you had to compare your game to a current college or pro player, who would it be? Deron Williams of the Brooklyn Nets because he's a great scoring guard who has toughness to him.
Who is your role model? My oldest brother Isaiah (a former player at Michigan State) because he helps me with everything in my life, on and off the court. He's been through it all and is always there for me.
What is the most important thing that basketball fans should know about you? Basketball was my first love!
What is your favorite basketball moment so far? Winning a state tournament.
The King and I: LeBron James wishes he could … do farm chores as well as I can.