1. Jackie Joyner-Kersee was born in East St. Louis, Ill., on March 3, 1962.
2. She was named Jacqueline after President John Kennedy's wife because, her grandmother said, "Someday this girl will be the first lady of something."
3. Joyner-Kersee married her coach, Bob Kersee, in 1986. He proposed at the Astrodome as Nolan Ryan pitched.
4. Her brother, Al Joyner, won an Olympic gold medal in the triple jump in 1984. He later married sprinter Florence Griffith.
[+] Enlarge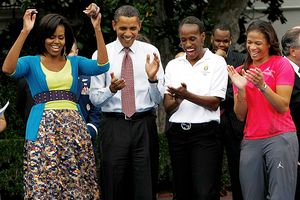 Win McNamee/Getty ImagesJackie Joyner-Kersee, third from left, with President Barack Obama, Michelle Obama and April Holmes.
5. Joyner-Kersee graduated in the top 10 percent of her high school class.
6. Joyner-Kersee's mom didn't allow her to date until age 18, despite the fact that she had married Joyner-Kersee's father at age 16.
7. Her mother died at age 37 after being infected by a rare form of meningitis.
8. At UCLA, Joyner-Kersee not only competed in track and field, she also was a starting forward on the basketball team for four years.
9. Joyner-Kersee was voted the Collegiate Woman Athlete of the Year and awarded the Honda Cup in 1984-85.
10. At her first Olympics, in Los Angeles in 1984, she took home the silver medal in the heptathlon. She went on to win five more Olympic medals in her career, including three golds.
11. She holds the world record of 7,291 points in the heptathlon, which includes the 100-meter hurdles, high jump, shot put, 200 meters, long jump, javelin and 800 meters.
12. In 1996, Joyner-Kersee played 17 games in the American Basketball League with the Richmond Rage.
13. Joyner-Kersee retired from track and field in 2001, at age 38, after struggling with exercise-induced asthma.
14. The Olympic moment she's most proud of: The bronze medal she won in 1996 in the long jump. After pulling out of the heptathlon due to a hamstring injury, she fought through the pain to compete in the long jump and placed third. "As I got ready to take off I said to myself that you give it everything you got in you and if your leg falls off they'll send a gurney out there to pick you up," she told Roberts, "You know, so give it everything. Don't give up."
15. Trademark quote: "I don't think being an athlete is unfeminine. I think of it as a kind of grace."