1. She was born Martina Subertova on Oct. 18, 1956, in Czechoslovakia (now Czech Republic).
2. Her parents divorced when she was very young and her mother married Miroslav Navratil. Navratilova took her stepfather's surname, adding the feminine "ova."
3. Navratilova was began playing tennis at age 4, hitting a tennis ball against a cement wall.
4. At 15, she won the Czech national championship. At 16 she went pro and began competing in the United States.
[+] Enlarge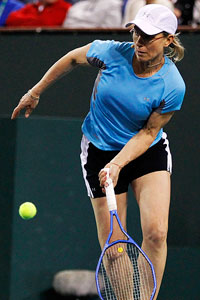 AP Photo/Chris CarlsonTennis legend Martina Navratilova won 167 singles titles, the most by any male or female pro.
5. She became a U.S. citizen in 1981. In her autobiography it is clear how proud this made her. Navratilova wrote: "For the first time in my life I was able to see America without the filter of a Communist education, Communist propaganda. And it felt right. I honestly believe I was born to be an American. With all due respect to my homeland, things never really felt right until the day I got off the plane in Florida."
6. In the summer of 1981, she moved to Dallas to work with basketball star Nancy Lieberman, who helped her train physically and mentally for matches.
7. In 1982, Navratilova went 90-3 and became the first female athlete to earn more than $1 million in a year.
8. She won only three major singles titles before the age of 25.
9. Navratilova was the oldest female to win Wimbledon at age 33 in 1990, and the oldest ever to reach a Wimbledon final at age 37 in 1994.
10. She won 167 singles titles -- more than any male of female tennis pro.
11. Billie Jean King called Navratilova "The greatest singles, doubles and mixed doubles player who's ever lived."
12. Navratilova officially retired in 1994, but came back in 1995 to win her third Wimbledon mixed doubles title.
13. She's a breast cancer survivor.
14. One of her biggest fears, dancing in public, was conquered when she joined the cast of "Dancing With The Stars" earlier this year.
15. On Navratilova's bucket list: visit Machu Picchu. "It's one of those overwhelming, spiritual, awe-inspiring places that makes you feel like you're part of something bigger but also extremely insignificant."