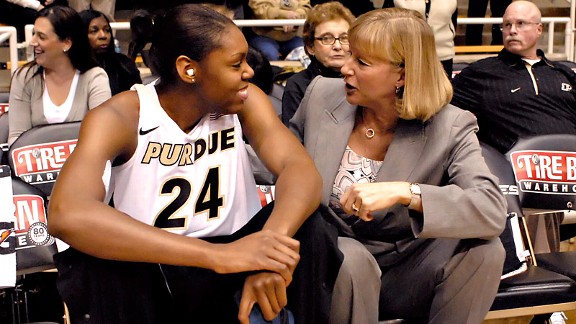 AP Photo/Journal & Courier, Brent DrinkutDrey Mingo chats with Purdue coach Sharon Versyp after returning from a near-fatal bout of bacterial meningitis last season that left her severely hearing impaired.
Drey Mingo knows about hardship.
Now, the Purdue power forward must convince the NCAA. She is petitioning the group for a sixth season of eligibility after two seasons of illness and injury.
Mingo, who played her first two seasons of college basketball at Maryland, had to sit out for a season because of transfer rules after coming to Purdue.
Mingo returned to the court for her junior season with Purdue in the fall of 2010. But after only four games with the Boilermakers, she was hospitalized with bacterial meningitis, a potentially fatal disease that causes inflammation of the membranes that cover the brain and spinal cord.
"The last thing I remember was sliding to the floor and losing consciousness and waking up in the hospital," Mingo said when recounting the events of the illness to an Indianapolis news station. "I remember being in a lot of pain before that."
The infection was so severe that Mingo became disoriented. She didn't know where she was and became so upset that six people had to restrain her in her hospital bed. After spending six days in the hospital, Mingo was left with permanent hearing loss. She is completely deaf in her left ear and the hearing loss in her right ear is at 40 percent.
Despite the life-altering hearing loss, Mingo returned to the hardwood less than a month later after missing four games. She was the leading rebounder (5.8 a game) and second-leading scorer (12 points a game) on a Purdue team that finished 21-12.
"I knew I had to come back strong because they all look to me for guidance," Mingo said. "I knew what was expected of me upon my return."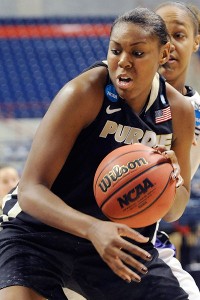 AP Photo/Jessica HillDrey Mingo helps Purdue defeat Kansas State in the NCAA tournament last season. A knee injury last fall wiped out what would have been her senior season.
Mingo's teammates learned sign language in order to communicate with her. And because the arena was too loud for her to wear a hearing aid during games, the coaches put Mingo on the side of the court closest to the bench so she could hear play calls. The team took on the message "Together We Attack," which is painted above the tunnel leading to their basketball arena, by adapting to Mingo's drastic life change.
For the 2011-12 season, Mingo has two new opponents: the NCAA and a knee injury. She tore an ACL in a preseason scrimmage on Oct. 29. The four- to six-month recovery will cause her to miss her senior season.
"When she went down, we all knew what was happening," Purdue coach Sharon Versyp said. "We thought, this can't be real. How could this happen to the same kid twice? "
After playing two years at Maryland, then redshirting when she transferred to Purdue, this would have been her fifth and final season of NCAA eligibility. She is now petitioning the NCAA for a sixth season.
Mingo's chances for a successful petition are slim because NCAA bylaws state that "five-year rule waivers [are normally granted] to players who have lost more than one season for reasons beyond the control of the student-athlete or the institution."
Mingo has lost one season because of her ACL injury. Ironically, her chances for a sixth season would probably be better if she'd missed a season because of meningitis. But life without basketball last season wasn't an option for the determined guard.
"People don't understand that she needed her team in order to mentally survive what she went through," Versyp said. "She needed this family."
Mingo's basketball future now rests with the NCAA's Committee on Student-Athlete Reinstatement. It must decide if she meets the standard of extraordinary or extreme hardship required for it to approve her sixth season.
Mingo said she is appealing to the softer side of the athletic powerhouse with the hope that it will see how mitigating circumstances have cut her hoop dreams short.
"In my letter to the NCAA, I basically poured out my heart and told them why I deserve a sixth year," Mingo said. "I know they don't normally rule with their emotions but I'm hoping that it will be different this time."
While Mingo awaits her fate, she is helping her team in a modified role -- coaching post players. At practice and during games, Mingo critiques the play of the team's frontcourt.
If her petition is denied, Mingo plans to put a biology degree to work and pursue a career as a pediatric cardiologist upon her graduation in the spring.
As Mingo patrols the sideline with clipboard in hand, her thoughts aren't clouded by the roaring sound of the crowd. Instead, only the muffled sounds of faint screams creep into her mind as she watches her teammates do what she may never do again.
"I feel like my work isn't done here," she said. "I have to put on a Purdue uniform one more time."