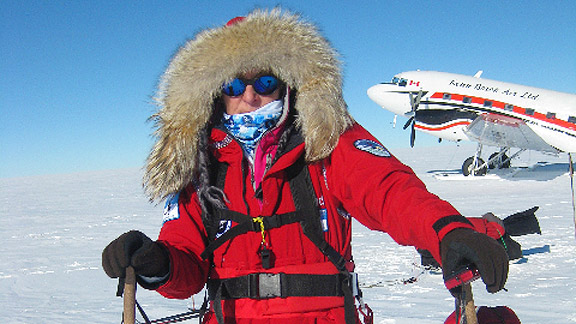 Courtesy of Wendy BookerWendy Booker plans to temporarily move to Alaska later this year and train as a musher for the 2013 Iditarod.
When Wendy Booker was diagnosed with multiple sclerosis in June 1998, she instantly envisioned spending the rest of her life in a wheelchair. Booker's knowledge of the disease was limited to a few of her parents' friends who became debilitated after their diagnosis. But that was a different generation.
Booker, now 57, still believes that panic, ranging from immobilization to much worse, sets in for most newly diagnosed MS patients and their families.
"My then-8-year-old son asked if I was going to die, which is actually the first thing you think of if you don't know anything about the disease," Booker said.
Luckily, she already had embarked on heavy research before relaying the news to her 8-year-old and other two sons, 15 and 19 at the time. She transferred to a world-class neurologist, Dr. Howard Weiner, at Harvard's Brigham and Women's Hospital, and started taking Copaxone, a widely used disease-modifying therapy for people with MS. She was well-equipped to ease her kids' fears but needed an outlet to calm her own. That was when she transformed herself into an extreme athlete and adventurer.
"I have this diagnosis, so what am I going to do with it?" Booker recalled. "I'm thinking, 'I'm going to do something out of character, something I never entertained before.'"
Marathons to mountains
So she began training for the Boston Marathon with a friend who, coincidentally, had been diagnosed with breast cancer around the same time. After raising enough money for the MS Society to qualify for a badge, Booker ran the 2000 marathon and finished in 4:24.
Booker had never really been an athlete -- she describes herself as a former Jazzerciser -- but she took up marathon running because it was the most difficult physical feat she could envision at the time. Plus, as a resident of the Boston suburbs, it was right in her backyard. She actually started running right before her diagnosis. Booker thought she had a pinched nerve or bulging disk from pounding the pavement too hard, but an MRI led to her MS diagnosis.
Multiple sclerosis is an autoimmune disease of the central nervous system that affects 2.1 million people worldwide and approximately 400,000 in the United States. As with most autoimmune diseases, MS is strikingly more common in women than men.
Running a marathon might not have seemed like the most advisable endeavor for Booker -- Weiner suggested she embark on something a little less intense -- but adventurers, even ones born later in life, don't always follow doctors' orders. Since Boston, Booker has participated in nine more marathons, including New York, the Marine Corps event in Washington, D.C., and Chicago.
After her first marathon, Booker's next adventure was laid out in front of her when she was asked to join a group of men with MS to scale Denali in Alaska. At the time, she had no idea what Denali was.
"I had just run the Boston Marathon, so I thought, 'How difficult can a mountain named Denali be?'" she said.
She enthusiastically said yes.
Her group did not summit Denali but achieved its goal of showing the world what people with MS are capable of. Either way, Booker was hooked. In 2004, she became the first person with MS to summit Mount McKinley. She also began her quest to scale the Seven Summits, the highest peaks on the seven continents (Kilimanjaro, Denali, Elbrus, Aconcagua, Carstensz Pyramid, Vinson and Everest). To date, she has completed what she calls "six-and-a-half of the seven," falling short on Mount Everest twice.
After her second failed attempt in 2010, Booker let one of the common side effects of MS (or any debilitating disease) get to her.
"I felt extremely sorry for myself," Booker said. "I laid on the couch, starting watched television and thought, 'I'm done. The disease has finally got to me.' I blamed everything on the MS. 'I'm a wash-up.'"
On top of the world
After some soul-searching, Booker realized there was another way to achieve her goal of standing on top of the world: In April 2011, she went to the North Pole.
"My goal was to stand on the top of the world. I just changed how I got there," she said.
Booker went to the South Pole in January and will complete the Polar Trilogy when she takes on Greenland next month. Her next adventure after that: She will temporarily move to Alaska later this year and train as a musher for the 2013 Iditarod.
She credits Copaxone with a great deal of her success as an adventurer, lauding its role in keeping her MS at bay. The therapy, which came on the market in 1997, is a daily injection that is pierced into seven different sites on the body in rotation, which Booker likens to "performing the Macarena." No drug can completely mask the effects of the disease, and she often has bumps in the road. She is numb from her toes on her left foot to the top of her ribcage and also suffers from vertigo but remains undeterred.
"If you have a disease like MS, you may have to alter your lifestyle, but don't give up on your goals," Booker said.
Giving yourself daily injections is fraught with its own difficulties, which are compounded when you are traveling across the International Date Line and scaling mountains. Booker said the biggest challenge is keeping the needles warm, so she wears them on her body. She has two pockets, which she describes as "kangaroo-like," and carries a month's worth of injections at all times.
Booker hopes to serve as an example to those lamenting the difficulties of therapy or contemplating not taking it at all.
"If I can inject at 20,000 feet on a glacier on the side of McKinley or the North Pole, it is nothing down here when you are comfortably in your own house," she said. "A challenge is a challenge, be it breast cancer, be it MS, be it losing a job. It's not what happens to you in life, it's how you deal with it.
Booker reaches the MS community through public speaking and the media but finds her website brings the most personal connections. Under a section titled "What's Your Mountain?" she encourages those with MS to share tales of success, whether it be scaling a mountain or learning a language.
Booker's message is all about taking risks, something she hopes she has passed along to her MS audience and her three sons.
"By virtue of how I have lived, I hope they will live."
MS Awareness Week is March 12-18. For more information, visit the Multiple Sclerosis Society.