AP Photo/Gregory PayanAmanda McGrory picked up a course record and victory at the 2011 New York City Marathon.
No one tells Amanda McGrory she pushes like a girl -- at least not anymore. A professional wheelchair racer known for her marathon prowess, McGrory has been turning heads since her first marathon in 2006.
She entered that race on a bribe.
McGrory had missed the deadline to apply for Champion's Camp, an elite program for wheelchair athletes in Georgia run by Paralympian and University of Illinois alumnus Scot Hollonbeck. The camp covered all aspects of racing -- from taking apart and putting together a wheelchair to competing -- and she wanted to attend.
Hollonbeck had seen McGrory compete in basketball and short distances as a junior athlete. "She was smart on the track and had a nice stoke, so the basics were there," he said. "But what really stood out was this positive energy always surrounding her. That was the part that caught my eye." He made her an offer she couldn't refuse: He'd pay for her first marathon -- and keep any winnings -- and she'd receive a free ride to camp.
After finishing third in the 2006 Colfax Marathon in Denver in 2 hours, 2 minutes, McGrory was pleased, but she wasn't sold on marathons. She'd played basketball since childhood and she was accustomed to sprinting, not pushing 26.2 miles. But Hollonbeck called her a week later, saying, "Let's do another." She won her second race, Grandma's Marathon, missing the course record by just 30 seconds. She was hooked.
Picking up momentum
It wasn't always easy for McGrory. "It's lonely being a kid on your own with a disability," she said. "Even from the social aspect, sports were a huge thing for me."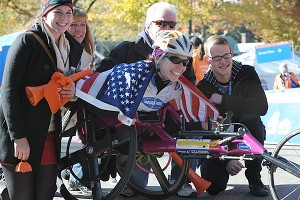 Courtesy of NYRRAmanda McGrory poses with her younger sister, Melissa; mom, Vicki; dad, Tim and boyfriend, Cole, following her win in New York.
She doesn't remember childhood before she contracted transverse myelitis, a neurological disorder caused by inflammation of the spinal cord -- after all, she was just 5 years old. It left her paralyzed from the waist down.
McGrory distinctly recalls her first racing chair. She was 11, and she'd started playing basketball at a local camp in Southeastern Pennsylvania; it incited her passion for sports. She also competed in track and field events for many years, but she considered herself a sprinter. "It took my coaches a long time to move me up to the 800 meters and then the 1,500 meters," she said.
By the time Hollonbeck convinced McGrory to try a marathon, she was 20. "I told her she was going to learn to be healthy, travel the world and have a better lifestyle," Hollonbeck said. "Trade a lifetime of fast food on long van trips for travel and health."
Training with a motivated group of athletes on the track and field and basketball teams at the University of Illinois, arguably the premier wheelchair program in the country, afforded McGrory the opportunity and the support she needed to transition to racing professionally. After graduating from Illinois in 2010, she moved to nearby Savoy to keep training with the crew.
"The Illinois program is consistency, stability, mentorship and coaching," Hollonbeck said. He's seen other young, talented athletes go elsewhere and drop off the scene, while their peers at U of I excel.
"There are more than a dozen of us, including two world-record holders, three former world-record holders and a Paralympic gold medalist. That's why everyone hangs around," McGrory said.
She's often been the only pro circuit female training with boys, so she got used to it. But when Tatyana McFadden arrived at the school, she and McGrory immediately bonded. Racing together has provided competition and companionship that drives both women to push harder as they work together to chase the men.
Dreaming big
Last year was McGrory's first attempt at full-time professional racing -- no classes, no major distractions. It paid off. She took gold in the 800 meters and 5,000 meters at the International Paralympic Committee World Championship. She also broke course records in London and New York and broke the tape in Paris.
"

There's nothing like seeing a kid get in their first racing or basketball chair and light up.

"

-- Amanda McGrory
Then there was Chicago. After winning there in 2007, 2008 and 2010 -- beating her course record each year -- McGrory met her match. A hairline crack in her frame, barely detectable at first, became a major problem in the early miles of the race. As McGrory approached Mile 6, her steering column broke apart in her hands. Luckily, she was at an intersection where she could pull over without a major collision. The eternal optimist, she said, "It was kind of cool because I never get to see the finish, and I finally did." But Chicago was the qualifying race for the Paralympic Games marathon, so McGrory didn't earn a spot on the team.
"Most people don't know this, but only two athletes from our team can go to the Paralympic Games just for the marathon," McGrory said. Big wins at the most competitive marathons in the country have given her the time she needs to qualify, but to be eligible to compete in the marathon she must first qualify for events on the track. In 2008, she placed in four Paralympic events, taking gold in the 5,000 meters. Now she's 25 and eager to nab that last spot on the London marathon team.
Building a brand
Thus far, full-time racing has been good to McGrory; 2011 was her most successful season, including big prize money and sponsorships. She's currently sponsored by Top End, which supplies her with racing chairs that normally cost close to $5,000, including the one it will custom make for her this summer. She's been able to make a living doing what she loves.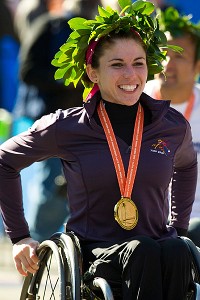 Don Emmert/AFP/Getty ImagesAmanda McGrory was all smiles following her New York City Marathon win.
But that's not guaranteed. "It's tough, it's hard, but you have to make this a business and monetize what you do while still training and racing and everything else," Hollonbeck said.
Because she must keep winning for a paycheck, and wheelchair races draw less prize money than running events, McGrory does speaking engagements to supplement her income. Fortunately, she feels professional racing has changed her life and loves sharing the details with others and giving back in other ways, too.
McGrory has returned to the Variety Club in Southeastern Pennsylvania, where she once trained. She also volunteers at the Great Lakes Adaptive Sports Association, a children's sports program north of Chicago.
"Knowing what a huge difference this sport made in my life, I love seeing others have that realization, too," she said. "There's nothing like seeing a kid get in their first racing or basketball chair and light up."
The road ahead
The 2012 season is just beginning. McGrory took first at the Gasparilla Distance Classic 15K this month, with McFadden just a second behind. "It felt good to get the sprint finish so early in the season," McGrory said.
Wheelchair racing is dependent upon the weather. Though she hardly ever pushes in the snow, McGrory has forced herself to train in the rain, even though she hates being cold and wet. "If you don't have a huge, strong stoke it's much harder to push in the rain," McGrory said. Hollonbeck added that "you have to increase your coefficient of friction mechanically or with an added component like Klister [a type of wax]" to imitate the friction normally found between the rubber on the gloves and the chair rims.
When it counts, McGrory has proven she can keep up with the very best. At Grandma's Marathon, she's smashed her course record three times. Her most recent 1:39:31 is her fastest marathon time to date. Last year in New York, she beat Edith Hunkeler's 2007 course record by more than two minutes. "Edith used to be my nemesis," she said. "She's the sweetest woman and an incredible athlete, and I couldn't beat her in any distance for the longest time. It feels good to be in such elite company."
In less than a month, McGrory will race a marathon in Paris and then another in London just seven days later. To most people this would seem impossible. But having won both of these races last year, she's confident she can repeat. She's building momentum for the trials in June and the Olympic Games in London in late August. If things go her way, she'll be racing the marathon Sept. 9, the day of the closing ceremonies.
Rachel Cooperman will never be as fast as the athletes she covers, but she's happy to write about them, run alongside them and sometimes sprint to catch up to them for a good story. She's a freelance journalist in New York City.