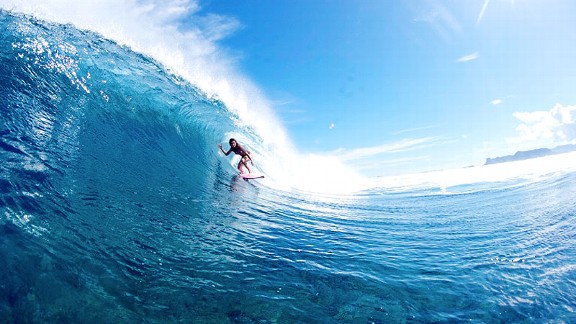 Daniel Russo
Few people know much about themselves at age 6. But for Anastasia Ashley, 6 was a turning point. It's when she first picked up surfing, only a year after her divorced mom had transplanted the two of them from southern California to the North Shore of Oahu in Hawaii. With the beach just a five-minute walk away, Ashley would head there daily before and after school, grabbing the resting boards from the neighborhood boys, who had quickly become her friends, to teach herself how to rip.
"I really wanted my own board but my mom couldn't afford to buy me one -- they are pretty expensive -- so I would borrow my guy friends' boards," recalled the 25-year-old bronze, buff blonde.
While she learned the new sport on her own, at school she tried on different activities like a teen picking out a prom dress. Soccer, softball, track -- you name it -- none were a good fit.
"I knew I was athletic, but none of those other sports took, I was kind of clumsy," Ashley said.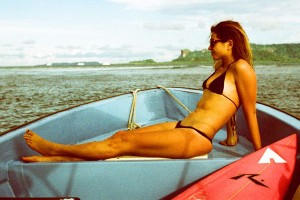 Daniel RussoAnastasia Ashley is now trying to master big wave surfing, something few other women have tried.
Now, most people would shrug this off. When you're 6, you're not supposed to be good at anything. But Ashley knew from the moment she stood on a surfboard that she was good. Really good.
"Generally, when people first start surfing, it's a process. They don't just stand up and catch waves, but for me, it came really easy," the 5-foot-8 pro surfer said.
So naturally, she wanted to do it all the time. But for that, she really needed her own board. Little did she know there was one waiting for her right outside her house.
From trash to treasure
One day, as if the cosmos intervened, Ashley came across a piece of trash that would change her life.
"I found an abandoned surfboard outside of our house in front of a trash can," Ashley said. "It was about six-feet-long, very beat up and super ugly. Boards are normally white, but this one was yellow from being in the sun and old. I tried to make it look nicer by cleaning it up and taking off some of the stickers. But I didn't care too much how it looked. It was my board."
That dingy board helped then 6-year-old Ashley sign up for her first surf contest, which she won, confirming what she suspected.
"OK, this is what I'm supposed to do," she told herself.
She started surfing five to eight hours a day (basically whenever she wasn't in school) and by age 7, she picked up a board sponsor who replaced her run-down board with a few new ones. Three years later, she was competing in amateur events against women two-and-a-half times her age, though she longed to surf with her peers.
"The girls I had to go up against were substantially older than me, so I entered a few boys contests to compete with people my own age," Ashley said. "I actually beat a few guys who are pros now, so that's kind of funny." When asked to list a few names, she simply laughed and said, "I think they all remember who they are."
Taking the sport by storm
Winning more contests led to more sponsors and eventually international events that meant she would have to leave high school after one year and enter a home-schooling program. Already incredibly disciplined, irrepressibly driven and fiercely independent, Ashley would occasionally take on the role of her own teacher, going over lessons and taking the required tests on her own. As long as she maintained a 2.0 GPA, which was pretty easy for her, she was allowed to surf according to the National Scholastic Surfing Association (NSSA).
"

Generally, when people first start surfing, it's a process. They don't just stand up and catch waves, but for me, it came really easy.

"

-- Anastasia Ashley
Once she had her high school degree, Ashley opted to continue to surf fulltime as a pro, putting college on hold indefinitely. As far as she was concerned, her career had been set since age 6 and her impressive accomplishments -- like receiving the 2003 Triple Crown Rookie of the Year award and winning titles, including two National Scholastic Surfing Association championships and the Professional Surfing Tour of America championship -- all confirmed it.
"She embodied the kind of athlete that I always wanted to be," said former pro surfer Lexi vonderLieth, who participated in the same events as Ashley as a teen. "When we first started competing against each other seven years ago, I didn't like her. It's hard to be fond of someone who is beating you all the time -- and she was," said vonderLieth, who has since traded her wetsuit for a power suit to work in sports marketing for Gatorade. "But I didn't like her in a good way. She made me a want to surf better."
Eventually, the two girls would become friends when they started traveling on the women's world tour together.
"After that, we were like two peas in a pod; I didn't want to travel with anyone else," said vonderLieth, who bonded with Ashley over their serious passion for the sport as well as flirting with boys and partying.
Though close, Ashley wasn't upfront with vonderLieth -- or anyone outside her family -- about her mother's failing health. Ashley even took awhile to tell her friend her mom had died following a three-year battle against ALS, or Lou Gehrig's disease, in August 2008.
Coping with a loss
"I didn't really talk about it a lot when it happened," said Ashley, who was 21 when she lost her mom. "It was pretty hard watching my mom, who I was close to and was my biggest supporter, deteriorate right before my eyes. I went through a really tough time and didn't want people to feel bad for me or throw me an unwelcome pity party. It was a personal thing that I didn't want to exploit."
Ashley immediately traveled to Puerto Rico, where she stayed for a month alone, cruising the beach and surfing as a way to deal with her grief.
"She put up a wall," vonderLieth said. "She didn't talk about it a lot then, but she has come a long way since."
In 2010, four months after winning her biggest title to-date -- the Pipeline Women's Pro shortboard championship in Hawaii -- Ashley opened up about her mom on the MTV show "World of Jenks," a docu-series that explores the lifestyles, views and careers of different people. The episode, entitled "Me and My Surfboard," followed her as she prepared for the 2010 U.S. Open of Surfing that August and captured a side of Ashley few people get to see. With the two-year anniversary of her mother's passing looming, Ashley shared her heartache while fighting back tears.
"Nobody wants to receive that phone call," she told the show's host about the day her aunt called to break the news about her mother in 2008. Though she was expecting it and had braced herself as much as she could, she realized quickly there was no way you could ever prepare to lose a parent.
"It's getting easier," said Ashley, who has now had four years to cope with her loss. But still she considers her mom her No. 1 fan. "I know she would have been proud of me, you know? She never said 'you might' be good but rather always said 'you will.'"
Going big
These days, Ashley is less concerned with participating in every competition on the tour and more enthralled with mastering her favorite local waves in Hawaii and California. Last weekend she competed in the inaugural Honda American Pro three-event surf series in Huntington Beach, Calif. She's currently in third place and will be gunning for first at the September and October contests. The Airwalk-sponsored athlete is also excited about taking on new challenges, like big wave surfing.
"I picked it up to become a really well-rounded surfer. I want to be able to surf every type of board, every type of wave," said Ashley, who says the biggest she's caught so far is a 20- to 25-foot face (picture a wall of water two-to-three stories high).
"I tried to go big wave surfing with her and it's fun, but it's also just scary," vonderLieth said.
Ashley admitted she gets scared, too, especially when a wave pins you down longer than expected or when you hit the reef, which she has a few times. That's why it's more important than ever for her to prepare her body for getting tossed around and sucked under. She works out at the gym for an average of 90 minutes daily, doing a mix of cardio and strength training as well as plyometrics and cross fit-inspired moves. She's also a big fan of spinning and free weights. On top of that, she surfs for at least two hours daily.
"She wants to put in the hard work to create a name for herself in this genre," vonderLieth said. "Right now, there are only a handful of girls who would take on this sport. If she keeps at it, she could become one of the biggest names in big wave surfing for girls."