You could say Pat Genovese came of age at just the right moment, as she graduated from Cortland College in 1971. Her passion was sports, and with the passage of Title IX in 1972, suddenly a world of opportunity opened up for young collegiate women to pursue their athletic dreams. But who would guide them? When Genovese accepted a coaching job at Hobart and William Smith College in Geneva, N.Y., she found herself juggling the responsibilities of coaching lacrosse, volleyball, field hockey, basketball and tennis.
"Hobart and William Smith College really stood out as a program that believed in empowerment of women and equity for women," she said. "With Title IX at this school, I saw my role as ensuring these women could mature and grow and take on leadership roles that they first thought would not be possible."
Genovese, now head lacrosse coach and associate athletic director for the school, has done that and so much more, becoming the first coach in Division I, II or III lacrosse, men's or women's, to reach 300 wins. Her ability to mentor students and guide them through the complexities of the game has earned her the NCAA Division III National Coach of the Year award not once, but three times. Under her watch, the Herons have made 16 NCAA playoff appearances and 11 visits to the semifinals. They've played in the national championship game five times, falling each time to Trenton State.
[+] Enlarge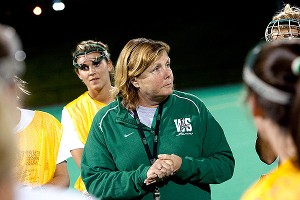 Courtesy of Pat Genovese Pat Genovese has led Hobart and William Smith to the Division III women's lacrosse championship game five times.
Despite her accolades, Genovese is reticent to take all the credit.
"That intrinsic motivation has to come from within each player," she said. "I try to be compassionate, I try to be demanding and motivating, but ultimately it has to come from them."
Leading the way
Although Title IX was a landmark piece of legislation, changes did not happen overnight.
"Title IX was the amendment that made everybody understand that the inequities that were transpiring needed to be addressed," said Genovese, who was lauded by the Hobart and William Smith College as a Title IX trailblazer.
"It's hard to minimize what Pat means to this campus," said college president Mark Gearan. "She sets a real standard of excellence."
The irony is that Genovese herself never played lacrosse in college. She grew up in an active family -- her father was a doctor; her mother, a nurse.
"We spent a lot of time outdoors," she said. "We did a lot of downhill skiing and water skiing on the lakes."
Her sports of choice in high school and college were soccer, track and basketball. It wasn't until her coaching job when Genovese dove into the world of lacrosse. But once she did, she was hooked.
"The multifaceted nature of the game -- that's what attracted me," she said. "The strategy and rules, plus you're doing it all with a stick."
She was a fast learner, starting her team down the road to 28 winning seasons in her tenure at Hobart and William Smith.
"As far as I'm concerned, I'm still a student of the game," she said. "I never stop learning how to improve."
It's a tough act for her two daughters, Tracy and Meghan, to follow, but follow they have, not only into lacrosse but also as players on Genovese's team. It was a little tricky at first, she admitted, but everyone quickly adapted to the slightly unorthodox arrangement.
"I worked on helping them understand my two different roles," Genovese said. "I'd say, 'Meghan, I'm talking to you as your coach right now.' Or 'Meghan, this is your mom talking to you.' We worked it out."
Genovese hopes that having had her daughters play on the Hobart and William Smith team has helped them understand the times she was absent from the dinner table while they were growing up or why she couldn't always be there when they did their homework.
"It's hard to appreciate until you are in that situation yourself just how demanding the game can be," she said. "I think they understand more now because they've seen it for themselves."
A fresh focus
After four decades of coaching, Genovese could be forgiven if she were ready to hang up her clipboard and megaphone. Instead, she wakes up every morning with a renewed sense of purpose, something she said comes from working with an incredible department of supportive -- if competitive -- peers. Then there are the players.
"They inspire me," she said. "They are such energetic young women, and my greatest satisfaction is that I get to watch them grow during their years on the team."
As for this year's roster, they are on their way to the Liberty League tournament this weekend after scoring a decisive 17-6 win over Rochester on Saturday. Although Genovese hopes for a win this weekend, beyond that, she won't predict.
"In this job, I've learned to take it one day at a time," she said. "You focus on doing your best each day, and good things can happen."