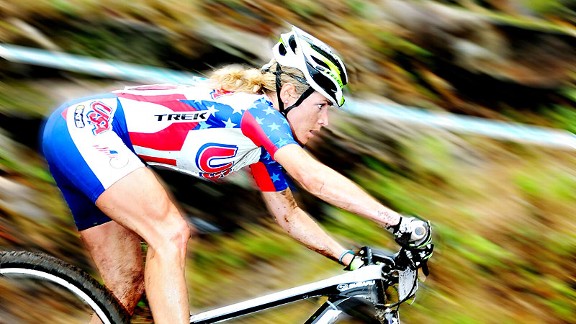 Dave McElwaineFor Willow Rockwell, every race she was in became a fight to the death.
The passion of a world-class cyclist does not bend easily, but four months after the birth of her daughter, for Trek World Racing cross-country mountain biker Willow Rockwell, it broke. She got sick from workouts, one of her breasts grew larger from stress, breast feedings coincided with ride refuelings, mountains of debt grew and trips to far-flung races in Africa were enough to unravel her. It was more than the baby, it was her body telling her to stop. Three months out from her Olympic dream, Rockwell hung up her jersey.
Battling the demons
Cycling was never just about cycling for Rockwell. She grew up in North Carolina, a dark childhood filled with emotional and sexual abuse. It was life overshadowed by low self-esteem, denial and depression. Her family was no help. But something changed when she turned 15 and went for her first mountain bike ride. A week later, she won her first race.
"Bike racing became an outlet for my anger. Winning, it turned out, gave me validation," Rockwell said. "I wanted that good feeling, and I began chasing it. It became wrapped up in every part of me, and in many ways, it saved my life."
Because as any endurance athlete knows, it's all about suffering and when it came to suffering, Rockwell was a reluctant pro. The bike course became her battlefield; a place where she could recognize and beat her demons. No weekday ride was about enjoying the scenery and every race became, in Rockwell's words, a fight to the death. That mentality served her well. She won three collegiate national championships while riding for the University of North Carolina, Asheville. In 2004, she won her first national race and a week later, took third in the Mt. St. Anne World Cup. But the more she improved and rose in the ranks, the harder it became internally. Fear factored in.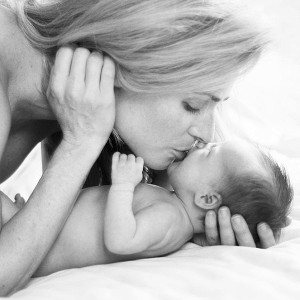 Candace CrossNow, with daughter, Raven, Willow Rockwell is "following the joy."
"During those years, I learned a lot about myself as I traveled the world," said Rockwell, who went on to win two bronze medals at UCI World Cup Championship and a slew of national titles in the past decade. "But how you channel that adrenalin and energy depends on how you're using it. Most of the time I felt like a gladiator slave who was facing my death every weekend, whether that meant making the podium or crashing."
Show stopper
Less than 24 hours before the start of the 2011 World Cup in South Africa, Rockwell found out she was pregnant. She'd been dizzy and sick at a race the week before, but finished second and thought nothing more of it. She figured she was racing too hard for pregnancy to be a possibility.
"I was shocked," said Rockwell, who'd just signed a lucrative two-year contract with Trek World Racing with the 2012 Olympics in her sights. "No one in biking knew what to do. Pregnancy isn't exactly in the handbook for a male-dominated sport. Plus, there wasn't a huge female support system. Female racers were shocked and they were terrified for me because they knew it could shake up their lives, too. One racer told my manager it's her biggest fear."
She canned the race and, unlike other mom-to-be's, Rockwell had to tell the world about her pregnancy when she was only six weeks along. "It was the beginning of the unraveling of why I put everything I had into the sport. I didn't have a foundation within myself other than sports -- it was my whole identity and self-worth. I'd have to start all over."
Birth and rebirth
After Raven was born in December, Rockwell prepared herself for an Olympic season. With only "skate skiing" and 10 bike rides as a base, she traveled to South Africa once again to face the first World Cup of the 2012 season.
"I was riding around the course during prerace and some of the girls rode up and asked me if I was riding the drop," Rockwell said. "It was like they were speaking Japanese. I couldn't care less if I was taking the A line or B line. I could feel their anxiety and didn't miss it. The fire in me was totally gone. It was shocking."
"I didn't want to crash. I didn't want to suffer. I was done hurting," Rockwell said. Those days of worrying about what she was going to eat, checking email, updating her website, stretching and panicking if her legs didn't feel good, it all seemed so silly. When she was at the top of her game in 2010 and had put in an exhausting year of work to win the bronze medal at the UCI World Championships, she went home, lay down on the ground, looked up at her husband and said, "It wasn't worth it." In 2012, Raven put to bed whatever rationalization was left.
"I could never live in the moment as a racer because I was thinking about a race looming two weeks away. It felt so self-centered to me. Here I was in Africa with an emotionally drained husband who was constantly comforting me and a jet-lagged, two-month-old baby."
Two weeks after they got home, Willow crashed in the woods on a ride and couldn't stop crying. Rockwell, who believes in the power of spirit guides ("and all those other things people tend to roll their eyes at," she said), did a channeling and thought, what would happen if she let it go completely? Within an hour, it sunk in: She had to quit. She called her team manager and shared the news. Shortly after, her husband sent a text: "Welcome to the first day of YOUR life."
There was no more salary, no cycling identity and no more warrior phase of her life. It's scary, but Rockwell is happy.
"I'm looking up recipes to cook and putting flowers on the table; those hard edges of life are gone," Rockwell said. "I get to be a wife, a mom, and a woman. When I was pregnant, it was hard to sit still. I felt trapped because for so much of my life -- 18 years -- I was going at full capacity. Raven makes me feel so lucky. There's this whole piece of life I didn't know existed. Now I'm following the joy."