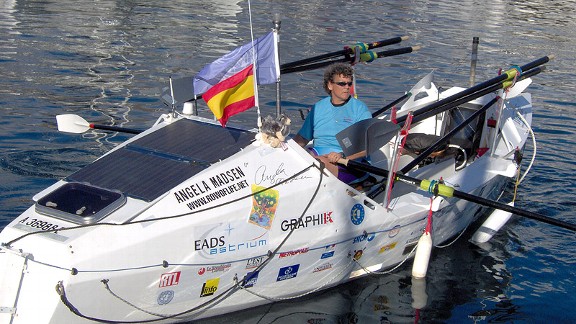 Courtesy of Debra Moeller Angela Madsen has taken on all comers during her rowing career -- disabled or not -- and became the first disabled woman to row across two oceans.
In 1995, a physician at the Veterans Affairs Hospital in Long Beach, Calif., told Angela Madsen her "physical condition is a waste of human life." The former Marine who had suffered a paralyzing spinal injury in the line of duty 14 years earlier and will never forget those harsh words uttered to her during her darkest period.
"I don't think it was meant to motivate me; it was a realistic viewpoint at the time. But you know what? It pissed me off, and I turned it into motivation," recalled Madsen, who has since set six Guinness World Records, including becoming the first woman to row across the Indian Ocean and the first disabled person to row across the Indian and Atlantic Oceans.
The 52-year-old grandmother of three is training to medal in two field events (she's ranked No. 2 in shot put and javelin) at this year's Paralympic Games in London and also hopes to become the first disabled woman to row solo across the Pacific next spring.
Getting sidelined
At 6-foot-1, Madsen was a natural athlete, excelling at basketball, softball and volleyball throughout high school. In fact, classmates in her native Ohio voted her "most likely to become an Olympian." Madsen believed it, too, and was ready to go for it. She had even attended Olympic training camps outside Dayton. But when she got pregnant at 17, Madsen decided to have her only child, Jennifer, and came up with a new plan: to join the Marine Corps within a year.
"The Marines were supposed to be the toughest branch," Madsen said. "Somebody told me that I would never make it and I thought, 'Well, that's it, I have to go now.'" In 1979, 19-year-old Madsen enlisted as a military police officer and was recruited to play elite basketball for the Corps. In her second year of service, Madsen tripped during a basketball game and other players fell awkwardly on her lower back. The fall ruptured two disks and ended Madsen's military career.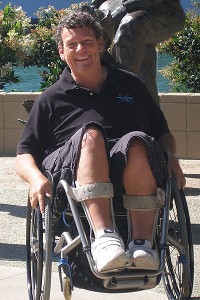 SeaGalsAngela Madsen wound up in a wheelchair after undergoing a surgery that was supposed to prevent paralysis while addressing an injury she sustained during her military career.
Getting discharged was devastating, but Madsen became a car mechanic and studied to become a mechanical engineer. By 1993, 33-year-old Madsen had a promising job lined up as an engineer for a firm in Fullerton, Calif. However, with her physical condition deteriorating -- the unattended ruptured disks from 12 years earlier were collapsing on her nerve root, causing the beginning of paralysis -- she was forced to take time off work to get much needed back surgery.
Botched back surgery
What Madsen described as "a comedy of errors" followed. She went to her local VA Medical Center the surgery, which should have taken four hours, but actually took nearly 11. Everything that could go wrong did. The student doctors took out the wrong disk, added the wrong hardware to fuse her back and drilled an unnecessary hole in her spinal cord. The procedure was supposed to avoid paralysis, but that's exactly where Madsen ended up. During the recovery period she lost more than her ability to walk. Gone was her new job, her home and, worst of all, her hope.
"The first couple of years [after the surgery], I was suicidal, depressed, angry. I had lost everything. I felt completely victimized," Madsen said.
Unable to work, she applied for military benefits that function like "workman's comp." Unfortunately, it can take some time to process these requests, so once Madsen was well enough to be discharged, she found herself homeless while waiting for the VA's approval for assistance. For nearly three weeks, she lived in the Disneyland parking lot, keeping her valuables in the theme park's public lockers and sleeping in her wheelchair under bus stop houses.
Returning home to Ohio was never an option. Having fallen in love with the ocean and surfing -- which she continued to do on her knees when she lost her ability to stand -- Madsen knew she had to stay in California. She eventually found a way when she hooked up with the Disabled American Veterans (DAV), a national organization dedicated to helping disabled vets and their families. The DVA set her up in a rundown apartment on the first floor in a bad part of town while she waited for her benefits to kick in. At that point, she was only receiving $78 a month from the VA -- just 10 percent of what she was owed. It would take her 31 years from the day of the accident to finally get 100 percent of her military benefits.
Rolling with it
For two years after her surgery, Madsen remained in a horrible funk; an accident snapped her out of it. While traveling to a DAV conference, her wheelchair got stuck in a crack, launching her headfirst onto a set of train tracks. Thankfully, two passersby fished her out of the pit before a train came. Initially, Madsen thought she had snapped her neck in the fall. When she later regained feeling in her hands, it hit her.
"I realized I hadn't lost everything. I still had more to lose," Madsen said. "I started being more appreciative and thankful for what I did have."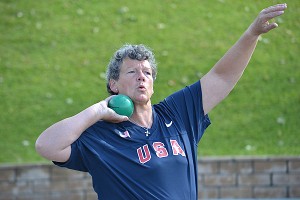 Debra MoellerAngela Madsen could qualify for the Paralympics in shot put with a strong showing in Arizona from Thursday through Sunday.
With the DAV's support, Madsen decided to return to sports to regain her confidence. She attended the Veterans Wheelchair Games, the largest organized sporting event for wheelchair-bound people, for two years as a spectator. In 1997, she was a Division I player for two teams -- men and women's.
"I've always been an athlete; it's just what I was born to do," she said. After watching her in action, the team sponsor, Casa Colina, talked Madsen into getting in a rowboat in 1998. They needed more people to join that team and with her height and strength, she seemed like the perfect fit. Though she had never rowed before, she got in and took off.
By 2000, Madsen qualified for the U.S. national adaptive rowing team. In no time, she was at the top of her game, winning gold in four consecutive world championships from 2003-06. In 2008, she earned a spot on Team USA to participate in the inaugural rowing event at the Beijing Paralympics, making her teenage dream of participating in the Olympics a reality. Although she missed medaling by mere 0.7 seconds, Madsen already had other bigger, world record-setting goals in mind.
Boatload of inspiration
Two years before heading to Beijing, Madsen responded to an ad in an Amputee Coalition of America newsletter calling for a man to join a four-person crew team of amputees to row across the North Atlantic, from New York to England. A friend, who is an amputee, had forwarded it to her saying only Madsen would be crazy enough to do this. Her friend was right.
"They wanted a man, but I wouldn't let them pass me up, so I invited them to Southern California and took the two men rowing and surfing," said Madsen, who had only competed on flat water with the exception of a 32-mile ocean race to Catalina, which she won in 2001. "By the end of it, they said to her, 'Oh yeah, you've got the job.'"
The foursome trained all year for the event, but when they lost their sponsor, they failed to make it to the starting line. Teammate Franck Fester, a 26-year-old French below-the-knee amputee, took the news the hardest.
"When you say you're going to do something and then for some reason you can't, it's like failing without ever trying," Madsen said.
Not willing to give up, Madsen decided to do the south Atlantic route as part of the Woodvale Challenge-2007 Atlantic Rowing Race and asked Fester to join her. Ecstatic, he signed up to be her partner, completely overlooking the fact they didn't share a language.
In February 2008, after 67 days at sea, their two-person boat completed the nearly 3,000-mile race in eighth place out of 13 boats. They were the only physically challenged athletes to participate. Madsen and Fester alternated rowing for 12 to 18 hours a day while the other one navigated, slept or did some other due diligence on the small boat. Between the language barrier and the deafening ocean winds, most of it was done in silence.
"It was the closest I had ever come to rowing solo -- and I really liked it," Madsen said. "It was the best, most-memorable row that I've had."
"I met her just before she rowed the first time," recalled her life partner Debbie Moeller, a social worker who connected with Madsen through the world champ's nonprofit, the California Adaptive Rowing Programs, which she founded in 2000 to bring rowing to physically and developmentally challenged individuals. "I thought she was insane then. Now that I know more, I think she's more insane.
"Whenever she gets back from a long row, she looks lovely with her open sores from the salt water and claw hands from gripping the oars for hours -- and days -- on end," Moeller said with a hint of sarcasm. "Honestly, she's the most amazing person I have ever met. She just doesn't give up."
Madsen agreed to do three more body-numbingly long rows after that fateful maiden voyage. In 2009, she joined a crew of eight on a 58-day journey across 3,600 miles of the Indian Ocean from Australia to Mauritius. It earned Madsen the title of the first disabled woman to row across two oceans. Then in 2010, she circumnavigated Great Britain with three other women, making Madsen the first and only person with a disability to row the 2,010 miles non-stop and unsupported from London Tower Bridge to London Tower Bridge in 51 days.
In 2011, Madsen returned to the Atlantic to skipper a crew of 16 from Morocco to Barbados in 47 days on the first ocean rowing catamaran called Big Blue. Even the most horrible days out at sea -- from battling 40 mph winds to holing up in the cabin praying to survive a storm's boat-tossing waves -- didn't compare to how she felt after her paralyzing surgery in 1993.
"When you're out there, feeling so tired, it's not the three months that I spent on my back losing everything during my hospitalization. I've already experienced the worst time of my life," said Madsen who has also survived breast cancer (she had a double mastectomy) and is battling myasthenia gravis, an autoimmune disease that causes her muscles, including her eyesight, to fatigue.
Despite all of these obstacles, Madsen is planning her first solo row from California to Hawaii sans support boat. If she completes it -- and she hopes to do it in 80 to 100 days -- she will be the first disabled woman to row alone. But before she sets that world record, she wants to break another at the Paralympics.
"Rowing is all about pulling and throwing is all about exploding away from yourself. Initially, I would just muscle it out on the field, but I've learned the technique and am creeping up on the shot put world record. It's 8.75 meters and I'm at 8.39 right now. I think I can take it," said Madsen, who trains three to four hours, four days a week in the gym, with a personal trainer and out on the field. If she throws an 8.5 at the Desert Challenge Games, set for Friday through Sunday in Arizona, Madsen will secure her spot on Team USA, inching her way closer to that world record and ultimately, the subsequent one across the Pacific next year.