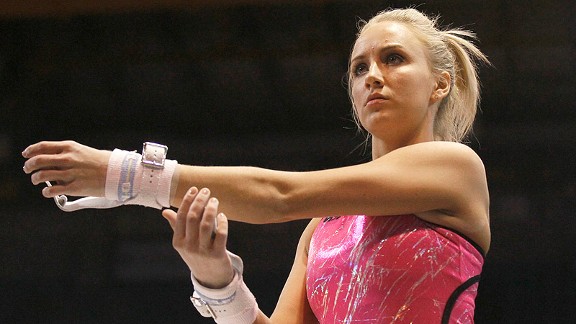 AP Photo/Charles Rex ArbogastSaturday's Secret U.S. Classic will be Nastia Liukin's first competition since the 2009 Nationals.
CHICAGO -- Nastia Liukin stepped to the balance beam practice podium Friday and instantly felt something strange.
"I was nervous and shaky," said the 2008 Olympic all-around gold medalist, "very uncharacteristic things."
Having not competed since the 2009 Nationals, everything felt a bit unusual to Liukin as she prepared for Saturday's Secret U.S. Classic in Chicago, a qualifier and tuneup for the Visa Championships and U.S. Olympic trials over the next two months before the 2012 London Games in July and August.
"My dad [and coach Valeri] was like, 'Calm down. I have never seen you fall in the last six months. Just do your normal thing,'" Liukin said. "It's just so mental. The skills are there. Everything is there. [But] I haven't competed in three years, and even podium training, yes, it's not a competition, but it's still stressful. You know all eyes are on you and you kind of want to show everyone what you've been working for these last few months."
When Liukin left the 2008 Beijing Olympics, she won five medals in all (including gold in the all-around), the most by a female gymnast since Shannon Miller won five in 1992. She was also leaving the sport for a life filled with possibility, beginning her own fashion line, serving in an advisory role for USA Gymnastics and the International Gymnastics Federation and starting a competition named after her for young gymnasts.
But by the time she traveled to the World Championships last October, something else was invading her thoughts.
"I just didn't want to have any regrets. And I know it sounds so cliché, but for me, I had these dreams of being in London and being in the stands and seeing the girls march in and think, 'What if?'" Liukin explained. "And that image and those thoughts kind of scared me. ..."
Liukin's father, a two-time gold medal-winning gymnast at the Seoul Olympics (mother Anna was a world champion rhythmic gymnast), said he saw his daughter put in just as many hours, if not more, outside the sport, but he knew there was still a void.
"I was ready for it," he said of her return. "I can read her mind, all my gymnasts actually, so I knew it was coming but I didn't want to push it. She loves the sport and she can't stay away from it. She finally decided stop her other business."
At the U.S. Classic, Liukin, 22, will compete only on beam, one of her two specialties along with uneven bars. But her experience on bars may give her a stronger chance to make the five-woman Olympic team. U.S. national team coordinator Martha Karolyi must field strong competitors on each apparatus and she has the least depth on bars.
Though Liukin is still trying to work through shoulder soreness that has slowed her bars training and caused her to avoid the event in Chicago, she and her father are looking forward to soon unveiling a bars routine with a start value close to 7.0 in difficulty. Gabby Douglas, currently the top American on bars, hopes to add four-tenths to her start value, which would bring her very close to Liukin's.
"Obviously she's not at her best, but if she makes her routine, she's still very strong in bars," Valeri said of Nastia. "She still can medal. But more than anything, she wants to be part of the team and she wants to help the team. We talk a lot and I can see that."
Liukin still remembers Beijing, where she lost out on the gold in bars to China's He Kexin in a tiebreaker.
"So many people said to me after winning the all-around [Olympic] gold, there's nothing more to achieve," Liukin said. "But we won silver as team, I won silver on bars, I won silver on beam. I always say silver and fourth place are the two hardest to take because when you win bronze, you're so close to winning a medal and when you win silver, that gold was within reach.
"So it's definitely a motivating factor for the whole team, and the U.S. hasn't won [team gold] since the Magnificent Seven in '96. That's very motivating for everyone, but for me, doing my two strongest events, bars and beam, and having that silver medal four years ago, that's definitely something in my mind."
Karolyi will be watching nine current and former World Championships gold medalists compete Saturday at the University of Illinois-Chicago campus' Pavilion, including 2011 all-around champion Jordyn Wieber. And though she said she is rooting for Liukin to compete well, Karolyi said having a former Olympian on the team does not necessarily make a difference.
"It really doesn't matter," she said. "We've had some girls who were returning Olympians who did a good job, but we have others break in and win at the Olympic Games. The fact is, you must do the routines. It always comes down, not to your name or your past performances but what you can present now."
If Liukin does go on to make the Olympic team, she would be the first female all-around gold medalist since Nadia Comaneci to return the following Olympics.
"I know I'm not by any means guaranteed a spot on the Olympic team, but I want to prove myself and give myself a chance," Liukin said. "If not, of course I'll be disappointed. Any athlete would be lying if they said [otherwise]. But I think you have to accept what the outcome is going to be, and as long as I gave it 100 percent every single day, I'm already proud to see how far I've come. ... I'm just excited to be back again, doing what I love to do."