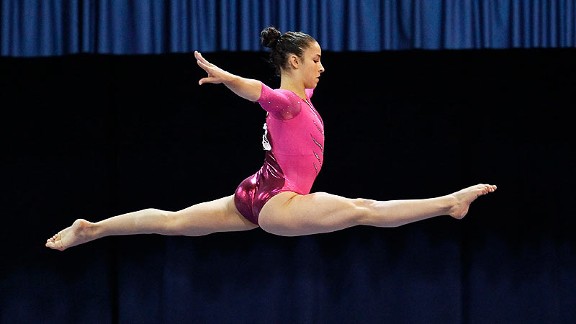 AP Photo/Charles Rex ArbogastAly Raisman won her second straight title at the Secret U.S. Classic on Saturday.
CHICAGO -- It was considered a tuneup for the U.S. Nationals in St. Louis in two weeks and the Olympic trials that will follow soon after, but with the ever-watchful eyes of the selection committee upon them Saturday, the top women gymnasts in the country entered into the pressure-filled vacuum that will not relent until London.
And while certainly not expected to be peaking yet, they demonstrated enough flashes of excellence at the Secret U.S. Classic that a shot at the first Olympic team gold in 16 years surely seems achievable.
"I'm really, really happy with how I did tonight and it just motivates me to go home and work harder than ever," said Aly Raisman, Saturday's all-around gold medalist. "All these girls work so hard and we're all pushing each other to the next level and everyone here looks really good, so I guess it's never enough."
In addition to Raisman, a crowd of 5,800 mostly screaming young gymnasts saw highlights such as Gabby Douglas perform a highly difficult routine on bars, an event in which she is expected to challenge for gold in London, and the return of Olympic all-around gold medalist Nastia Liukin. While she didn't exactly surprise her fellow competitors, Liukin, a five-time medal winner in the 2008 Beijing Olympics, was impressive in her first meet since the 2009 Nationals. Performing only on beam, Liukin earned a 14.9 and third-place finish behind Raisman and Jordyn Wieber.
"She showed her class on beam," U.S. national team coordinator Martha Karolyi said of Liukin. "I'm sure it wasn't easy up there competing after three years' break. Certainly we will have to get those extra few tenths on the beam. Overall, it was a very pleasant impression."
Her fellow competitors were a little more effusive.
"It was so rock solid and she handled it so well," Raisman said. "It's really amazing because she hasn't competed in so long and she went out there and I felt like I was watching the 2008 Olympics again, she did so well."
Liukin said regaining her confidence is still the biggest hurdle, but added that she was better in competition Saturday than she was in practice the day before.
"I finally felt like I got back in the groove of things," she said. "I felt it warming up today. Yesterday was weird. I almost felt like I didn't belong for some reason. Then today ... I was in my hotel, and as soon as I put on my competition leotard for the first time in three years, I was like, 'OK, this is happening, this is real,' and as soon as I got here, I felt like I fit in and that I belong back out here."
Liukin, whose preparation on bars has been hampered by shoulder injuries, said she will unveil her bar routine, which is her specialty, at nationals and that it is expected to have a 7.0 start value.
"My dad [and coach] is a perfectionist and he said, 'Great job that you did your beam routine, but if you can't do a bar routine then that beam routine is of no use.' And it's true. That's the reality of it. You can't make an Olympic team in just one event. You can't relax now. The easy part is over, now it's back to the grind."
The only other 2008 Olympic team member to attempt a comeback, Chellsie Memmel, will not be joining Liukin in St. Louis after her performance in Chicago. But overall, while Karolyi noticed that gymnasts "were a tiny bit nervous," she said there were "no major surprises" in Saturday's meet.
"I was very impressed with Aly Raisman," Karolyi said. "She looked very confident and very aggressive. You could not tell that she feels any pressure and we really, really need that, because with the Olympics, we all know what it means and what it involves and we need the girls to believe that they're ready to do that. Then they are successful."
Karolyi also singled out McKayla Maroney on vault. "With that one, I don't think anyone can touch her," she said.
But as Karolyi said Friday, the reality is, with only five spots allowed on the Olympic squad, down from six, at least one world-class athlete will be left off the team.
"I cannot do anything about [it] that we only have five spots and we have more than five high-class gymnasts, so obviously somebody will not make the team who will be at a high level," she said. "But it's always happening like that. We just have to watch consistency and value of routines."
The gymnasts don't have to be told.
"I think this competition was as important as nationals and the Olympic trials even though most people consider it a tuneup," Raisman said. "The whole staff is watching our every move, replaying everything we do. So even though I won today, it's never enough. You have to show improvement every time."