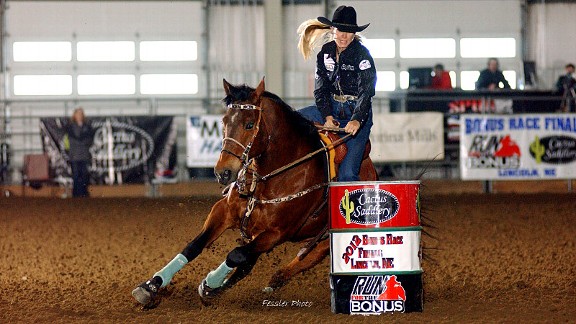 Fessler PhotographyTana Poppino and Amigo have become a terrific team in barrel racing, a 17-second test of speed, agility and strength.
By her own estimate, Tana Poppino drives between 60,000 and 70,000 miles a year from competition to competition, testing her skills and trying her luck in the rodeo event of barrel racing. Other than the company of her horse Amigo, Poppino usually makes the treks alone -- her husband, Marty, is a horse trainer and runs Cowboy Rigs, a trailer business back home in Pryor, Okla. Her son, Brodie, is now 21 and competes in roping events, but for years when he was growing up, Poppino left him behind with Marty while she hit the rodeo circuit.
"I love riding, it's in my blood," said Poppino. "But it's the hardest thing to leave your family in order to compete. My first season, I wanted to come home so badly but my son and husband wouldn't let me give up on my dream." Their faith in her ability to compete at an elite level helped her tough it out on the road, Poppino said. "I could never have done it without them."
Though Poppino, 48, had been riding horses her whole life -- she grew up on a ranch where her job was to corral cattle, and went to college on a rodeo scholarship -- it wasn't until 2003 that she fully committed to the sport. That year, she quit her day job in marketing to focus exclusively on barrel racing, the biggest event for women on the rodeo circuit. Part of the incentive to change careers: She'd found the perfect horse.
"It was a few years earlier that I met Amigo," said Poppino. "I was doing some amateur events, nothing too serious. As a rider, you're always looking for that special horse you think could be a winner at the pro level. When I started riding Amigo, I could see he had that spark."
She spent two years training him, putting in the hours after work and on weekends. After they scored podium spots in a few of the bigger rodeos, Poppino took a leap of faith and turned her attention to barrel racing full time. Nearly a decade later, the duo is still at it.
Speed and finesse
While traditional rodeo events such as steer wrestling and bareback bronc riding draw the big crowds, barrel racing appeals to riders and fans who appreciate an event that requires a combination of speed, agility and raw strength all at once. In barrel racing, riders must complete a clover-leaf pattern around three barrels, laid out in the ring, as quickly as possible. Rider and horse complete tight turns at high speeds, trying not to hit the barrels.
"

There's always this feeling that if you're not out there winning, someone else is -- and I don't like that!

"

-- Tana Poppino
When asked how she keeps fit for such a physical event, Poppino laughed. "I don't go to the gym and lift weights, if that's what you mean," she said. "I get my workout every day lugging bales of hay and five-gallon jugs of water all over the barn."
The barrel race itself takes less than 17 seconds, and riders are frequently within hundredths of a second of one another. Yet for such stiff competition, the racers are a tight-knit crew.
"There is a strong camaraderie among rodeo people," Poppino said. "We depend on each other, especially with all the traveling we do. I know that if my vehicle breaks down in the middle of nowhere as I'm driving to the next event, someone will be along shortly to help me. My toughest competitors are also my best friends because they understand what it means to be a barrel racer."
It's all about the horse
Horsemanship aside, the key to a barrel racer's success lies in her relationship with her animal.
"You need a horse with a big heart and lot of 'try,'" Poppino said. "You can look at pedigrees and physical measurements, but at the end of the day, what makes a great horse is the stuff you can't see. He needs to be a pleaser -- he has to want to do it for you."
Poppino saw those intangibles in Amigo from the get-go and they still hold true today: The 17-year-old horse regularly outperforms horses half his age. Within reason, age -- human or equine -- is not the limiting factor in barrel racing; Poppino pointed out that the rookie of the year award for 2011 went to a 57-year-old. It's all about the chemistry -- that rare combination of human and animal working together as one.
"I always told my husband, 'If I ever find the right horse, I'm going to go,'" said Poppino, referring to her decision to ditch the desk job for a career in rodeo. "When Amigo came along, I knew it was time to put up or shut up."
Unlike other sports in where there is an on- and offseason, and a chance to "peak" for key races, the rodeo circuit is year-round, requiring both rider and horse to remain healthy, strong and consistent. Knowing that Amigo won't be around forever, Poppino has been training a 10-year-old horse named Goose to someday take over the reins.
"Goose is a good horse," Poppino said, leaving what's obvious unspoken: He'll have some big hooves to fill.
Although her numerous accolades make her one of the country's top female riders -- Poppino three times has qualified for the Wranglers' National Finals Rodeo and won the 2007 Calgary Stampede -- she has no interest in scaling back her schedule. She is the director of the Women's Professional Rodeo Association, and has lined up a packed schedule for the summer season that's just begun, starting with a rodeo in Reno.
"There's always this feeling that if you're not out there winning, someone else is -- and I don't like that!" Poppino said, explaining why a limited schedule is out of the question. The chance to come up big when it counts motivates her to stick to a crammed race calendar that has her on the road more than 200 days a year.
"The biggest rush I get is when I win an event against the top barrel racers in the world," she said. "That is the ultimate feeling of achievement."