Bracket of Awesome: Body Edition Final Four
We're down to the Final Four for both the men and the women in the inaugural Bracket of Awesome: Body Edition!
On the women's side, soccer ingenue Alex Morgan ran circles around beach volleyball star Misty May-Treanor, while surfer Anastasia Ashley grabbed a spot in the Final Four with a win over gymnast Nastia Liukin. Olympic hurdler Lolo Jones dusted tennis star Ana Ivanovic to advance, and, in the battle of Natalies, swimmer Natalie Coughlin cruised past golfer Natalie Gulbis.
Round 3 will pit U.S. soccer's rising star against the surf champ and the queen of the pool against the the queen of the track. Can Coughlin and Ashley advance to make it an all-water final or will the powerful legs of Jones and Morgan carry them to the championship?
Alex Morgan versus Anastasia Ashley
---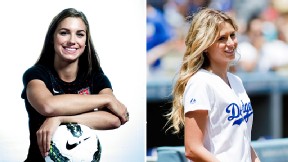 Alex Morgan, left, spends her time on land playing soccer while Anastasia Ashley is surfing on the sea. Will solid ground or water win out here?
Natalie Coughlin versus Lolo Jones
---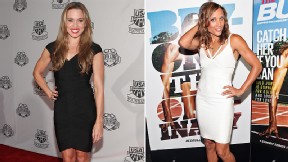 Natalie Coughlin, left, and Lolo Jones have both been known to walk the red carpet. Will the swimmer or hurdler prevail?
On the men's side, No. 1 seed Dwight Howard just eked past U.S. soccer team captain Carlos Bocanegra, while international soccer star Cristiano Ronaldo stayed alive to represent the "beautiful game" in the Final Four with a slim victory over Panthers quarterback Cam Newton. Six-time Olympic medalist Ryan Lochte blew Jets quarterback Tim Tebow out of the water, garnering 73 percent of the vote, while soccer's David Beckham beat decathlete Trey Hardee in a photo finish, slipping into the Final Four by the slimmest of margins.
On one side of the bracket one of soccer's best strikers will face off against the NBA's best center; on the other side, one of the biggest names in swimming will take on a legendary footballer nearing the end of his career. Will the great gams of the two svelte soccer players send them to the championship or will Howard's Superman-like shape and Lochte's toned torso make it a battle of former Olympic champs?
Dwight Howard versus Cristiano Ronaldo
---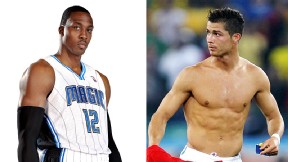 NBA star Dwight Howard, left, is trying to get out of Orlando. Can escape with a Final Four win over soccer icon Cristiano Ronaldo?
Ryan Lochte versus David Beckham
---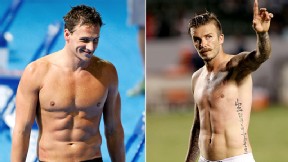 Ryan Lochte stays fit in the pool and David Beckham on the pitch. Will the swimmer or soccer player prevail?