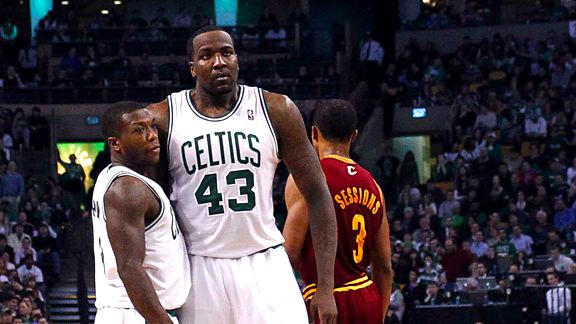 Mark L. Baer/US Presswire
While the Heat, Celtics and Lakers have stolen all the headlines this season, one NBA team has quietly put together a fantastic season. And that team just got even better.
Just before the trade deadline Thursday afternoon, the Oklahoma City Thunder acquired Kendrick Perkins and Nate Robinson from the Celtics in exchange for small forward Jeff Green and center Nenad Krstic. In a separate trade, the Thunder grabbed center Nazr Mohammed from the Bobcats, sending Morris Peterson and D.J. White to Charlotte.
The Thunder currently are in fourth place in the West, behind the Spurs, Mavericks and Lakers. Superstar youngsters Kevin Durant and Russell Westbrook get plenty of love, but when talk turns to legitimate playoff contenders, the team often is left out of the mix.
The biggest issue for the Thunder this season has been defense. They're allowing opponents an average of 102.3 points per game (11th highest in the NBA) and 46.5 percent shooting from the field (12th highest in the NBA). Without a true big man, Oklahoma City struggles against deep teams like the Lakers, who beat them in the opening round of the playoffs last year.
Enter Kendrick Perkins.
Perkins has worn Celtics green since entering the draft after his senior year in high school, and his veteran presence and toughness, particularly on the defensive end, have been integral to Boston's recent success. After undergoing knee surgery this past summer, he missed the first few months of the season and has played in only 12 games this season, but no matter; he'll step in and be just the big man Oklahoma City has been looking for all year.
Most of the players on Oklahoma City's roster haven't even hit age 25 yet, and already they're breathing down the necks of experienced teams like the Spurs.
The Thunder boast one of the most dangerous young duos in the game in MVP candidate Durant, averaging 28.8 points per game, and third-year point guard Westbrook, 22.1 points per game, but they've been a piece away from truly contending.
Now, with Perkins in the middle, they've become truly scary. Their new big man brings championship experience, toughness and the ability to match up with the forwards and centers in San Antonio and L.A. Don't forget the addition of Mohammed, either. He's a solid pickup who can spell Perkins or help him clog up the lane when opponents are playing big.
Many wonder just what Celtics GM Danny Ainge was thinking, trading away a key member of Boston's 2008 championship team. Many Lakers supporters even took to Twitter, thanking Boston for the trade and predicting a Lakers three-peat. While fans of the defending champs taunt the team all the way across the map, they may want to stop halfway and take a look at a team in the middle. The quiet Thunder just got a lot louder.