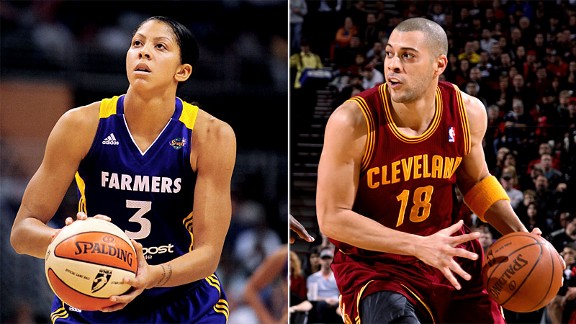 US Presswire, Getty Images
Sibling rivalries
Candace and
Anthony Parker
Candace, 25, is a center/forward for the Los
Angeles Sparks. Anthony, 36, plays guard
for the Cleveland Cavaliers.
Candace Parker was a 6-foot-2 ninth-grader when her dad lit the fuse. "We were at the gym, and I was dunking a tennis ball easily," she says. "But I couldn't hold a volleyball or basketball well." Knowing that his sons Anthony and Marcus had dunked around 15 years old, even though they were well under 6 feet at the time, Larry Parker challenged his daughter: "You can beat them." As Candace remembers it, "My dad and brothers kept saying, 'Why not?'" So she worked on her technique and soon after she turned 14, she threw it down for the first time. Two years later, she was the first girl to dunk in a high school game. A couple of years after that, as a redshirt freshman at Tennessee, she was the first to dunk in a women's NCAA tournament game. The rest is history: No. 1 overall pick in the 2008 WNBA draft, Rookie of the Year and league MVP in her first season, perennial All-Star. "Candace is the most gifted athlete in our family," says Anthony, a journeyman NBA guard. "Remember the movie 'Twins'? I'm Danny DeVito. She's Arnold Schwarzenegger."