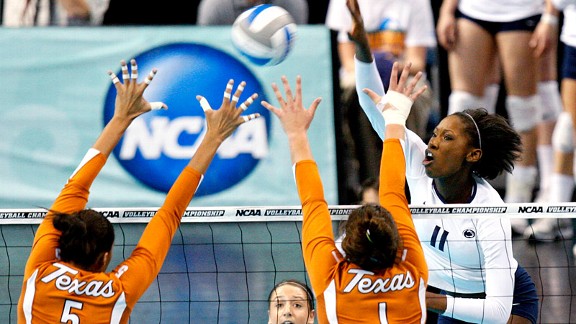 AP Photo/Mike Carlson
Sweet streaks
Penn State volleyball
Won 109 consecutive matches.
On Sept. 15, 2007, Penn State lost a tough five-set match to Stanford. The Cardinal must have had the Nittany Lions' number, because they beat them again … in September 2010. In between, PSU went 1,092 days and 109 matches without a loss. It's the longest streak in NCAA women's volleyball history, more than double the next best (52 in a row for USC). The Lions won three straight NCAA titles during their run, then added a record fourth in 2010. But history can be daunting when you're making it. "There was no
time to be proud and reflect," says Megan Hodge,
a two-time Big Ten Player of the Year (shown here spiking). "When I look back, it was really amazing.
But at the time, it was just, 'We have to win.'" And so they did -- match after match after match.