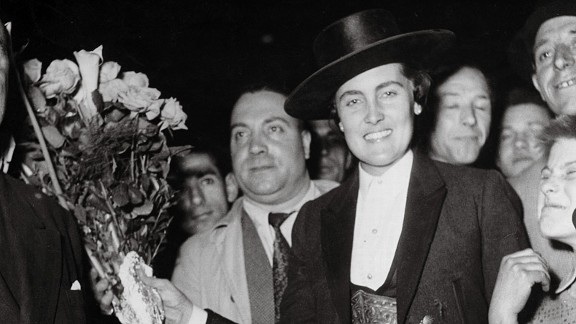 Getty Images
Nine ahead of their time
Conchita Cintron
From the start, she had flair: "La Diosa Rubia," the "Golden Goddess," so named for her shining blonde hair. Conchita Cintron, born in 1922, made her bullfighting debut in her hometown of Lima, Peru, when she was 13. Although she didn't make a kill that day, she definitely made an impression. At 17, she was gored in the thigh and rushed from the ring. But she refused treatment until she was allowed to finish off her foe -- which she did, before collapsing. Her career reached a cinematic climax at a 1949 event in Spain. Women there weren't allowed to fight on foot; they had to perform on horseback, then make way for a man to finish the job. Cintron appealed to the country's president for permission to dismount her horse, but the request was denied. So she stole her male replacement's sword and marched back into the ring. As the charging bull neared, Cintron flung the sword aside and simply grazed the animal's neck with her fingers. She was arrested, but the crowd showered her with carnations and hats (and she was later pardoned). Although she fought once more, Cintron
was forever remembered for a career that "ended in
a glorious burst of criminality," as Orson Welles wrote
in the introduction to her memoirs.