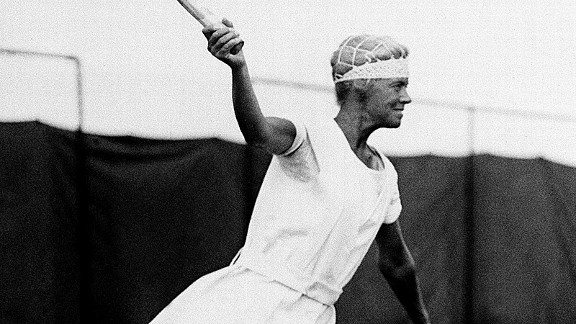 AP Photo
Nine ahead of their time
Eleonora Sears
A Boston Brahmin who chafed at restrictions, Eleonora Sears (born in 1881) was a multitalented athlete who never met a bet she wouldn't take. "If you thought she couldn't do it, she'd move heaven and earth to prove you wrong," says Peggy Franck, author of "Prides Crossing: The Unbridled Life and Impatient Times of Eleonora Sears." At least one guy learned that the hard way, coughing up $500 in 1912 after Sears hiked 100 miles along the California coast because he said she couldn't. By Franck's count, Sears competed in 19 sports. As a tennis player, she won four national doubles titles and one mixed doubles crown on her way to earning a spot in the Hall of Fame. She was also the first U.S. women's squash champ after demanding that the all-male Harvard Club allow her to learn to play on its courts. (Edward VIII, England's future king, considered Sears his favorite tennis and squash partner -- dance partner, too.) While most women didn't drive, Sears raced cars at a Long Island track built by her friends, the Vanderbilts. "She lived at a time when, if you walked
along a road swinging your arms, you were a brazen
hussy," Franck says. Sears regularly walked all the way
from Boston to Providence, R.I., sleeves rolled up and
arms swinging with gusto.