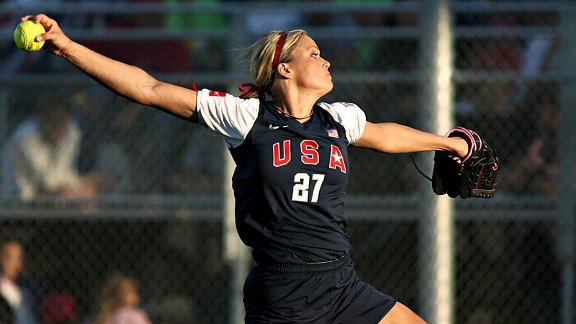 Crystal LoGiudice/US Presswire
Jennie Finch
Everything about her exudes confidence. Jennie Finch is one of the most dominant pitchers in softball history, with a résumé that includes an Olympic gold medal and an NCAA championship at Arizona, where she once won 60 straight games. Thanks to an enticing combination of looks and charisma, she has also modeled swimsuits in Sports Illustrated, held court in Donald Trump's boardroom on "Celebrity Apprentice" and graced People magazine's 50 Most Beautiful People issue. But the 31-year-old California native has dealt with her share of insecurity, too, as Finch discusses here, explaining how she turned a make-or-break softball moment into fuel that helped drive her career.
I've been really fortunate that softball has added so many great things to my life. I've been in the Olympics, won medals and a national championship, seen the world -- you name it. I count myself lucky to have been in a place where girls have all these chances to play softball because of Title IX.
But when I was 12, it seemed like I wasn't going anywhere in the sport. I was playing on a 12-and-under team, and after eight tournaments went by where I didn't pitch in a championship game, my dad questioned the coach. This guy told my dad that he didn't see potential in me and that I wasn't a championship-caliber pitcher. When you're 12, and somebody tells you that you're not good enough, you really take it to heart. I was devastated, crushed. My parents were upset, too.
My dad, who was my pitching coach, drilled it into me to believe in myself, that we were going to keep going. But he also said I had to decide how badly I wanted this. He saw my talent and knew I needed the opportunity to succeed or fail in a championship situation. The question was: Did I want to keep going? After thinking about it, and getting over a little of the hurt, I told him yes -- I wanted to keep going. So I left that team after fall ball, got on another team called the Batbusters, and things were OK.
In fact, we ended up making nationals in Tennessee, and guess which team we had to play in the losers' bracket? Yup, the team that didn't want me. It was a backs-against-the-wall, loser-goes-home game. I didn't want to pitch, but my dad told me I had to face this. And I did. We ended up winning, even though they were one of the top teams in the country.
From that point, I knew that if I could overcome that situation and the self-doubt I had developed because of that coach, I could overcome anything. I've relived that moment so many times in my career -- being told I wasn't good enough -- and it has stoked the fire within me. I would constantly draw on that whenever people doubted me.
For me, the harder the failures and disappointments in my life, the bigger the lesson I learned.
-- As told to Joanne C. Gerstner, espnW