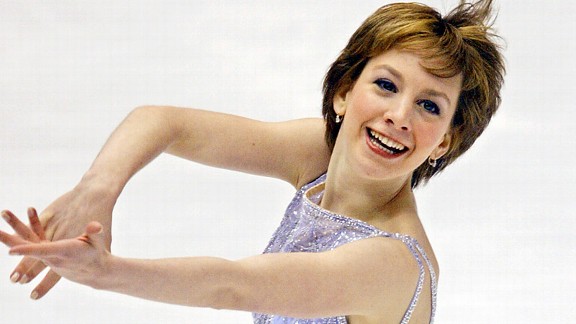 Cris Bouroncle/AFP/Getty Images
Benita Fitzgerald Mosley
Even as a 3-year-old, Sarah Hughes stood out on the ice. She had "it" -- the factor that fueled her rise from child prodigy in Great Neck, N.Y., to Olympic champion in Salt Lake City. But while almost everything in her career seemed to come naturally, one maneuver threatened to stifle her development as a figure skater. Now 27 and a Yale grad, Hughes looks back at what she learned from the time she found herself stalled in her sport.
There have been many moments in my life when I don't know what I would have done without skating. It has brought me so much happiness. And the opportunities that come from being in sports -- and part of this Title IX world -- have shaped me.
Most people would think my biggest moment was the 2002 Winter Olympics. And in many ways, that is true. I watched the Olympics when I was a little girl, seeing Kristi Yamaguchi and Tara Lipinski win with the performances of their lives. They became the best skaters in the world on the biggest stage. That's what I wanted to do, too. And when I did, it was a phenomenal experience.
But it was the little moments in skating, the ones people didn't see, that had much more impact on my life.
The hardest jump to do is the axel, because it is the only one that takes off going forward. The single axel is one-and-a-half revolutions; the double axel is two-and-a-half. By the time I was 8, I could do all the double jumps easily -- except for the axel. I went to California to work with Frank Carroll [Michelle Kwan's coach] and Delaware to work with Jeff DiGregorio [Tara Lipinski's coach].
People came to watch me, but nobody could offer anything to help. And the double axel is a hump jump: If you don't get it, you don't move on to the next level. I was stuck in novice for three years; this jump left me really frustrated. It was a joke. The guy holding the training harness held the strap with his pinkie, showing I was doing the jump on my own. But without the harness, I couldn't do it. I had some kind of mental block. That's why I never made it to nationals when I was younger. I'm sure people were wondering if I was ever going to be anything because this jump took me so long.
Just before my 12th birthday, I was at practice trying, like always, to do that double axel. And I finally did it. Then I did another. And another. I wasn't thinking about it. That was the turning point in my whole skating career, and it changed the direction of my life, because I broke through and everything just took off.
When it happened, it clicked, and I felt like nothing could stop me. That summer, I got all my triples. Within a few months, I was the 1998 national junior champion.
But I wouldn't be where I am now if I hadn't gotten that jump down.
-- As told to Joanne C. Gerstner, espnW