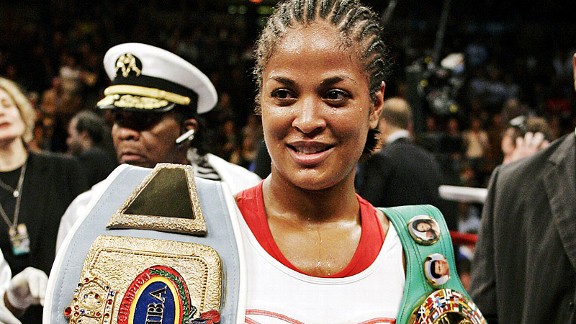 Timothy A. Clary/AFP/Getty Images
Laila Ali
When Muhammad Ali's daughter decided to box, skeptics abounded. Chief among them was her father, who was afraid she would get hurt. But the champ didn't need to worry: Laila Ali ended up doling out the lion's share of punishment in the ring. She went a perfect 24-0 during her eight-year career, capturing IBA, WIBA and IWBF titles. These days, the 34-year-old is a wife, mother and even a "Dancing with the Stars" alum. She has also come full circle as president of the Women's Sports Foundation, for which she helps others find the inspiration she once discovered by accident.
It's crazy how it all started. I was at my friend's house for the Mike Tyson fight in 1996 when I saw Christy Martin come up on the undercard. She was fighting Deirdre Gogarty for the title, and I was just amazed. I was 18 and still in high school and I got excited, even a little mad. Here we have something like Title IX opening doors, women breaking ground in sports like boxing, and I'm in the dark. I'm Muhammad Ali's daughter and I have no idea that women are boxing!
I told my friend, "I want to do this. I am going to do this." Once I set my mind on something, nobody stops me. The seed had been planted. Seeing that fight woke something up in me.
When I first started boxing, there were mixed reactions. A lot of people didn't know about women's boxing, so they thought, "Why does she want to fight?" The media speculation was that I was using this for something else, like acting, so I wasn't real. There were also people in women's boxing who had animosity toward me because I was getting so much attention. The tough girls automatically thought that because I'm pretty, I'm also soft. They couldn't wait to get me and make me an example. And then you had people with super-high expectations because of who my dad is.
They were all there for my first fight back in 2002: the media, the female fighters, the people who thought I was soft. They were looking right at me. They wanted Suzy Taylor to beat me. I was glad they were there. I wanted them to see me. I was so mentally and physically ready; I knew I was going to kill Suzy. I went for the body in the second round, and she just crumpled. Boom ... it was over.
That win was so sweet, because I could look at all of those people and say, "See, this is who I am as a boxer." I was so real. I knew it, and they knew it. I showed it: Laila's no joke. I am now a champion.
And that changed my life.
-- As told to Joanne C. Gerstner, espnW