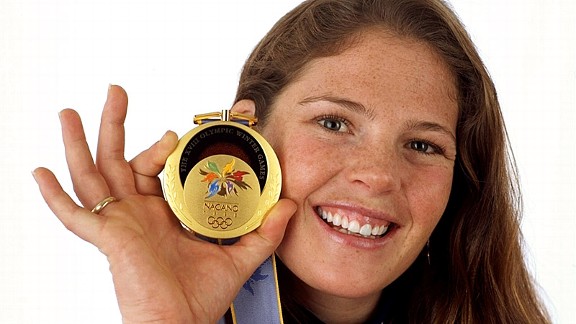 Mike Powell/Getty Images
Picabo Street
It's fitting that Picabo Street is the mother of four boys, because when she was growing up in small-town Idaho -- in a house that didn't have a TV until she was 14 -- her primary athletic influences were her older brother and local boys. She joined the U.S. ski team at age 17, eventually becoming the first American to win the World Cup downhill season title (both in 1995 and '96), then earning Olympic gold in the super-G at the 1998 Nagano Games. Today, as she looks back on her career, Street recognizes the indirect but vital role Title IX played in her development.
Title IX didn't affect me as much when I was younger because, as a skier, I didn't participate through my school. But it did have an impact later in making the resources I needed more accessible: trainers, therapists, sports psychologists. The rise of female sports icons like Billie Jean King, Chris Evert and Martina Navratilova led to more sponsorships for athletes and programs.
I didn't have access to any amenities until I was on the U.S. ski team and secured my own outside sponsorship. Then I could afford to hire a trainer or pay for a first-class flight or upgrade my accommodations. I wasn't trying to be a prima donna; I was doing everything possible to set myself up in an environment that would help me succeed.
Take the 1998 Olympics in Nagano. We scouted the athletes' hotel, and it wasn't going to be ideal for getting in and out without running into the media. So I went to Nike and explained what I needed. They came back to us with a solution: The father of a woman who worked for them had a place in Nagano, and he said he'd love to have us stay there. I had two coaches, the team manager, two team chefs, my family and my manager all staying with me in that house. It was off the beaten path, quiet, and I could chill out a bit.
That all came about because of my Nike sponsorship. And if Title IX hadn't allowed so many female athletes to charge into sports, that never would have happened for me. Who knows if I would have won the gold medal?
I never went to college, so I used to talk to other female athletes about how that process worked -- competing for your school, then the Olympic team. I played volleyball in school, and I really loved it. I enjoyed being part of a team. That was something I missed once I decided to focus solely on skiing. With the U.S. squad, everyone won and lost separately, even though we did everything else together: living, traveling, eating, training. It made for a difficult environment, because so many people couldn't get past what happened during the race; they couldn't enjoy the rest of the experience.
That's different from when you win or lose as a team. So I actually used volleyball as a way to have our team get along better and be more attuned to one another. When we had down time, we'd go to the court and play. It was our own little thing.
And for me, it was a chance to have my cake and eat it, too.
-- As told to Anna Katherine Clemmons, ESPN.com